If you're looking for a place to collaborate with your HR team, track recruitments and keep an organized database of candidates – Firmbee's coworking module comes with help.
1. Create an HR profile
If your HR team is looking for several candidates to fill in similar job positions, start with creating an HR profile.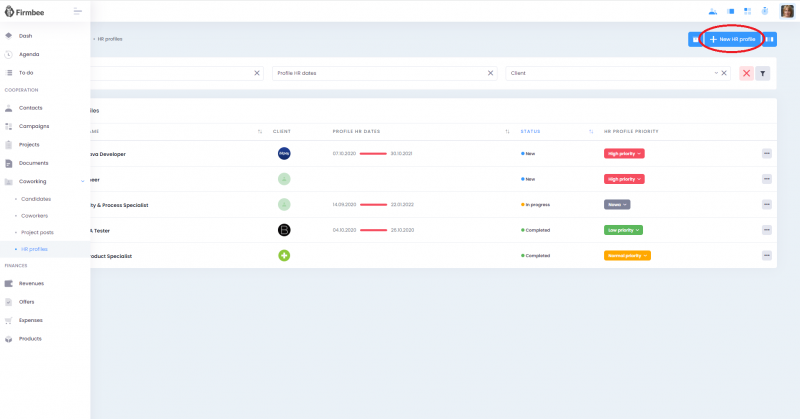 Each HR profile will let you store details and organize tasks related to a given search.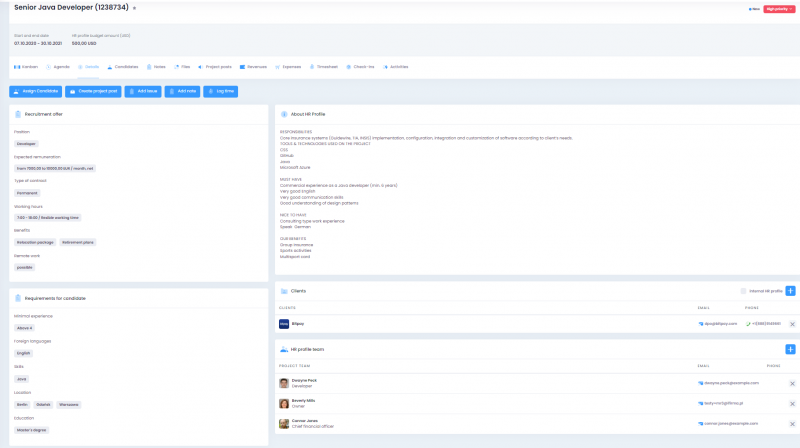 When creating an HR profile you can specify all recruitment details such as the start and end date of search, number of vacancies, type of contracts, salary, required skills and more.
Here you can also assign the chosen recruiters who will be responsible for the search, then select for which client the recruitment will be performed.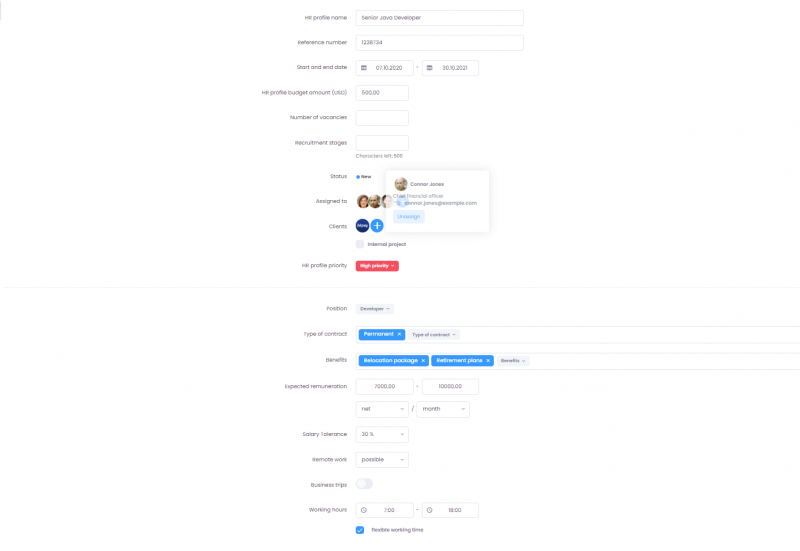 While creating an HR profile you can enable automatic suggestions of candidates. Specify by which variables you want to filter the candidates and receive candidate suggestions of your expectations.

2. Collaborate on kanban boards
After creating an HR profile, go to the kanban board to create a recruitment workflow. Define the stages of your search, create and distribute tasks between your hiring team. Share comments and update everyone on the hiring progress.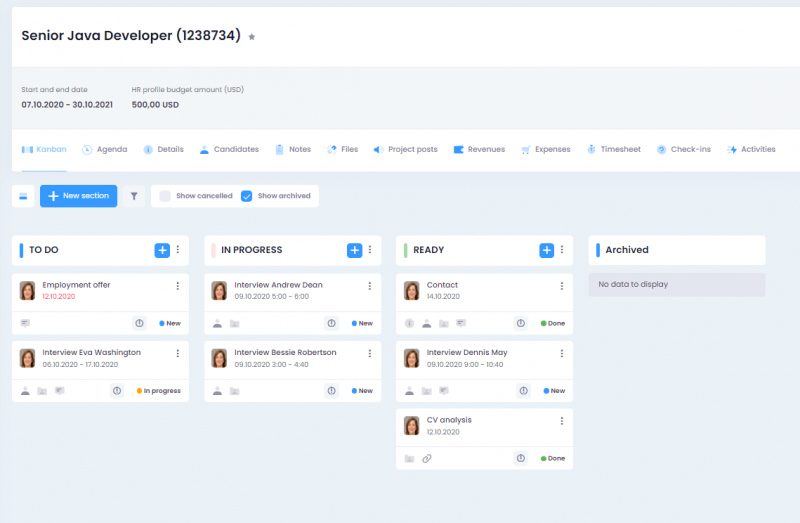 Keep a list of all your HR profiles and create different HR profiles for different purposes. From the list view you can filter and easily check all your HR profiles, assigned clients, statuses and priorities.

3. Create job ads
When all the details related to the active recruitment are updated and available for everyone, it's time to start creating job ads by going to the job ads module.
When creating a new job ad remember to assign it to the proper HR profile.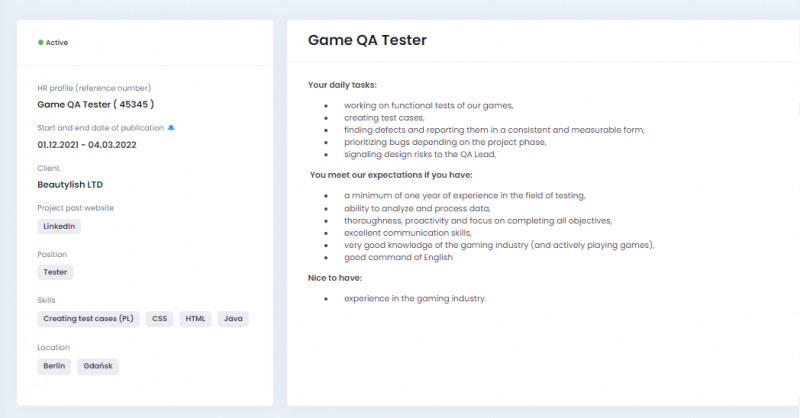 You can also specify details like the start and the end date of the publication, required skills, location, job description, and many more.
To keep your job ads organized, select the website where your job ad will be placed like freelancer.com, LinkedIn or other. Publish your job description and if needed – set a reminder that will notify you and your team when your job ad is about to expire.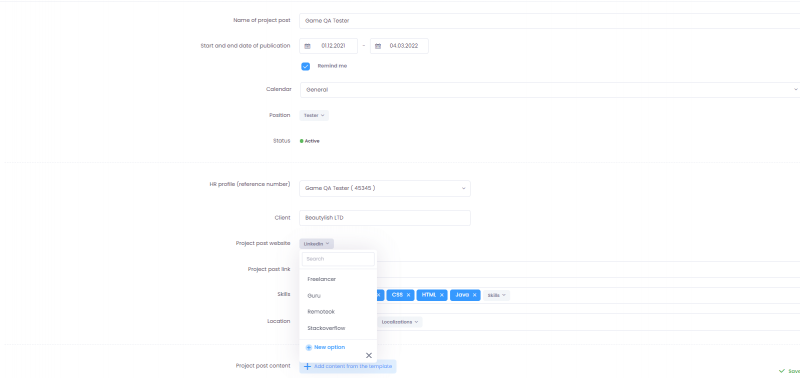 Keep a list of all your job ads and job ad templates and use them for other recruitment processes.

4. Store a candidate database
After receiving job applications, store all your new candidate's details in the candidate tab.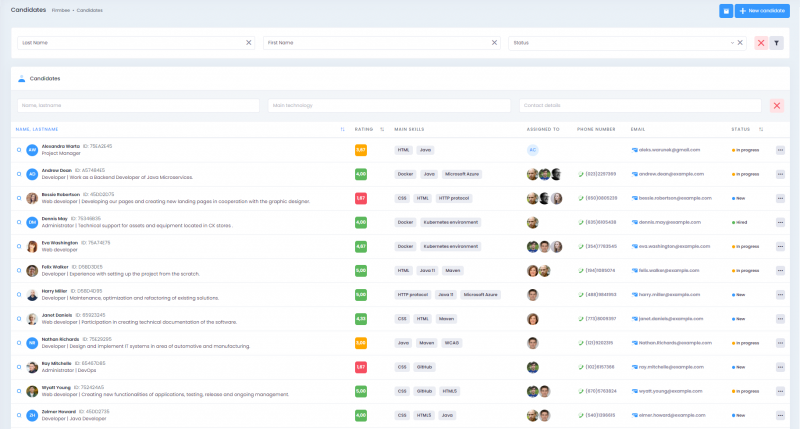 You can also use the candidate tab to check if by any chance a candidate from previous recruitments is already there.
From the candidate's list view, you can easily monitor the candidate's ratings and recruitment status or check their contact details and skills.
By clicking on the chosen candidate, you gain access to his details, CVs, portfolios, notes, and deadlines associated with a given person. Here you can also rate them and check their ratings.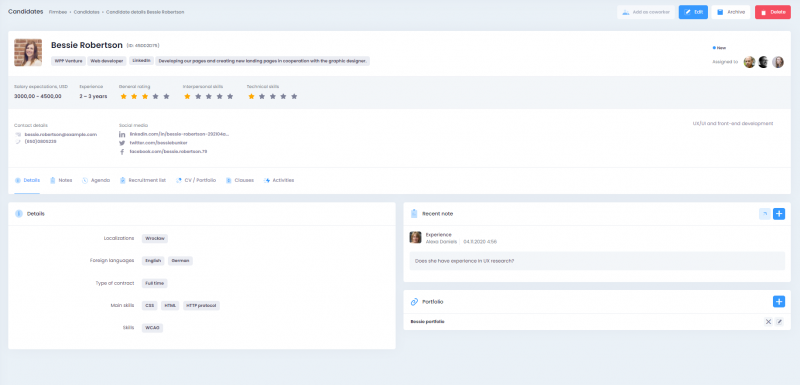 Keep this well-organized candidate database for other recruitments.
Contact and interview job candidates and remember to keep their statuses and related deadlines updated for the rest of the team.
5. After hiring
After a successful hire you have two options:

If the recruitment was carried out for external purposes, you can create an invoice for your client. Summarize the time and costs of the recruitment process and use this information when issuing an invoice. Send the invoice to your customer straight from our system and track the status of their payments.

If the recruitment was carried out for internal purposes, turn the candidate into a coworker by going to the candidates tab. Now you can start cooperating inside the system.

You can choose if the new coworker will become a member of your project team or if you'd like to give them partial access to chosen areas of Firmbee with guest links. You can also set custom roles by clicking your avatar and going to: Organization configuration -> Users -> Roles.

Now you can start cooperating: assign the new employee to tasks and projects and encourage them to track their time inside the app. Stay up to date with their activities by checking the activities tab or timesheet of each coworker.