After identifying your project scope and project goals it's time to fill in workforce gaps. You can do this by recruiting new coworkers with our Coworking module. Full instruction and a summary video below.
1. Create job ads
Go to the job ads tab to create new job ads. When creating a new job ad you can specify details like the start and end date of publication, required skills, location, job description, and more.


To keep your job ads organized, select the website where your job ad will be placed like LinkedIn or other.
Publish your job description and if needed – set a reminder that will notify you when your job ad is about to expire.
Keep a list of all your job ads and job ad templates and use them whenever required.
2. Store a candidates database
After receiving job applications, store all your candidate's details in the candidate tab.

From the list view, you can easily monitor the candidate's ratings and recruitment status or check the candidates' contact details and skills.
By clicking on a chosen candidate, you gain access to their details, CVs, portfolios, notes, and deadlines associated with a given person. Here you can also leave and check their ratings.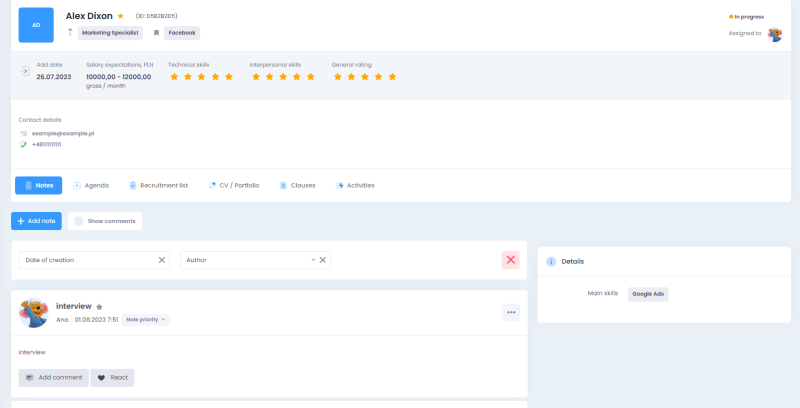 Keep a candidate database organized and it will serve you for several recruitments.
3. Start cooperating with your new employee
After a successful hire, switch a candidate into a coworker by going to the candidates tab. Now you can start cooperating inside the system.

You can choose if the new coworker will become a member of your project team or if you'd like to give them partial access to chosen areas of Firmbee with guest links.
Now you can start cooperating – assign the new employee to tasks and projects and encourage them to track their time inside the app.
Stay up to date with their activities by checking the activities tab or timesheet of each coworker.