In the following text, we will talk about tools that facilitate intelligent business management. In other words, we will define Business Intelligence. We will also look at how artificial intelligence can support data-driven business management.
Business Intelligence – table of contents
Introduction
Small and medium-sized companies are increasingly employing tools belonging to the field of Business Intelligence (BI). This is because they enable them to integrate a variety of company data and look at it from a broader perspective without using the services of external analysis companies. A complete picture of data gathered in one place can greatly improve a company. Among other things, you can use them to:
Reduce response time to market changes,
Improve the company's resilience to crises,
Respond more effectively to business opportunities as they arise.
For several decades, only big businesses adapted BI due to its price, access to Big Data, and the need for internal company analytics. In the era of digital business, collecting enterprise data and organizing it has become much simpler, while its multi-level interpretation is facilitated by improved, user-friendly analytical tools (self-service BI tools). That's why many owners of smaller companies, instead of settling for limited knowledge and trusting their intuition, choose to use business intelligence tools.
We have already discussed the topic of analyzing business data and the issue of decision-making supported by artificial intelligence. Today, however, we will take a closer look at what role their integration plays, that is, the combination of tools for managing the analytical and predictive environment called Business Intelligence.
What is Business Intelligence?
Business Intelligence concerns the process of transforming data on the market and the operation of a specific company into the information available in a user-friendly form, such as charts, tables as well as visualizations. By concluding the information, business representatives gain knowledge of the company's current situation and can more accurately take the next steps. Therefore, the key elements of Business Intelligence are:
data
information
knowledge
So how do the digital business management tools recently available to smaller companies work? What can you gain today with big data and artificial intelligence?
Business Intelligence tools
We can adapt BI to combine data from very different sources, such as production or product sales, or even customer feedback on services provided. Business Intelligence integrates, among other things, tools that enable:
analysis
reporting
forecasting
data Mining
process Mining
text Mining
business performance management (Key Performance Indicators, KPIs)
In contrast, the most common business intelligence platforms are tools developed over the past several years:
Microsoft Power BI – is a cloud-based tool to visualize data from various sources in real time, both in the browser and on mobile devices
Oracle BI – designed for more advanced users, provides the ability to customize almost all measurement parameters to meet the needs of a specific business
Tableau – one of the most popular solutions, especially valued for its great visualizations and user-friendly operation
In the context of the prospects that are opening up for Business Intelligence in connection with the use of artificial intelligence and machine learning, Sisense is also worth mentioning. This is because it is a pioneering tool that uses AI and allows for flexible analytics tailored to a specific business.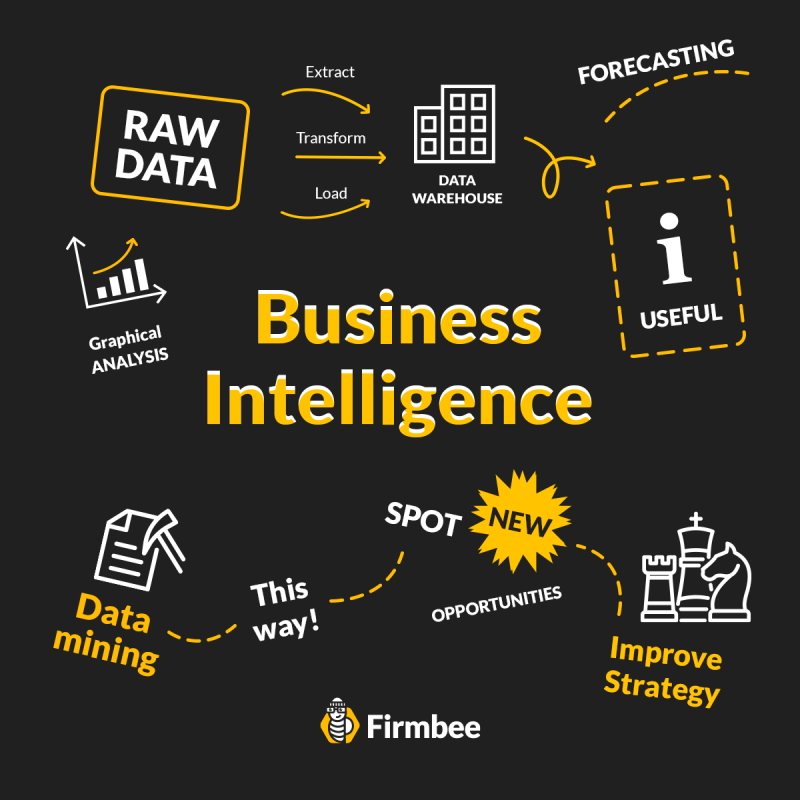 Perspectives on AI-supported Business Intelligence
According to Tobias Zwingmann, author of a book titled AI-Powered Business Intelligence, despite its enormous potential, artificial intelligence is still used in BI systems to a very limited extent. Why is this the case?
Primarily because specialists in both fields – business analysts and those specializing in machine learning (ML) and artificial intelligence (AI) – rarely communicate with each other. However, the need for their cooperation is becoming an increasingly pressing business need.
This is because the task of artificial intelligence in state-of-the-art systems belonging to the field of Business Intelligence is to overcome problems arising from the separateness of databases, errors inherent in standard statistics that do not take into account the company's situation and to ensure cooperation between the tools that are part of the system. And thanks to this, it facilitates business decision-making. Equally important, through the use of AI, it is possible to automate many repetitive processes (Business Process Automation, BPA), which we will cover in a separate article on Robotic Process Automation (RPA).
Summary
Business Intelligence of the future will render a clear reduction in business risk. A business based on data, information as well as knowledge will be more flexible and open to market and customer needs. What's more, the access to digital analytical tools and their integration with artificial intelligence will allow tailoring BI operations to the needs of a specific company. Although most of the business intelligence tools available today do not fully use artificial intelligence yet, it is worth putting them to work as soon as possible. This is because their operation will become increasingly effective, while the data collected today will enable tools based on machine learning and artificial intelligence to operate more effectively in the future.
If you like our content, join our busy bees community on Facebook, Twitter, LinkedIn, Instagram, YouTube, Pinterest.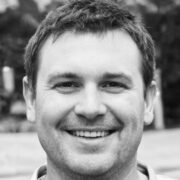 AI in business: