Artificial intelligence (AI) is changing not only the business but also the natural environment. The former requires a responsible (responsible) approach, the latter a sustainable one. After all, the capabilities of artificial intelligence require large amounts of energy. Therefore, one of the greatest challenges is: how to build a sustainable business and at the same time keep up with the AI revolution.
Artificial intelligence and the environment – table of contents:
Artificial intelligence is also setting new paths to achieve environmental goals while contributing to the efficiency of businesses. Did you know that the right application of AI can revolutionize your company's energy management or even contribute to biodiversity conservation?
Artificial intelligence and the environment for sustainable business
Artificial intelligence helps build a sustainable business:
In the conceptual phase – supporting the creation of an environmentally-sensitive business idea – through, for example, consultation with ChatGPT or Claude from Anthropic,
In the company's growth phase – by creating sustainable supply chains, and helping create solutions for green AI,
In the optimization phase – analyzing and adjusting existing solutions with software using dedicated AI models.
Let's look at specific solutions that contribute directly to the development of sustainable business.
Automate energy management with artificial intelligence
AI can automatically monitor and manage a company's energy consumption, identifying areas for future savings. This is done, for example, with Flex2X, a system developed by UK-based Grid Edge. This system combines data obtained from existing sensors in a building, such as temperature or humidity sensors, with other data sources, such as weather conditions, and analyzes them with artificial intelligence algorithms that can optimize a building's energy consumption in real-time.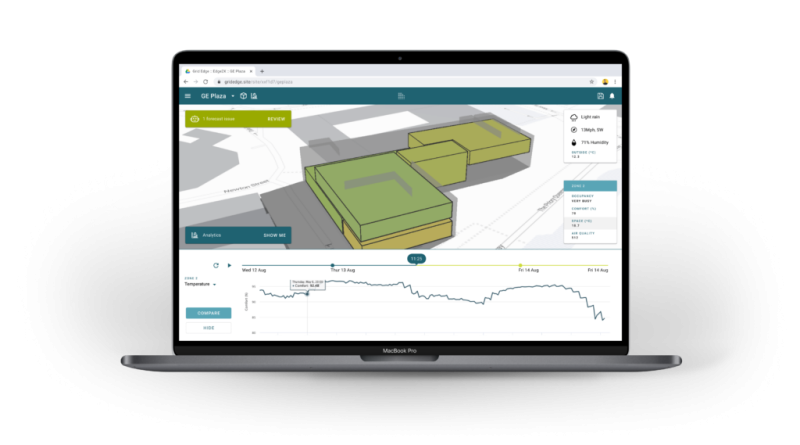 Source: Flex2X
Optimized agriculture
Artificial intelligence in environment opens up a wide field of innovation for both companies developing innovative solutions for agriculture and large-scale farming, which require the work of energy-inefficient machines and a lot of human effort.
By analyzing data from a variety of sources, AI can help companies in the agriculture sector make better decisions about irrigation, fertilization or plant disease control. However, the most innovative agricultural solutions are those that combine artificial intelligence and robotics. One such solution is LaserWeeder, developed by Carbon Robotics, which can remove 100,000 weeds in an hour by accurately distinguishing between plant species. It is the first and only commercially available laser weed removal robot. It features advanced technology:
deep learning AI,
robotics,
lasers,
Nvidia's powerful graphics cards,
42 high-resolution cameras for precise image recognition,
LaserWeeder helps take care of biodiversity because instead of spraying chemical pesticides that harm the ecosystem and insects, it can spot-remove weeds even from large areas of crops.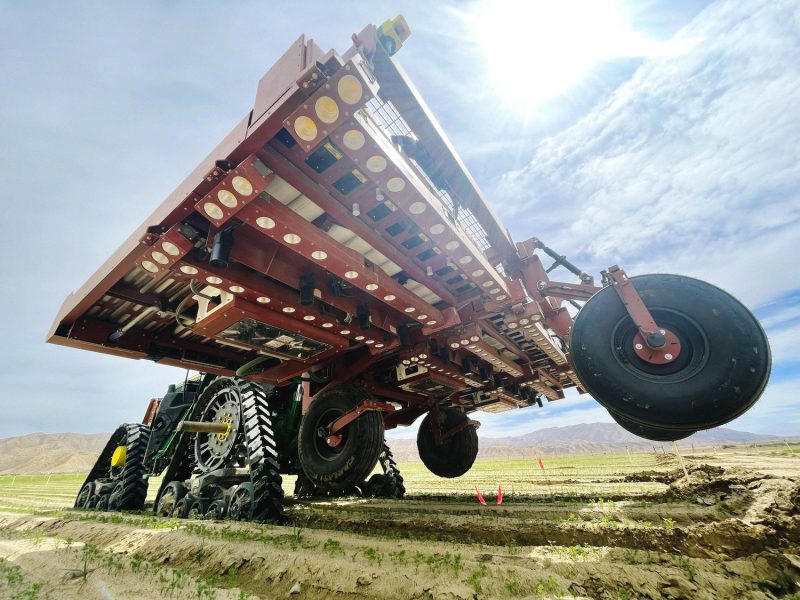 Source: CarbonRobotics
AI-driven supply chains
AI can help trace the origin of products, which is key to building sustainable supply chains. Efficient supply chain logistics, meanwhile, can be achieved through artificial intelligence and automation. For example, Amazon is investing heavily in transportation automation technologies, such as autonomous trucks and Zoox cabs called robo-taxis.
Meanwhile, TCS Logistics Optimiser/ TCS Crystallus can optimize a company's supply chains in real-time. Developed by Tata Consultancy Services, this technology combines AI, machine learning and Internet of Things (IoT) to deliver solutions that enhance the management of transportation time, vehicle payload and availability.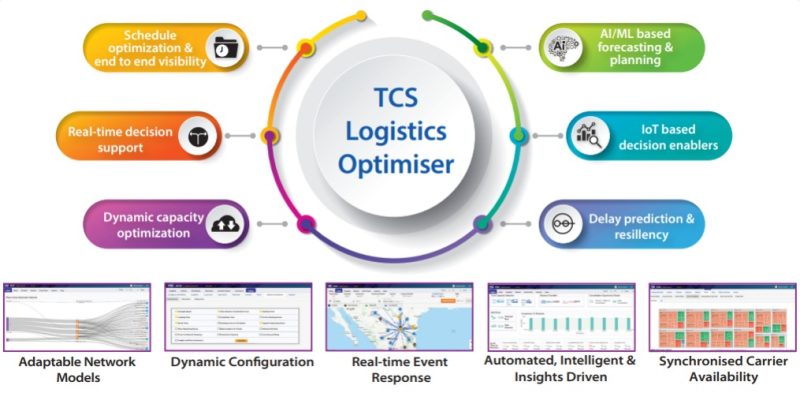 Artificial intelligence and the environment costs
The main environmental cost of AI in business is energy consumption. While the exact energy required to train the GPT-4 model that the paid version of ChatGPT and BingChat feature is not publicly available, we can make some estimates based on the available information.
GPT-4 is a model with more than 175 billion parameters that have been trained on more than 45 TB of data. The training process involves data analysis and optimization of model parameters, which requires a lot of computing power and leads to high energy consumption.
To train the GPT-4, powerful graphics processing units (GPUs) and tensor processing units (TPUs) were used, which are also known for their intensive power consumption. Consumption is further increased by the energy required for the operation itself.
Green AI
While the environmental cost of developing AI technologies is high, it is artificial intelligence tools that make it possible to create greener solutions. This includes Green AI, models that require less energy and other resources to operate.
It is "green AI" that focuses on developing artificial intelligence algorithms that are energy efficient. For example, new compression methods can reduce the amount of data needed to train AI models by up to 90%, significantly reducing energy consumption. Among others, OpenAI, which is investing in the development of greener green AI models, is working on them.
Artificial intelligence has many advantages. Green AI, uses fewer resources, so it can be used by smaller companies, including those operating in developing countries. This means democratizing its use and allowing more people to create it. Also, those with less well-off wallets.
Green AI is contrasted with so-called "red AI" – that is, solutions that increase the efficiency of operations without looking at the environmental costs they generate. "Red AI" generates spectacular results, but its environmental footprint is large. And with the leap in technology, the environmental impact is constantly growing.
AI for Earth
Artificial intelligence and the environment is also about solving problems, such as:
analyzing issues related to the climate crisis – thanks to AI, it is possible to develop complex models that reflect environmental changes and predict their consequences using amounts of data that a human could never process. A great example is the Argonne National Laboratory's work with telecommunications company AT&T, where artificial intelligence was used to analyze a climate model in conjunction with a database containing information about AT&T's telecommunications network to predict how the effects of climate change – such as sea level rise, high-intensity winds and coastal and inland flooding – could affect operations 30 years from now,
biodiversity conservation – for example, the Wildlife Insights tool is a platform that uses artificial intelligence to convert trap camera data into useful biodiversity information, uploads the data to Google Cloud, where AI models automatically classify images to help monitor and protect wildlife around the world. Wildlife Insights can process 3.6 million images per hour, with an identification accuracy rate of 80 to 98.6 percent.
Improving the efficiency of existing systems that consume large amounts of energy, such as factories, rail transportation, public transportation and city lighting,
preventing failures – for example, in large industrial plants, hydroelectric or wind power plants. This is made possible through the use of digital twins (Digital Twins), which make it possible to predict the wear and tear of components in a particular system.
Summary
Appropriate combination of aArtificial intelligence and the environment of workplace can impact many aspects of sustainable business. From optimizing the performance of artificial intelligence, i.e. creating green AI, to automating energy management, optimizing agriculture, and creating sustainable supply chains. The latter, in the context of growing logistics needs, is becoming crucial to business efficiency and accountability.
The application of artificial intelligence also brings serious challenges, such as energy consumption during the training phase and the ongoing operation of AI models. However, artificial intelligence also helps to solve these problems and reduce the environmental impact of its operation. So there is room for green AI solutions and engagement in sustainable practices on an unprecedented scale, from climate change analysis to biodiversity conservation.

If you like our content, join our busy bees community on Facebook, Twitter, LinkedIn, Instagram, YouTube, Pinterest, TikTok.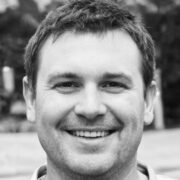 AI in business: