Today's companies process huge volumes of documents, so it is worth considering automating it too. Automated document processing, or Intelligent Document Processing (IDP), is the answer to these needs. With IDP, we can scan, recognize text, classify and search for information in documents. But what tools should we choose to make the process as efficient as possible? Read on to find out!
What is automated document processing (IDP)?
Automated document processing is not just scanning or OCR. It's a whole set of techniques that allow you to effectively manage documents in your company. Here are the main advantages of using IDP tools:
Saving time: Automating repetitive tasks, such as extracting data from documents, allows employees to focus on more strategic tasks.
Improving accuracy: IDP tools help reduce document processing errors, which translates into savings and prevents compliance issues.
Strengthening compliance: IDP tools can be programmed to comply with specific rules and regulations to help organizations stay compliant.
Increasing efficiency: IDP tools can help streamline document processing, leading to more efficient work.
Improving customer service: Faster document processing translates into better customer service.
What documents can be processed?
Not only invoices or contracts can be processed automatically. IDP can handle many types of documents. Among them are:
Contracts – for example, employment contracts or contracts with customers.
Invoices – both incoming and outgoing invoices.
Reports – such as sales reports or financial reports.
Correspondence – letters, e-mails and other forms of written communication.
Forms – surveys, applications, submissions.
Medical documents – patient charts, test results.
Financial documents – bank statements, balance sheets.
Legal documents – legal acts, administrative decisions.
4 automated document processing techniques
Intelligent Document Processing (IDP) is not just a scanner to transfer paper documents to a computer. It's several techniques that enable us to process documents efficiently. Among them, it is worth mentioning:
OCR, Optical Character Recognition – a basic technique to read text from paper documents. It is most often the starting point for automating the processing and circulation of documents in a company. It is an old and proven solution for scanning and recognizing the text contained in paper documents. With increasing digitization, more and more companies are using electronic documents. However, in many cases, legal requirements make it necessary to maintain and process paper databases. Thus, OCR is still a widely applied tool.
Text recognition – analysis of text structure in documents. The next step in automatic document processing is to identify digitized data. An essential part of machine understanding of what has been scanned is distinguishing relevant from irrelevant data. That is, recognizing the key information from, for example, the branding of the company that sent the document, or accidental distortions or dirt.
Document classification – automatic assignment of documents to categories. The recognized documents, or the information sourced from them, are then sent to a digital database. They are classified according to the type of document or the action to be taken based on them. This could be, for example, putting the date of a meeting on the digital calendars of those invited to a charity concert, or sending a personalized email to a customer encouraging feedback after a complaint process.
Document Search – quickly find information in the document database. Thanks to IDP, finding an invoice from a specific contractor, or a ticket bought for a specific amount, is as simple as typing a word into the search window.
How does automatic document processing software work?
Document processing software is a tool that uses IDP techniques to automate company processes. It runs both on computers and in the cloud and can integrate with other systems, such as ERP (Enterprise Resource Planning) or CRM (Customer Relationship Manager).
Document AI from Google
Document AI is a cloud-based service from Google that features automatic processing of documents. It exploits machine learning to extract structured data from unstructured documents.
Document AI offers many features that make it a powerful tool for document processing, such as high accuracy, scalability, flexibility and security. With Google Cloud AI technology and a set of pre-trained models or custom models in Workbench, Document AI can process a variety of document types with high accuracy and speed. Its undoubted advantages are:
A single platform for document processing – using a single platform allows quick access to all models and tools, including pre-trained models for document processing such as OCR and Form Parser, as well as specialized models for specific industries.
AI technology from Google – Document AI uses image recognition (including OCR) and natural language processing (NLP) technology from Google to create pre-trained models for high-value, high-volume documents.
Data enrichment – the ability to verify and enrich processed information using Google knowledge graph technology, which allows you to check company names, addresses and other data based on information available on the Internet.
Adding Human Verification to the Process – A new Human-in-the-Loop AI feature achieves higher accuracy in document processing by adding the moment of human acceptance to selected processes.
The strength of Document AI from Google is its integration with other Google Cloud services, which helps you to in creating advanced workflows. Try it out online at this address.
Rossum
While Document AI from Google is best for companies that want to take advantage of advanced cloud technologies and integrate document processing with other cloud services, Rossum is an excellent choice for companies that need a flexible and scalable solution that can be customized to meet specific business needs.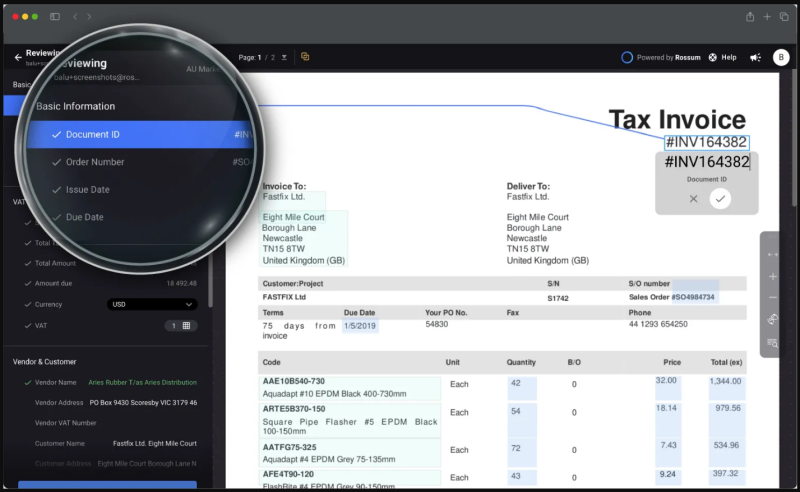 Source: Rossum.ai
In other words, Rossum is a slightly less sophisticated but simpler-to-use tool that employs artificial intelligence to extract data from documents. It can eliminate manual document entry processes and improve data accuracy. Thanks to the cloud, Rossum is fast, accurate and easy to use. It works well for processing different types of documents, such as invoices, contracts and forms.
Automatic data capture: The tool automatically classifies documents, eliminating data entry errors that can lead to fees and penalties. It can process document data in all formats and channels, automate communications to eliminate manual tracking, filter spam and duplicate documents, and route and process documents with a flexible queuing system.
Advanced features: Rossum offers features such as pre-processing, validation, post-processing and reporting. This makes the tool versatile and adaptable to a variety of business needs.
Customized solutions: Rossum offers customized solutions for various industries and needs, such as accounting, onboarding, supply chain management, order management and quality assurance.
Docsumo
Docsumo is best for companies that want to process documents quickly and efficiently without having to engage in complex model training processes. It's a platform to easily process data from huge volumes of unstructured documents with an accuracy of more than 99%. It offers many features such as automatic document classification, data categorization, intelligent OCR, real-time data validation and much more.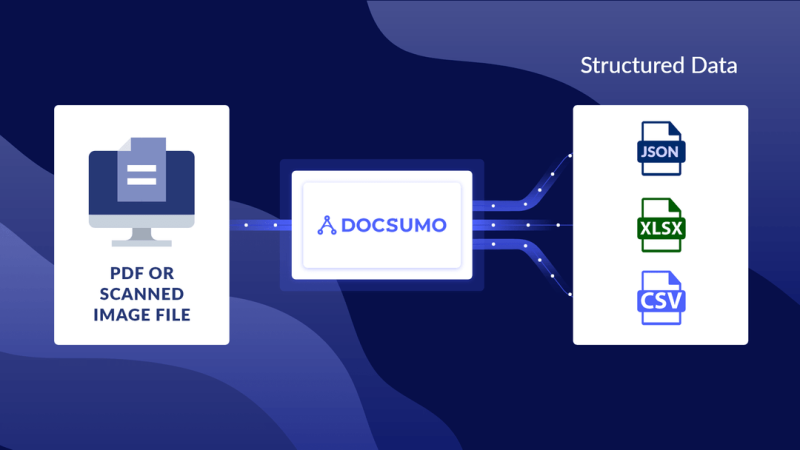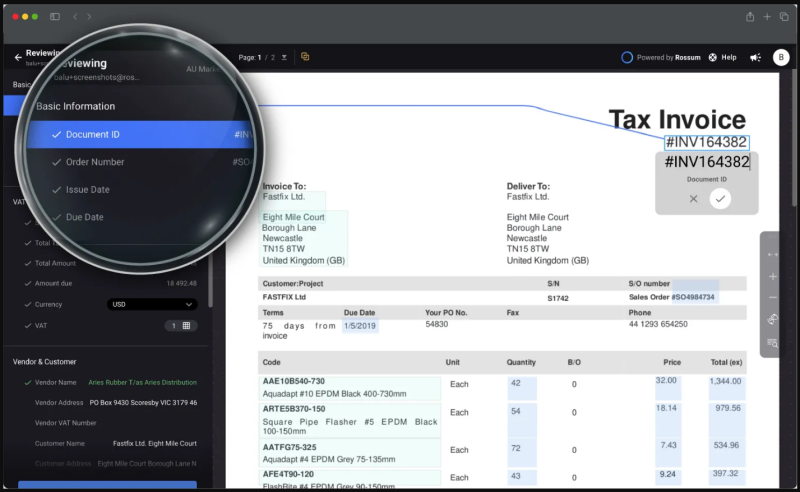 Source: Docsumo.com
Docsumo is ideal for small and medium-sized companies that want to streamline their document processing.
Versatility – Docsumo can process a variety of document formats, such as invoices, bank statements, contracts, bills of lading, energy bills and more.
Intelligent extraction – Thanks to advanced AI technology, Docsumo can accurately extract and review only the fields you need from such complex documents.
Data Validation – Create Excel-like rules and formulas to validate extracted data within a document, between documents or against a database.
Automatic classification – Docsumo can automatically distinguish between different documents before processing them, allowing data to be transferred to the appropriate database.
Integration with systems – Regardless of the industry – insurance, finance, logistics – Docsumo offers a ready-made API that can be easily integrated into existing systems.
Security – The platform is GDPR-compliant, SOC2 certified and HIPAA-compliant, ensuring that enterprise data is secure and under your control.
Docsumo has won praise from many companies around the world, including the likes of Arbor Realty Trust and National Debt Relief, which boasts a 95% no-touch processing rate and 99% accuracy thanks to its comprehensive automation.

Summary
Automated document processing is the key to streamlining work in many companies. With tools such as Document AI from Google, Rossum and Docsumo, companies can speed up business processes, increase data accuracy and improve customer service. Choosing the right tool depends on a company's specific needs, but all of these solutions offer advanced features that help companies succeed in today's digital world.
If you like our content, join our busy bees community on Facebook, Twitter, LinkedIn, Instagram, YouTube, Pinterest.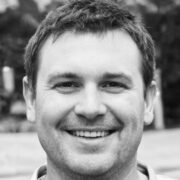 AI in business: