Why do you need content creation tools? Attractive content is noticeable, formally correct, qualitative and responds to the needs and interests of the audience at the time of publication. These features should be present at the same time so that the author has a chance to break through the wave of information that's flooding readers every day. This is not an easy task, but the tools available on the market help you minimize your efforts to create the perfect content. What's more, many of them are available for free. So what solutions should every copywriter know? Read on to find out!
Content Creation Tools – table of contents:
How to write content? – guidelines for using tools in copywriting
The tools we will discuss here improve the effects of a copywriter's work on several levels – in terms of stylistic and spelling correctness of the text, in relation to its favorable position in the search engine thanks to the use of appropriate keywords, and also at the level of its visuals, so important in the era of image culture, which together with the text layer should create a coherent piece.
Even the most attractive content will not be positively received if the author does not bow to the algorithm that decides about its visibility. Similarly, sublime framing or post-production will not cover up blatant spelling mistakes and repetitions, which take away from the text's credibility. What is more, carelessly made graphics cast a shadow over other dimensions of the delivered content.
That's why if you want to be sure of getting the most out of your work, and if you want to keep the effort to a minimum, without compromising on the quality of copywriting services, you should be tempted to use available solutions. They are inseparable assistants of each content creator, combining the roles of proofreaders, SEO managers and graphic designers. Using them is also an advantage for the clients, who are provided with full-value texts, influencing the increase in sales and strengthening the company's image as a professional in its industry.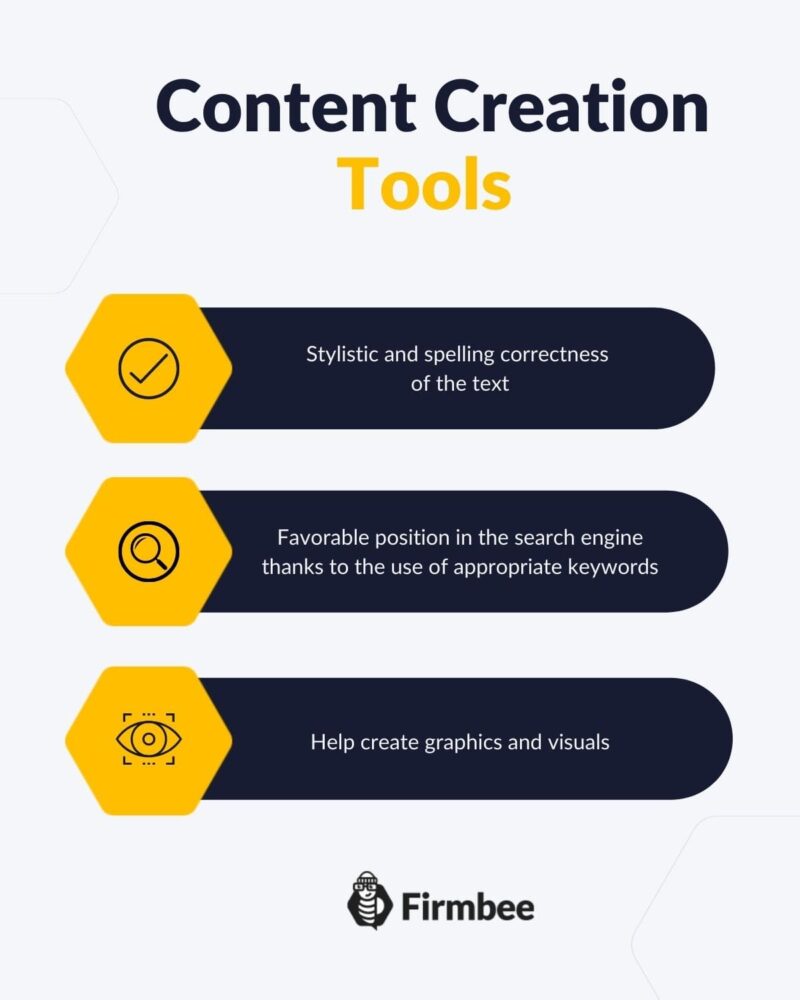 10 Best Content Creation Tools
WordCounter.net

This tool provides multidimensional text analysis (number of characters and words, style, grammatical errors, plagiarism, keywords and their density in the text, reading time – in mind and aloud). Available only in English but should not be difficult to use due to its clear layout.

Language Tool

This tool checks and corrects the grammatical structure of a text written in one of the European languages, but also Chinese, Japanese and many others. You can use it from the website or plug-ins for Microsoft Office, Firefox or Google Chrome, among others. Language Tool is also available offline.

Answer The Public

This is a specific base of keywords, presented in the form of visualizations and tables, appearing in response to user queries. In this case, the selected keywords based on Google's automatic suggestions take the form of the so-called long-tails (extended key phrases). The free scope of the service includes a limited number of searches within the same day.

Google Trends

Google Trends helps the creator to get into the current trends and write content. At the same time, this tool enables the aggregation of popular queries by their origin or the language in which they were formulated.

Ubersuggest

With this tool, you can become familiar with the popularity of particular search phrases by selecting related keywords. It is also a way to make observations of competitors' actions and adapt them to your own needs. Also in this case the data analysis can be done by regions.

Keyword Combination Tool

It is a generator of key phrases created based on the words indicated by the user – main and complementary. The resulting phrases occupy different positions in the search results.

Google Keyword Planner

This is another tool aimed at keyword search. A Google Ads account is the only requirement to access it. By creating it, you gain access to keywords dedicated to SEO or Google Ads campaigns, information on their seasonality and applicable rates. The data obtained in this way is used for paid advertisements.

Canva

With Canva you can create all kinds of graphics, infographics and charts. It also offers functionalities such as photo editing, availability of different types of shapes, frames, and templates, dedicated to different platforms and purposes (banner, poster, invitation, sm entry, etc).

Remove.bg

This tool allows you to remove the background from individual graphics. Thus, it creates the possibility of creating original collages, original compositions, and clearer forms.

Pixabay

It is a bank of free images, made available under the Creative Commons Zero license (transfer to the public domain). You can find a lot of high-quality images that can be searched for based on keywords in English.
Read also: Storytelling in marketing – the most important rules
If you want to stay in touch, join our Facebook community!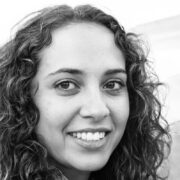 The most important questions
What tools provide users with a database of keywords?

These include Answer The Public, Ubersuggest, and Google Keyword Planner.

What tools help create graphics for copywriting?

These include Canva, Remove. bg and Pixabay, among others.