The key to successful business process management (BPM) is knowing the patterns of activity in an organization, observing and optimizing them. In turn, its goal is to improve and standardize the way a company operates so that it can operate as efficiently as possible. It is a task that seems even made for artificial intelligence.
How can artificial intelligence help with BPM? – table of contents:
Introduction
According to the Gartner report, optimizing and automating business process management is slowly becoming a necessity. By 2025, companies with processes that are too inflexible and inefficient will lose more than 10% of their market share. This is because inefficient processes within a company translate into poor customer experiences. And these increasingly determine how to build a position in the business world.
BPM elements
Business process management can focus on areas as diverse as, for example:
setting up a customer account
complaint handling
customer data management
onboarding of employees
production optimization
logistics
Many of these involve collaboration between different company departments or synchronization with external collaborators and databases. The amount of information necessary to collect and analyze in order to manage a business process is therefore truly enormous. Instead, the key to the success of BPM, also known as "process optimization," is the predictability of all the steps to achieve the goal. But how do you create a list of predictable steps in the face of overwhelming amounts of data?
The basis for implementing an effective process is to map it. Therefore, you need to start by visualizing the process. A process map most often takes the form of a graph of the necessary steps to take and the transitions between them. Its role is also to take into account the bifurcating possibilities, that is, to map the various eventualities that may arise at the following stages of the process. Thanks to the map, both the employee and the customer can easily see how many steps they have already completed and how far they are from completing the activity they want to perform.
Hence, the main task of BPM is to analyze the existing process and specify the key steps, but most importantly, to identify the moments that hinder its implementation, and to design a change to improve its efficiency. With more complex processes, this is often a task beyond human capabilities.
The role of AI in business process management
Artificial intelligence today optimizes and even automates many processes. Among the main, but not the only, advantages of AI in BPM are cited:
increase flexibility
pattern analysis
automation of repetitive tasks
improving the customer experience
Let's discuss them in a little more detail one by one.
In the past, carrying out process optimization with traditional methods was so inefficient that it hindered the organization's operations. This was a difficult moment for the entire company, which required a lot of work reorganization. Now, increasing the flexibility of business processes with AI is much simpler. Firstly, the process can be optimized piece by piece, repeatedly, quickly and on the fly, as data from its execution is collected and analyzed in real time.
The second important task of AI in BPM is pattern analysis. Artificial intelligence is able to effortlessly spot and indicate patterns, for example, repeated moments when a customer interrupts the registration process or abandons a purchase. It can even suggest potential causes and offer solutions to problems that arise.
Automation of repetitive tasks is becoming an important part of business process management, when part of the process is, for example, transferring documents between departments, or reading customer data from documents and putting them into a database, as we have written about in the context of natural language processing (NLP). With artificial intelligence, it will be possible not only to go paperless but also to move to the next point on the process map without human participation, which we will write about in more detail in the section on Robotic Process Automation (RPA).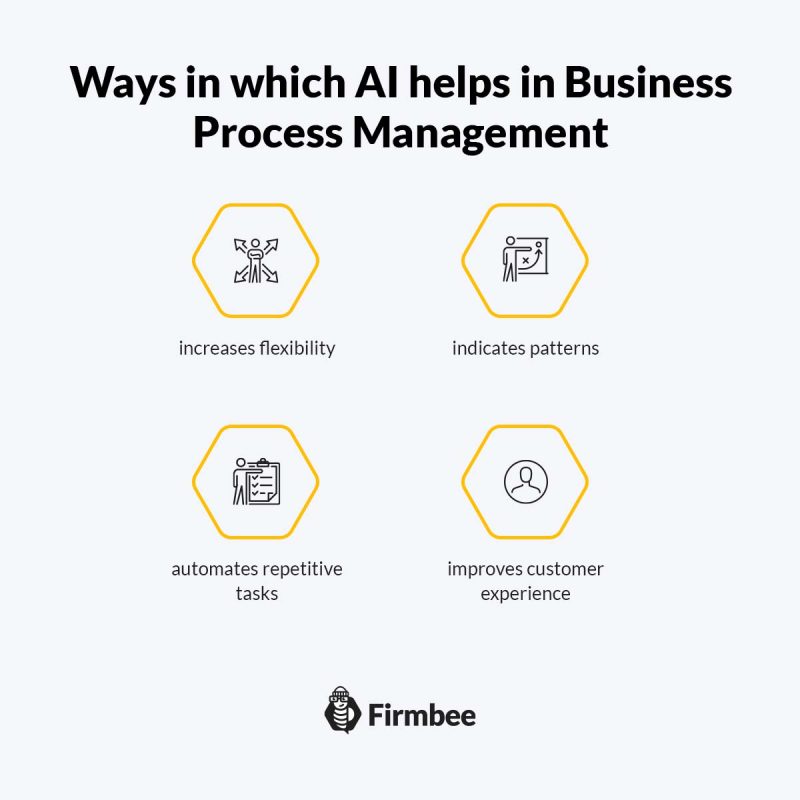 The final, but perhaps most important, benefit of applying AI to BPM is to improve the customer experience. From the first contact with the company, customers can get immediate answers to questions through chatbots or voicebots. Optimized customer account creation processes reduce shopping cart and account abandonment, as well as business losses due to the time it takes to process inquiries and orders.
Summary
The abundance of data we can have at our disposal when running a digital business makes the help of AI indispensable to effectively run the business and manage business processes. Not only does it reduce the amount of "paperwork," it streamlines and makes processes more consistent. Integrating AI with business process management systems also makes them efficient and flexible, allowing them to more easily adapt business to the realities of a rapidly changing world.
If you like our content, join our busy bees community on Facebook, Twitter, LinkedIn, Instagram, YouTube, Pinterest.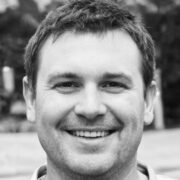 AI in business: