Until recently, automatic translator was recognizable at first glance. It contained strange linguistic constructions, sentences translated word for word, and funny mistakes that a human wouldn't make, even when translating from a language he had just begun to learn. Such translators are now a thing of the past for good. This has been made possible by the development of artificial intelligence. But what does this change mean for the localization of digital products?
Automatic translator – table of contents:
Automatic translator today and tomorrow
Automated AI-based translators translate into a language we know on the fly not only written text or utterances spoken directly into the microphone of our smartphone or laptop. They can also transpose any text we point our device's camera at – for example, restaurant menus or road signs during an exotic vacation, or even the text of an app that is not available in our language area. Fascinating, but that's not all!
Soon the next generation of interpreters will display information about the place, road signs as well as advertisements in our native language before our very own eyes. All this is thanks to augmented reality glasses (AR glasses) or futuristic contact lenses (AR lenses).
Looming over the horizon are days when voice communication and virtual assistants speak, understand or convert any language in any form. Let's now consider how AI can accurately translate visual texts from images, websites and applications, to see how it can enhance business.
What is AI-assisted automatic translation?
Artificial intelligence-assisted automatic translation (NMT, Neural Machine Translation) differs from older-type machine translation. Before 2016, text processing began by translating individual words into the chosen language. In contrast, the neural networks operating today translate entire sentences right away.
That's because the key to intelligent translation is to establish relationships and connections between words. Artificial intelligence searches and compares millions of documents available on the Web to find the right patterns. In turn, the goal of the search is to reproduce in another language the most likely correct structure of a meaningful sentence or even an entire paragraph.
However, for AI-assisted translation to become accurate it is necessary to teach artificial intelligence (ML, machine learning) many linguistic materials of various types. This is why a popular and accessible tool such as Google Translator is the top pick for this role. It is so effective that it officially transcribes and interprets documents made available by the European Parliament, among others. But still, its accuracy needs human final touch.
AI-based localization of digital products
The simplest application of artificial intelligence-assisted automatic translation is the rewording of text typed directly into its window. In contrast, the most common is the automatic creation of language versions of text documents in many popular formats, such as .pdf or .docx, for example. It can apply to adapt product manuals downloaded by customers from the manufacturer's website. It significantly reduces the cost of preparing manuals and product application guides.
Nonetheless, the most popular implementation is to translate the content of websites and applications. It works for the owner of a store as well as an application with the appropriate API (a programming interface that enables real-time translation, without having to build different language versions into the website or app) Thanks to AI-supported process automation, the rendering process becomes almost imperceptible to the user.
Real-time voice translation is also a very interesting option. With the help of free tools, it is already possible to translate speech simultaneously, which makes it very easy both to contact foreign-speaking customers as well as to make business contacts during international conferences or business negotiations.
Even better results come from combinations of the above capabilities. One of the most fascinating areas of business applications of AI-based translators is international e-commerce. The combination of interpreting together with image recognition capabilities gives enables generating real-time product descriptions based on images in any language chosen by the customer.
Another place where automatic translation excels is in generating karaoke text, movie subtitles and e-learning materials. It is based on speech recognition (STT, Speech-To-Text), which, once converted into text form, is translated using AI-supported dictionaries.
All of the above applications open up many fantastic possibilities. They are still not yet able to replace human labor – especially in the case of literary or contextual texts. On the other hand, they can significantly reduce costs and accelerate the localization of digital products where the value of utility is higher than the value of language.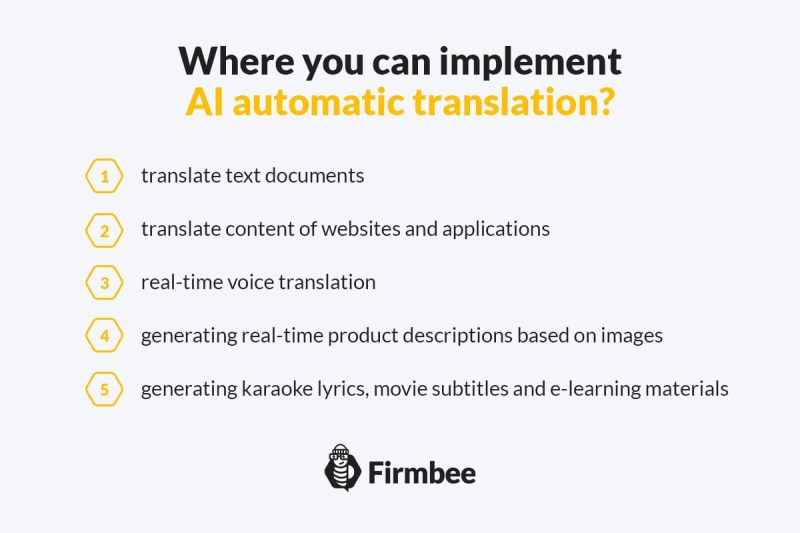 Summary
Translating text, the spoken word, images, existing websites and applications, and even video sent to the translator directly from the camera? All of this is possible today. AI-assisted automatic translation means a whole new quality compared to basic statistical translation. Neural networks are constantly learning, creating new connections between words and thus improving the quality of texts made available in almost all languages of the world. All this makes more and more people eager to use chatbots, as well as virtual assistants.
Read more about AI in business
If you like our content, join our busy bees community on Facebook, Twitter, LinkedIn, Instagram, YouTube, Pinterest.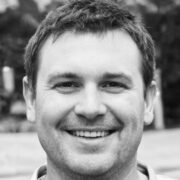 AI in business: