The sales of Canva templates is one of the interesting ways of securing a passive income. The process of offer creation takes time and requires much energy, but once prepared patterns can be offered without limit and provide income. To find out how to sell Canva templates read the text below.
How to sell Canva templates? – table of contents:
Canva templates sales – what do you need to know?
Canva is a tool for a graphic project, that can be used as a part of a free or paid account. In the Pro version of Canva, the user has access to most of the resources: elements, fonts, images, and so on. Canva is frequently and eagerly chosen by the beginning creators because it has an easy and intuitive interface. There are many free and paid templates that can be downloaded and edited for personal use.
Before you start working on your first Canva template, read our two crucial tips:
don't copy the already existing templates – as was already mentioned, Canva has an internal library of templates any user may browse. Those templates are available only for personal use. The sale, resale, or copying of those templates for commercial purposes is forbidden.
consider getting the Pro package of Canva – with this version of Canva you will be able to download a link to your template.
don't use paid elements for your project – your clients can have paid Pro version of Canva as well, using the templates from paid library means, that your clients will not be able to use them.

Who buys Canva templates?
You are wondering why somebody would like to buy a Canva template when the program is so easy to use and has a huge internal library of ready-made templates? There are several reasons for this:
the buyers have no time to create independently their projects,
some Internet users don't like working graphically– some individuals enjoy graphic designing, but others don't find graphical work relaxing or pleasant,
a great number of individuals don't feel confident in design – they have no skill, no patience, or other features necessary for work,
some people have money and they wish to spend them on a ready-made template – it is perfectly understandable and acceptable and as such should be taken under consideration,
buying the ready-made template is cheaper than employing a graphic designer.
But what with the Canva library, why do the Internet users that have the access to this great collection of templates, still want to buy templates from external creators? The answer to this question is easy. The patterns, that can be found on the platform, frequently are singular ones, which means that each interesting project, for example, to use on Instagram, exists only in one form. What if the template user needs several patterns for the same purpose and he doesn't want to use the same one all the time?
For those people, the external designers create and sell packages of templates, for example, 20 patterns for Instagram posts. This way the template user receives access to the ready-made patterns, that are consistent graphically, can be used for a long time, as well as they can present the visual wholeness at the company's account (or private account) on social media.
Let's respond to the question, who are the buyers of templates? Those are all people (companies) that run any type of activity on the Internet. All such entities need images, but not all of them wish to produce them individually. Although it is a huge, international company, or local hairdresser while running activities on social media they will need a graphical project. The potential buyers of the templates are:
internet content creators (bloggers, vloggers, influencers),
owners of local businesses: restaurants, companies, shops,
freelancers,
teachers, educators,
and many more.
What types of templates can I create and sell?
Canva as the graphic editor is a large box of possibilities with available types of templates that can be created and sold. To suit the audience we wish to reach we can offer:
graphic designs used as posts and relations on social media,
thumbnails, banners for YouTube,
infographics,
presentations,
pitch deck,
posters, leaflets, brochures,
thank you for purchasing cards,
blog graphic designs,
e-books and sets of exercises,
CVs, resumes,
to-do lists, calendars, planners,
greeting cards, invitations.
This list can be enriched with even more ideas – it all depends on your imagination and your audience.
Where can I sell ready-made Canva templates?
Do you have a template ready and do you wish to sell it? Do you know, what to do next? There are several ways of offering your product to clients. Here are the most popular solutions:
the very own internet shop – if you have your website already, you may use it to sell templates. It is a time-consuming and difficult process, therefore many beginners decide not to start it. The supporters of this solution may choose between platforms: SaaS and Open Source. More about this in the separate text. 
Etsy – sales on Etsy is a popular solution, thanks to the easy interface, that allows easy setting of the shop and creating an offer. The text that explains how to sell on Etsy can be found on our blog. 
Creative Market – the platform was established in 2021 and is an online market for graphic designs. Before the template creator can sell with this service he or she has to go through a verification process. For this purpose, one has to send a link to his portfolio so the owners of the platform could verify the quality of the works offered.
As the templates creator and seller, you can increase your chances of higher income by offering your templates on many different platforms simultaneously.
Create your template step by step
Account in CanvaThe first step to creating the template in Canva is registering an account in the Canva service. The basic account is free, but the best option, as was already mentioned, is the Pro package.
Account in Canva

The first step to creating the template in Canva is registering an account in the Canva service. The basic account is free, but the best option, as was already mentioned, is the Pro package.

Idea

Before creating any product, you have to know, what is your offer and who is your client. If you already have a group of receivers established, because you run an account on Instagram about healthy eating, for example, think about what kind of needs of your community you may meet by offering them your ready-made templates. What about the personal recipe book or planner with a list of everyday, healthy habits?

If you start from scratch, you may use already existing platforms such as Etsy to find inspiration. In the browser write "Canva template" and see, what is offered by the other template creators. When you decide to get a specific product, you can check several offers to find the common features:
what is the size of the given works?
what are the necessary elements? For example logotypes, contact details of the company, and so on.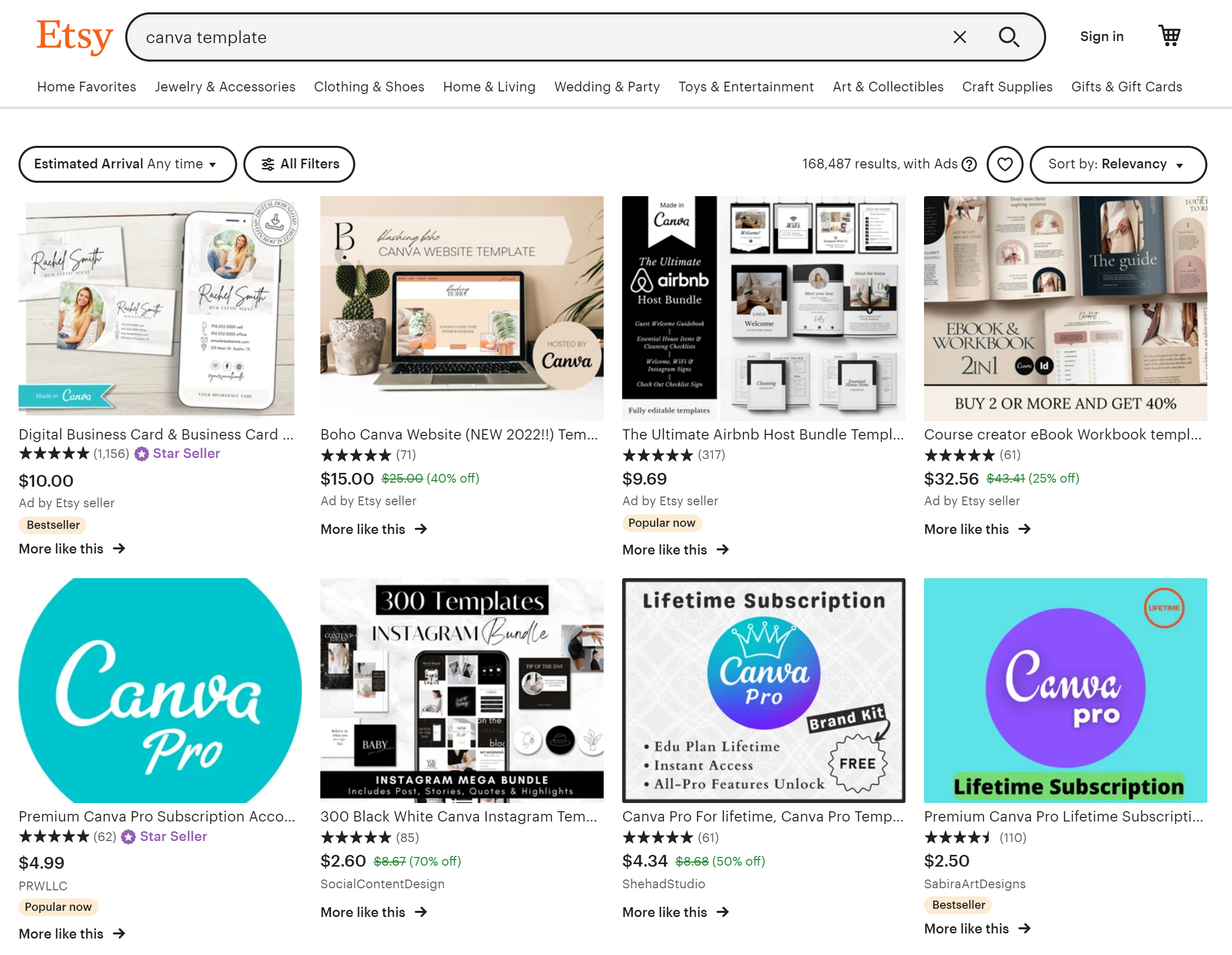 Project design
There is one reminder at this stage – you cannot copy the available Canva templates. The project you wish to sell has to be one of your inventions. You can use the elements available in Canva. Remember to use those, that are available free.
Start to create a project that will be designed accordingly to the right size. Chose the right fonts, color scheme, and elements to accentuate the stylistics of your work.
Link generating
When you have your project ready, go to the link generated before. You can find it by clicking on the Share button visible in the right top corner. Then click the Link connection and copy the link that appears.
This link will be used by your clients, and clicking on it will open the copy of the template they will be able to edit and change on their account. This means that the changes made by your clients will not influence the existing, original template. A client without an account on the Canva platform will have to create a free account for himself.
PDF with a link to the template
You have a link to your template, so you have to create graphics to place the link in it. You can create a separate PDF document. Select the text to place the link, that will connect the document with the template. Then choose the right icon in the right top corner and enter your link. 
After adding the link, download the file in PDF version.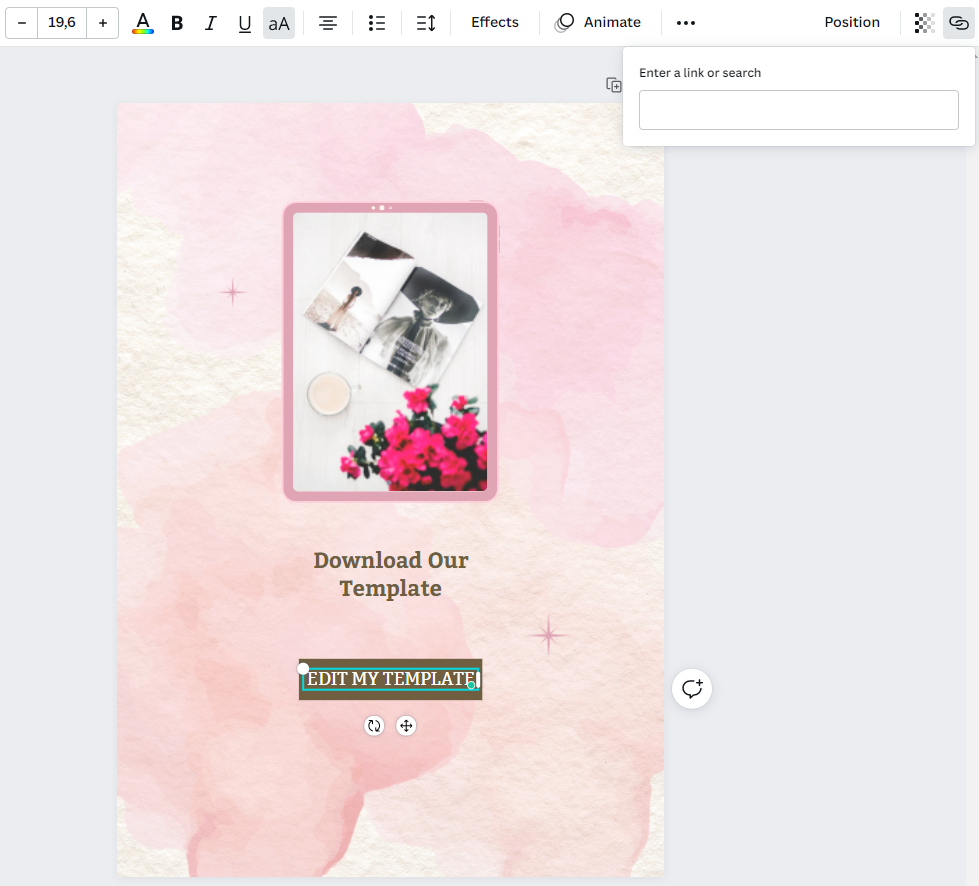 Offer in the sales platform design
When every part of the project is ready, all you have to do is to publish your offer on the selected sales platform. Remember about the accurate valuation of your work. 
How to sell Canva templates? – Summary
Now, when you know how to sell Canva templates, you can confidently enter the world of template designers. This basic knowledge should help you to design your products, and then may become an element that can provide you with a steady, passive income. Read more about copyrights in the article published by Canva service here.
If you like our content, join our busy bees community on Facebook, Twitter, LinkedIn, Instagram, YouTube, Pinterest.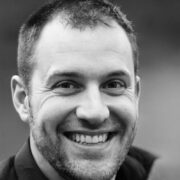 Create & sell digital products: