Do you know how to use subscription model to sell products? Is subscription good for your company? The research made by the Recharge shows a significant increase of popularity of subscription model in e-commerce. Statistics indicate that model of subscription influences directly the growth of the average order value (AOV) and the customer lifetime value (LTV). Read the article to find out more.
How to use subscription model to sell products? – table of contents:
What is subscription model?
In the subscription model the client decides to pay steady fee in exchange for access to the chosen offer or service. This way of selling is used both for selling physical and digital products. In the past recurring payments were used for subscriptions of favorite paper magazines, while currently the model is being used to sell products by various industries.
In the subscription model the main focus is on long-term cooperation between the seller and the client. Better client engagement allows the seller to get regular, stable monthly income. That is the reason why it is worth to spend some time designing the business model suited for your activities, so you could connect the client with your product and your brand.
Types of subscription
Considering moving to subscription model one should get acquainted with distinctive types of subscription, hence in the paragraph below the description of three models of subscription with the related examples of application.
Access subscription model

The main value for the client lies in the fact that he has access to the products that are not available to other people. It can be either access to the specific content (publications, movies, music and more) as well as to the services related to other products such as: free shipping, discounts. Access subscription model is frequently used in the model of sharing economy, where products are shared and used but not necessary possessed – this model of subscription was adopted by brands such as: Airbnb, Uber, Bolt and Free Now.

Curation subscription model

This model is a good solution for companies, who like to surprise their clients. In this model of subscription clients don't know, what exact product they will receive. The company makes a selection and delivers an array of products based on its market. The curation subscription model is the most common and it has proven to be best for the food, beauty and apparel industries.

Replenishment subscription model

Is the second most popular model of subscription with high conversions rates. In this model products are delivered to the clients on a regular basis, usually it is used for everyday, necessary products such as: fresh vegetables, fruit, box diets, hygiene products and many more.
Client's perception and business model
Subscriptions may be categorized accordingly to the client's perception, and clients may view that the subscription model is interesting for two main reasons: convenience and discovery.
In case of discovery subscriptions services are focused on customers that had no direct contact with the product and just decided to buy it relying on recommendations.
The convenience subscription facilitates some aspects of clients life. The client orders indicated product or service regularly using services that allow automating of ordering.
Business models in digital space
Products, which are characteristic for the digital space influences the shape of final subscription model used by the company. Accordingly to this we may distinguish two business models as follows:
SaaS model (software as a service) – this business model relies on providing access to the service without the need of purchase. The application can be utilized constantly in reward for recurring charges.
XaaS model (anything as a service) – is an extension of Saas model by including wider range of services, for example: database as a service (DbaaS), desktop as a service (DaaS), communications as a service (Caas), monitoring as a service (Maas). Billing for the service is done analogously to the Saas model.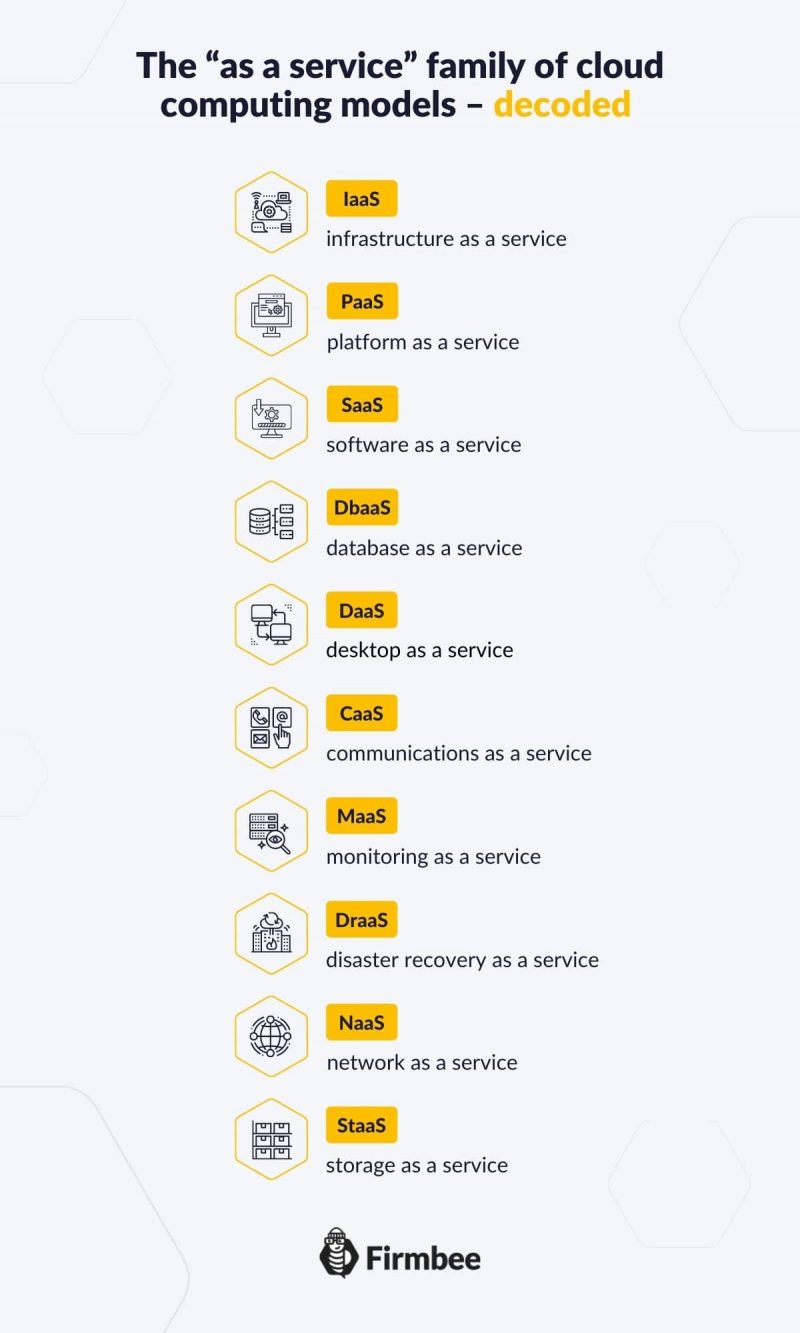 Advantages and disadvantages of subscription model
The main advantages of the subscription model are:
Easy demand forecasting – having the information about the amount of subscribers allows to estimate how many products will be sold each month. In case of selling physical products it facilitates inventory control to minimalize the cost of storage.
Long term relation with clients – clients that pay off their monthly fees turn into better and more reliable source of income for the company. They become loyal towards the brand and more eagerly fill evaluation questionnaires that help the seller to understand clients' behavior and work on better adjustment of the offer.
Lower cost of reaching the new customers – in subscription model the seller rarely bears the cost related to reaching potential new clients. The customer, who already decided to purchase a service doesn't need to be approached again to be encouraged to get the product again.
Testing new solutions – with steady clients the seller can adjust his offer to their needs. Additionally having access to the reliable opinions of customers the seller may test his new products and services before introducing them to the broader market.
The main disadvantages of the subscription model are:
Growing competition – subscription model of selling is gaining popularity hence the competition is growing.
Difficulties with attracting customers – clients need more time to decide to start the subscription. In comparison to one-time payments subscription payment rarely is a decision based on impulse.
Boredom – clients may feel tired and bored with the subscribed product or service. The seller has to provide his steady clients with new, interesting values otherwise he won't be able to protect his business from high cancellation rate.
Examples of subscription model in sales of digital products
Subscription of the service

Microsoft is the popular example of subscription model. The company provides its clients with different types of plans, which include access to different products: Excel, PowerPoint, Word, and so on. The packages can be paid for on a regular basis: monthly or once a year.

Similarly the Adobe company has special plans that the client may get as a part of the subscription. Accordingly to the client's needs there are packages for: companies, individual users, schools, higher education institutions, students, and teachers.

Subscription of on-line entertainment

Such companies as: Netflix, HBO Go, Amazon Prime, and Disney Plus offer access to movies and film series in exchange of purchasing of subscription. The advantage of such services over the TV is the accessibility. The user is not dependent from broadcasting time and is able to watch his favorite movies at any moment. Streaming platforms provide fast access to new movie releases.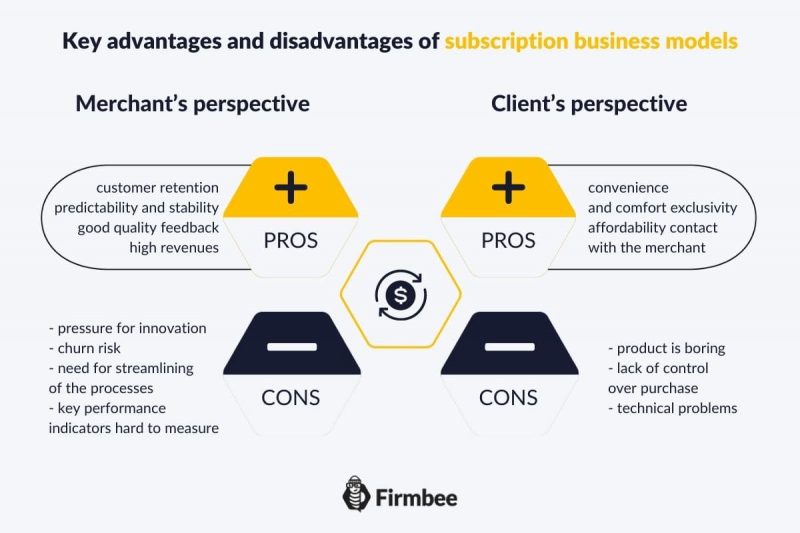 Summary
Clients decide to pay the subscription out of convenience. They don't have to remember about deadlines for payment, since those are downloaded automatically from client's account. Additionally, the client himself has full control over his choices. Many clients decide to acquire paid subscription of podcast to support their favorite artist as well as to be able to listen their program. As we see, introduction of selling in the subscription model is worth to be considered by any company producing digital products.
To find out, how else you can sell your digital products, read our article entitled: Best sales models to sell digital products.
If you like our content, join our busy bees community on Facebook, Twitter, LinkedIn, Instagram, YouTube.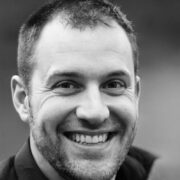 The most important questions
What is subscription?

Subscription is a way of recurrent selling of product or service to the client, frequently as part of a package.

What are the main subscription types?

Accordingly to the perception of the service different types of subscriptions can be distinguished. The type of products has an impact on model of subscription that can be either: access, curation or replenishment. Considering client's perception subscriptions may be divided into: discovery and convenience subscriptions, while in the digital space subscription can take the form of SaaS or XaaS models.
Create & sell digital products: