Ranked 8th in the world with over 390 million monthly visitors, Etsy has become a globally operating successful marketplace. It differs from the competition in its assortment because the platform gathers sellers who offer unique, hand-made products. Read our article to learn how to start an Etsy shop.
How to start selling on Etsy – table of contents:
How to open an Etsy store?
Creating an account

The first step is to create an Etsy account. You need to go to the home page and in the upper right corner select "Login" and then "Sign Up". At this point, you will see a window that requires some basic details, i.e. e-mail, name and password. After completing them, press the "Register" button. A message asking you to confirm your registration will be sent to the e-mail address provided.

How to open an Etsy store?

Once your account registration is complete, you will have to go to etsy.com and select the "Sell with Etsy" → "Open a store with Etsy" button. Next, select your store language, country and currency and confirm this information with the "Save and Continue" button. The last step is to choose the name of your store.

How do I choose a store name?

The name should match the style of the store and should not be too complicated. Catchy but not cheesy. It must also meet the requirements imposed by Etsy:
the character length must be between 4 and 20 characters,
do not use spaces or special characters,
the words must not be offensive,
store's name must be unique (cannot be used by another user),
it also must not infringe any registered trademarks.
Payments and settlements
An important step when setting up a store is to determine the payment methods that buyers will have at their disposal. The platform has prepared a special Etsy Payments service, which you can sign up for by following the path:
"Store panel" → "Finances" → "Payment settings" → "Select the country of your bank account" → "Payment settings" → "Payment settings" → "Payment settings" → "Bank account"
In the final step, you'll provide information about the individual (or company) and bank account details. For registering at Etsy Payments you should verify the previously provided data. In the case of an individual, the platform requires:
name,
home address,
date of birth,
and sometimes a portion of the tax identification number.
Those registering as a company put down the following details on top of verifying their identity:
company name,
company address,
tax identification number,
details of the company's main contact person.
In some cases, Etsy will request additional verification with a copy of your one of your IDs (ID/driver's license/passport).
The final step to registering your Etsy Payments service is to add a credit or debit card. Sellers who have an account with a bank located in the European Union, Singapore, Switzerland or Hong Kong should to verify it to receive funds from sales without any problems.
Account verification goes as follows: Etsy, within 3-5 days of registering with Etsy Payments, sends a small amount of money to the seller's account. The seller's job is to add that amount to their payment account via the path:
"Store panel" → "Finances" → "Payment account" → "Verify bank"
In the case of new sellers, they will get the transfer only after their store gets opened on the platform.
The Etsy Payments service is only available in eligible countries, which include: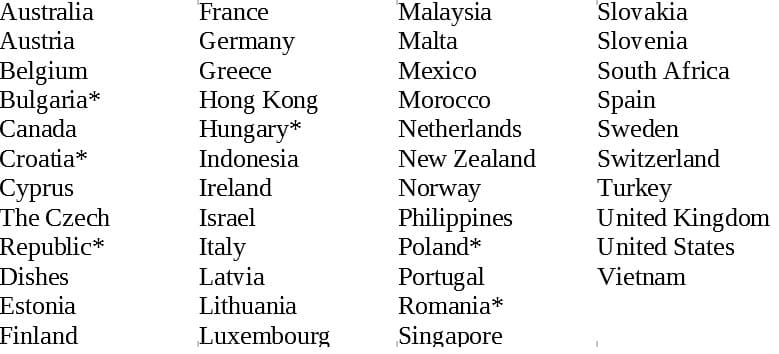 Sellers coming from Bulgaria, the Czech Republic, Croatia, Romania, Hungary and Poland should reckon that Etsy will be sending them transfers in Euro currency, so their bank may charge currency conversion fees when withdrawing those funds.
In some countries, a credit or debit card is required to open a store.
After filling in all the necessary information, complete the store opening by pressing the "Open Store" button.
Etsy store configuration
Before listing your first items, take some time to complete important sections about your store, such as:
Store banner and logo – uploaded images must be of good quality and relate to the style of the store and make a good impression,
Store announcement – this should be a short welcome message for shoppers to read,
"About" section – this section is designed to introduce customers to the company's history, business profile and values. Text, photos and video can be used for this,
Store employees – here you should present all the employees who made the offered products possible,
Store rules – the rules should address, among other things: shipping, returns, payment, exchanges and personalization of items.
What products can be sold on Etsy?
Etsy is a platform where sellers from all over the world can list:
Hand-crafted products– that is, products that were made or designed by the vendor in question. It is also his or her responsibility to list all the people who worked to produce the item. What's more, the seller has to the owner of the photo gallery they display. Etsy prohibits reselling handmade items in the store.
Craft supplies – these are all kinds of tools, materials and ingredients to create products with your own hands or to organize an event.
Vinted items– these are products that are at least 20 years old.
Etsy has a list of specific types of products that are prohibited from being sold on the platform. These restrictions relate to legal requirements or for purely Etsy's reasons, as the site is committed to making its marketplace unique and offering products that align with its compliance-on-time values. Below is a list of products prohibited or restricted for sale.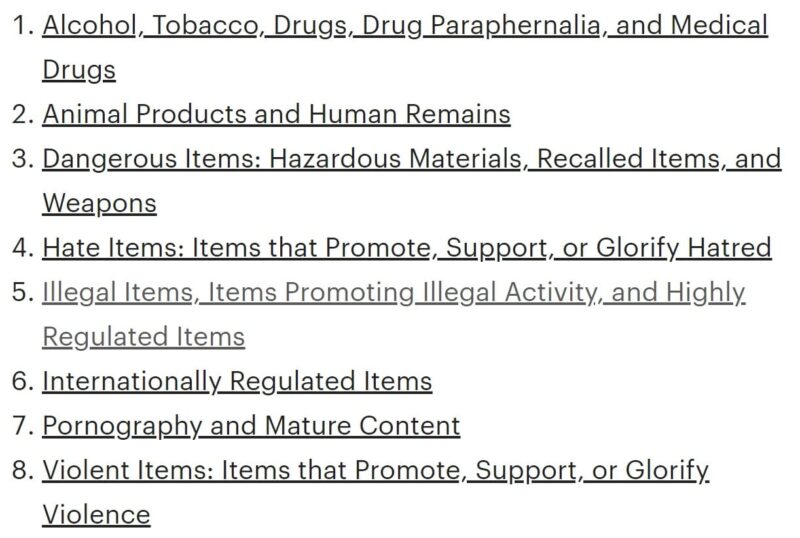 The Etsy platform is not a place to offer services, e.g. you may not list rentals. Exceptions are services related to the creation of a new tangible product. You are also allowed to sell Tarot card reading and fortune telling services if they do not qualify as metaphysical services.
Review system for sellers
There is a 5-star rating system for sellers that buyers exercise on Etsy. The customer has 100 days to do so from the date of delivery (in the case of digital products – from the date of download). Any seller can see reviews on their store at any time by following the path: "Store manager" → "Sales channels" → "Shop name"→ "Reviews"
The review you see is an average of the ratings you've received over the past 12 months.
Star Seller badge
Star Seller badge is a special status awarded to stores that meet certain criteria. In this way, Etsy wants to thank them for their excellent customer service. The badge received is visible to shoppers. The table below shows the requirements a store must meet to get Star Seller status.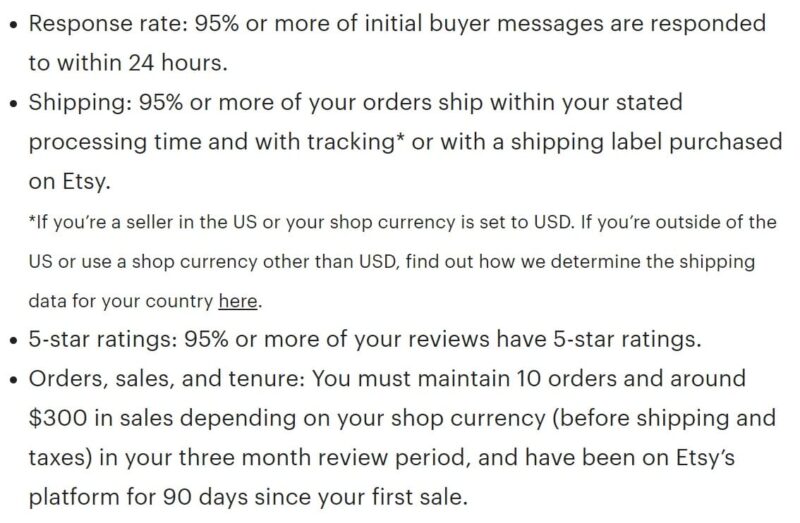 A store that had Star Seller status, but for some reason no longer meets the requirements of the program, may have its badge revoked.
Etsy complaint system
The complaint system was created to resolve disputes that arise between the seller and the buyer. It is a stage where those involved can have a direct discussion and resolve the matter between themselves. A complaint may be based on a failure to deliver a product to a customer or delivery of a product that is not as described. If the issue is not resolved between the buyer and seller, the parties can ask an Etsy employee to resolve the conflict.
Vendor protection program
Sellers who qualify for the Seller Protection Policy can count on Etsy to help when a dispute arises with a customer. To participate in the program, you must meet eligibility requirements and have a good reputation, which means:
Products sold are in compliance with Etsy rules,
Orders are shipped on time,
The seller responds to messages promptly.
Joining the program is automatic once all requirements are met – no special application needs to be sent.
Before opening your store on Etsy, make sure that the items you offer match the style and values of the site. If it's the right place for your store's assortment you decide to create an account. In case you get lost in the vastness of guidelines, you can always count on a lot of useful instructions and tutorials Etsy and associates provide.
Check out our other e-commerce articles: eBay shipping – 5 things you need to know!
You can also stay in touch and join our Facebook community!