Choosing the best e-commerce platform for small and medium-sized enterprises is not easy. Sellers should pay attention to the architecture and related customization possibilities, functionality, ease of use, price, and many, many more, and it still does not give a clear answer. So how do you choose a platform that is right for your business?
E-commerce platform
The value of the global e-commerce market in 2019 was over $ 3.5 billion, and this is just the beginning. Forecasts say total retail sales could reach over $ 6.5 billion by 2023, meaning more than one in five dollars spent will be spent online. And – since these forecasts come from before the COVID-19 pandemic – which accelerated the digitization of almost all sectors – it can be assumed that the share of e-commerce in global trade, in general, will grow even faster.
However, entrepreneurs face major challenges to take advantage of these trends. The competition is fierce and the users are more and more demanding. And although in Poland the price is still the dominant purchasing criterion for them, UX, i.e. the overall impressions accompanying the use of the store, is becoming increasingly important. And these are largely determined by the chosen technology. So what can they choose from?
Online store engine – SaaS or Open Source
The first choice faced by the owners of small and medium-sized enterprises is the choice between software provided as a service, i.e. SaaS (Software as a Service), and Open Source software. How are the two models different?
SaaS software
SaaS is a model for licensing and delivering software that we pay for as part of a subscription, such as for Netflix or Spotify. This means that the software is not purchased or installed on individual computers, but rather rented and hosted in the cloud by vendors. Users get access to it via web browsers and pay a monthly rate, the amount of which depends on the level of services and/or the number of users.
Popular SaaS e-commerce platforms:
Shopify and Shopify Plus
BigCommerce
Volusion
Squarespace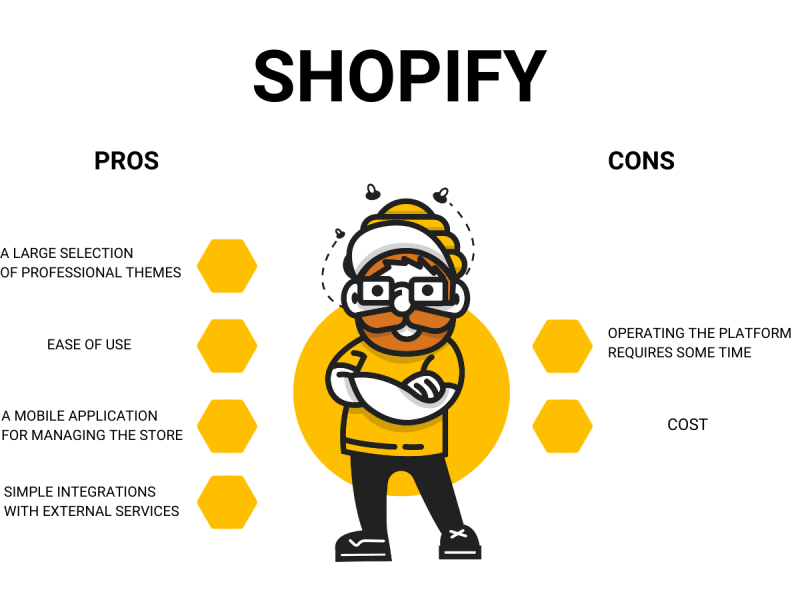 Open Source Software
Open Source eCommerce platforms are software whose source code is shared, used, and modified by the developer community. Developers who see the potential of a given project work closely with each other, developing it according to a plan usually defined by the so-called Core Team. The community works closely with each other, verifying the effects of their activities and sharing insights. The basic code is provided for free, but developers often have the option of writing extensions and plugins that they can sell.
Open Source is obviously very cheap because it is free, but not only that. If a project brings together a fairly large community, it is also not difficult to find agencies to implement it. Moreover, open-source also means endless possibilities for development, customization, and personalization. There are no obstacles (although the specific conditions are determined by the license under which it is released) to treat it as a starting point and "overwrite" completely new functionalities.
Popular Open Source e-commerce platforms:
WooCommerce
nopCommerce
OpenCart
PrestaShop
Zen Cart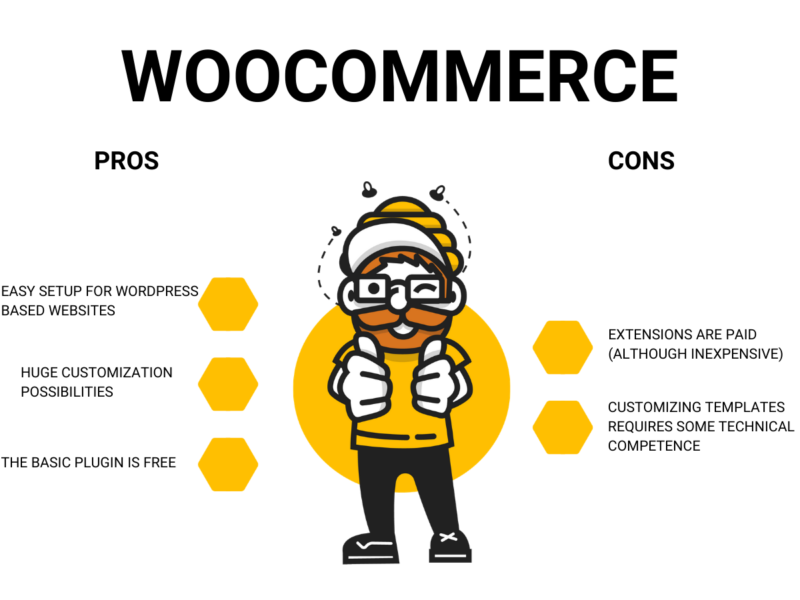 Learn more about WooCommerce and WordPress from our article.
Customization and scalability vs. ease of use
The main advantage of the e-commerce platform provided as SaaS is the ease of use. You don't need programming skills to use such software. The supplier and the actual owner of the platform host it on their own servers, develop it, and keeps it up-to-date and secure. However, this means that users have a limited ability to edit or change the source code. SaaS models may therefore be difficult to scale, and their functionalities may be too poor for stores with a large assortment. SaaS, however, guarantees stability and provide all the basic functions "straight out of the box", and their maintenance costs much less work than in the case of Open Source software.
Open Source software, on the other hand, is an ideal option for retailers who don't like restrictions. Full access to the code allows you to modify it, and thus – adjust the store to your own needs. Unfortunately, working with this type of software requires programming knowledge, otherwise, it may result in problems with maintaining and securing the platform. Plugins, written by different developers, give you freedom but can also cause you trouble. Sometimes they are out of date and unsupported and sometimes incompatible with each other. All this means that maintaining a store based on the Open Source system will require programming resources, and over time also relationship management between the software provider – implementation agency and hosting company.
To sum up
SaaS e-commerce platforms are easy and quick to set up. They also often provide access to marketplaces with applications that allow you to expand basic functionalities, e.g. with loyalty systems or e-mail marketing.
SaaS, however, does not give you full control over what your store looks like, which is a problem especially in the case of brands that want to build a recognizable brand. This is not the case with Open Source platforms, which are created by the community to change, adapt, and improving them. Here, the sky is usually the limit, as evidenced by the fact that many companies in the Enterprise sector use Open Source to create a unique, custom ecosystem that will provide everything that will be needed for business development.
E-commerce platform – costs and implementation time
The primary selection criterion, especially for small and medium-sized businesses, is obviously cost, but this in the case of SaaS and Open Source programs is not easy to compare. An open-source e-commerce platform doesn't cost you upfront, but it can be very expensive to maintain over time. It must take into account the costs of the work of programmers and hosting, support of other entities in the field of ongoing improvements, including, for example, UX and UI specialists, or the creation of external plugins. And so, while open source may seem like a viable alternative to SaaS – various hidden fees, repair costs, and potentially lost revenue may contradict this claim.
SaaS is a completely different story. Here the fees are clear and legible. As part of the monthly subscription, we have hosting, service, updates, and … peace of mind. We don't have much to say when it comes to further development. Thus, at some point, technology may limit our ability to adjust the store to unique business needs and force solutions that will not be the most optimal.
As for the implementation time: the matter is clear. SaaS platforms allow you to shorten the path to a fully functional store, which – especially now – is crucial for many entities. Open Source requires more work and time, although – if we have the appropriate resources – it is easy to use the services of specialized agencies.