Successful companies are based on brilliant ideas. How to find a business idea, then? Well, it's not as easy as it seems. Read our article and find out where to look for great business concepts and how to verify them.
How to find a business idea? – table of contents:
Sources of business ideas
Innovative ideas are frequently associated with startups. There are more and more of young businesses operating on the international market. In 2021, global investment outlays in startups exceeded $643 billion and were ten times higher than a decade earlier. They also increased by 92% when compared to 2020.
However, in order to find investors, you need to present them with a specific business idea, e.g. an unusual product or unique service which hasn't been available on the market so far.
Where to look for business ideas? The answer is short: anywhere. They are all around us, and there are several places to start searching for them.
Try meeting new people, and get to know their problems and dreams. In this way you will identify gaps on the market. Traveling and exploring new places, as well as reading magazines, blogs and books in various fields might be a good stimulus, too. Also, analyzing already existing solutions will let you find a niche that could be later developed.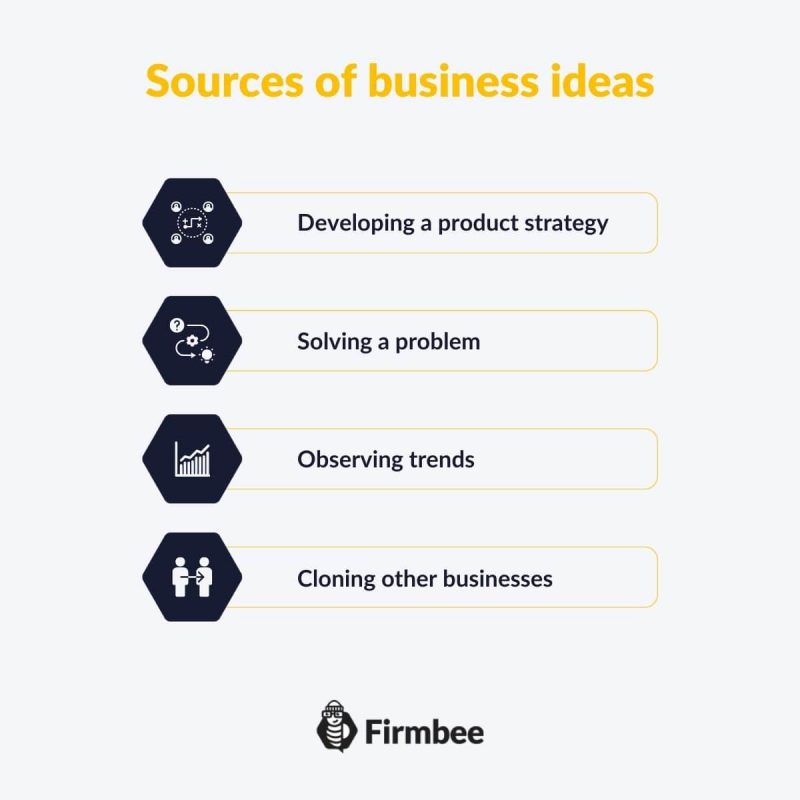 Sources of business ideas:
Developing a product strategy. It's worth considering what products you've always missed. Perhaps, there are more people like you, and they could help you figure out what specific ideas you could bring to the table.
Solving a problem. You can often find a business idea by identifying a problem. Ideally, it should be an annoying issue that affects a lot of people. They will be more likely to pay a lot to get rid of it (e.g., Uber answered to transportation problems).
Observing trends. It's useful to watch the market and social behavior. You should also observe emerging trends as your competitors will be doing exactly the same thing.
Cloning other businesses. When starting your own company, it often turns out that tweaking an existing idea is both easier and more profitable than creating something from scratch. Although it isn't very creative, copycat businesses can work and be extremely successful, e.g. LPP (the owner of Reserved) was inspirede by Indetix (the owner of Zara).
Do successful business ideas need to be completely original?
It seems that the answer to the above question is obvious. But are you sure? Why does a business idea have to be original? As it has been previously mentioned, several examples show that ideas which refer to already existing businesses can be successful. Obviously, it isn't just about copying solutions, but approaching them in a creative way.
Take a look at modern technological giants: before Google there was Yahoo (who remembers it today?), before Facebook there was Classmate etc. The fact that a product with a similar concept already exists doesn't mean that you have to give up the idea. However, the competing solutions should be processed in such a way so that unique concepts could emerge.
How to find out whether a business idea is worth pursuing?
Once you've found a brilliant business idea, you need to check if you are actually right. You should start by estimating its value. How to do it? First of all, keep in mind that ideas are worth nothing unless executed. A table created by Derek Sivers, a musician, programmer and business motivator, can be used to assess how much your idea can make.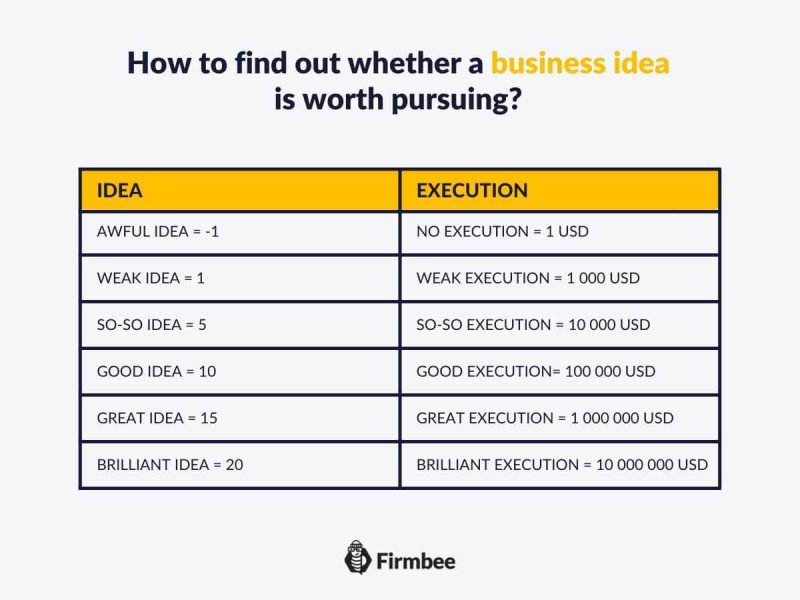 How to use this table? Let's assume that you have a great idea, but you don't pursue it. According to the table, such an idea is worth 20 USD (20 x 1 USD) only. Even a weak idea is worth more as long as it is implemented (1,000 USD). Obviously, you can't solely rely only on this table, but it can at least give you some overwiew.
How to validate your business idea?
Before an idea can be implemented, it needs to be verified. You have to check if the product really meets the customer's needs, and if the customer is ready to pay the exact price. In a traditional business approach, a SWOT analysis will be necessary. A solid business plan and thorough market research will also come in handy.
Other ways to validate a business idea are as follows:
building a simple MVP (Minimum Viable Product) and confronting the audience with it in tests,
testing the interest in the product with a simple landing page,
confirming customers' needs with surveys and desk research,
spreading the idea on social media and collecting contacts to potential customers.
How to find a business idea – summary
Finding a great business concept is just a starting point. If not properly executed, even the best one will remain just an idea. It is necessary to verify it, and then find a source of financing. However, this is a topic for a separate article.

You already know how to find a business idea. Read also:Startup marketing strategy.
If you like our content, join our busy bees community on Facebook, Twitter, LinkedIn, Instagram, YouTube, Pinterest.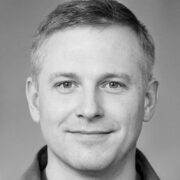 Launch your startup: