Setting up your own company or even implementing your own business project requires a great deal of effort. We are not only talking about the necessity of acquiring proper legal skills and mastering efficient resource management here, but also about constant broadening of business knowledge. Startup founders often get discouraged by small bumps along the road, which often results in abandonment of the project at various stages of its development. However, it is possible to catch up. How can you gain business knowledge as a budding entrepreneur? Read our article and find out more.
Business knowledge – table of contents:
Introduction
Budding entrepreneurs face a daunting task of getting their idea off the ground. They are usually inexperienced people who are unable to make business decisions. They often don't know how to enter the market, and whether their product will be appreciated by the target audience. Business knowledge is an important strategic asset. Here is a compilation of five ideas showing how and where you can gain it.
Coaching and mentoring
Getting information from professionals, already familiar with the market, can be a valuable lesson. The business knowledge of influential startup owners and renowned entrepreneurs that have gone down a similar path is extremely helpful. It is a good idea to look for opportunities to connect with them directly.
Another idea for getting professional guidance are webinars and networking events where professionals share their expertise with the audience. Participating in such events can be either paid or free. Using social media, thematic websites, or online forums, you can spot the most interesting tutorials and courses that will truly improve your business knowledge.
An equally good way to advance your expertise is to read inspiring biographies of such business leaders as Steve Jobs or Elon Musk. Reading them will let you look into all the efforts behind the success of these entrepreneurs. You will learn about their way of thinking, sources of inspiration, find out what problems they faced while founding their own startups and how they dealt with them.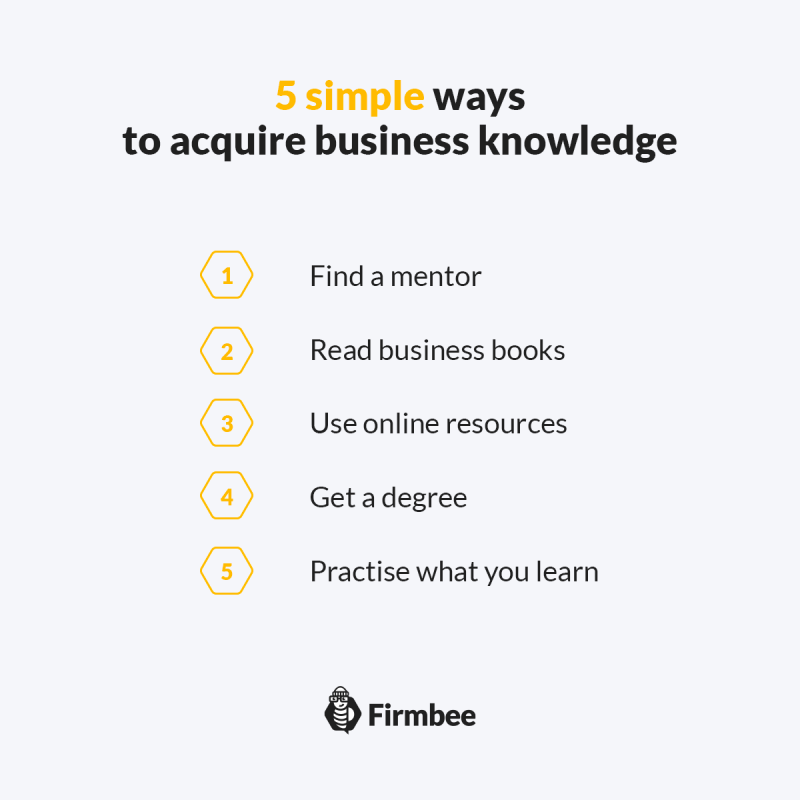 Business books
Reading is one of the most effective ways of acquiring business knowledge. If you can't find interesting publications on the web or you don't want to spend a lot of money on scientific papers or monographs, you should go to a library.
In the city library, usually in the section of business manuals, you can find real gems, thanks to which you will get answers to all bothersome questions. Helpful tips included in biographies can serve as a signpost at the beginning of your startup adventure.
You can also find interesting resources at book exchange websites, auction portals and second-hand shopping sites. In all of these places you will get access to effective study materials at a low cost.
Some frequently mentioned items include:
Peter Thiel "Zero to One"
Geoff Smart and Randy Street "Who"
Eric Ries "The Lean Startup"
Practice makes perfect
Suppose your startup implements new meat processing technologies, or offers an innovative idea for catering companies. It would be sensible for a budding entrepreneur to see what the business looks like on the inside.
Getting practical experience, through participation in internships, or even regular work in the profession can reveal many, previously unnoticed, aspects. This makes the originator start to see more possibilities. It also highlights specific problems and situations that need to be dealt with.
Many projects at their initial stage of development seem impressive and theoretically flawless. Having practical experience will allow you to see your startup from a slightly different perspective.
Online resources
Professionals who perform on stage pass on their tips to viewers. This is a slightly different, more innovative way to absorb interesting information. It is especially useful for people who are not fond of the written word and prefer to put actions in practice. The TED-Ed platform, as well as other educational channels on YouTube, offer a large amount of helpful content.
Higher education
Many entrepreneurs who already have a strong position in the market hold a degree in a particular field. This is usually management, information technology, law or science.In order to spend your college years productively, you should combine studies with work in a specific industry.
Having practical knowledge and experience will let you adapt faster to the changing market conditions after graduation.
Studying is a chance to take advantage of specialized library resources and intellectual competencies of the academic staff.

If you like our content, join our busy bees community on Facebook, Twitter, LinkedIn, Instagram, YouTube, Pinterest.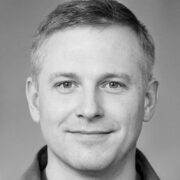 Launch your startup: