To become a Project Manager (PM), it is best to have the appropriate education and experience. Many companies require PM candidates to have a university degree in management or a related field. Furthermore, prior experience in a similar position can help you land the job. It's also a good idea to earn a Project Management Professional (PMP) or other recognized certification in project management. Still, how do you get your first experience as a Project Manager?
How to become a Project Manager? – table of contents:
Introduction
The tasks and responsibilities of a Project Manager can vary depending on the type of project being undertaken. However, the path leading to this position usually requires spending many hours studying. This is because the PM is a person who can have a major impact on the operation of the entire organization. From dealing with clients to managing a team, building and maintaining relationships with decision-makers at higher levels, the PM has to handle a variety of responsibilities and face many often difficult or conflictual situations.
University or certificates?
Many large organizations make a tough requirement for Project Managers – at least a bachelor's degree in management or a related field. However, even if you can't put such an achievement on your resume, don't completely abandon thoughts of this career path.
Sometimes the required diploma is followed by the phrase "or equivalent." The equivalent may be work experience in a position that involved skills similar to those of a Project Manager.
Another way is to get certified. If you're just aspiring to become a PM, it's worth browsing the directories of reputable portals offering certified online courses. For example, on the Coursera website you can find, among others:
Google Project Management: Professional Certificate – a complex six-course practical program that prepares you directly for the job,
UCI Project Management Professional Certificate – a highly rated course prepared by the staff of the University of California, Irvine,
Project Management: Tools, Approaches, Behavioral Skills Specialization – aimed at the more technically oriented, a set of three courses focused on risk management, offered by the Technical University of Milan.
If you already have a basic knowledge of project management gained from your studies or an online course, it's worth looking into certifications that are geared toward further development as a PM.
Project Management Professional (PMP) – is a prestigious, internationally recognized certification awarded by the Project Management Institute, the same institution that periodically issues the PMBOK,
Professional Scrum – these are certifications issued by Srum.org. These are separate certifications that confirm preparation for the role of Scrum Master or Product Owner.
How to gain experience as a Project Manager
Gaining initial experience as a Project Manager can be challenging, which is why many people choose to complete internships or apprenticeships with companies that manage projects for external clients.
Ideally, you should begin acquiring experience by working in smaller companies and thinking about what skills to hone to start applying to work on larger projects over time. Another option is to begin one's career path with administrative work in a team implementing projects they would like to manage in the future.
Project and its Manager, Lead, Coordinator
In large organizations or large projects, management includes several people. Consider other positions that are a better fit for your existing talents if you're thinking about working as a project manager. But how should the PM's role be described?
In the PMBOK, the Project Manager is defined as:
"The person assigned by the performing organization to lead the project team that is responsible for achieving the project objectives. "
A second name for a role closely related to project management is Project Lead, or
"A person who helps the project team to achieve the project objectives, typically by orchestrating the work of the project."
The descriptions of Project Manager and Lead indicate two perspectives on the role of the person responsible for the project in the organization. After all, from the stakeholder's point of view, it is important first to take responsibility for the results, which belongs to the Project Manager, and in the case of the Scrum methodology, the Product Owner . And from the point of view of the path leading to the realization of these goals, the organization of the work of the team, that is, the work of the Project Lead, in Scrum called the Scrum Master , is crucial.
The role of Project Coordinator is also sometimes distinguished. Although the PMBOK does not mention this position, it is often found in job advertisements and descriptions of the structure of larger organizations. The Project Coordinator supports the Project Manager in performing administrative tasks. He or she also makes sure that project execution runs smoothly. The Coordinator's tasks may include:
Meeting planning,
Tracking the progress of dependent tasks,
Keeping statistics and monitoring the progress of the team.
It is worth remembering that experienced Project Managers often work on several projects simultaneously. Thus, they manage portfolios, project portfolios, or entire programs. Many leading companies, including Google, entrust PMs to oversee several projects at the same time.
Summary
The Project Manager's career path depends on the type of projects one desires to work on. After all, advanced technical projects require much broader competence and responsibility than small projects carried out by event or advertising agencies.
Regardless of your specialty, it's worth investing in your education. A university degree will give you a safe start. However, certified online courses offer practical knowledge that may be lacking during academic study. For more advanced Project Managers, organizations such as the Project Management Institute have prepared a system of certifications that test specialized skills – both those that are practical and those that require theoretical knowledge.
If you like our content, join our busy bees community on Facebook, Twitter, LinkedIn, Instagram, YouTube, Pinterest, TikTok.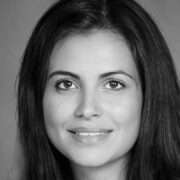 The most important questions
Is it worth becoming a Project Manager?

The decision whether to become a PM depends on personal aptitude, interests and career goals. It is a well-paid job, and increasingly in demand. And while the role comes with many challenges and responsibilities, it also offers development opportunities and gives satisfaction from the success of ongoing projects. If you like challenges, enjoy working in a team and can manage resources, time and at the same time deal with other people's emotions, you can prepare to become a Project Manager by getting the right qualifications and experience.
Getting started with project management: