Discover the differences between evaluative, generative as well as exploratory research. With this article, we begin another series of posts – specifically related to evaluative methods in UX research. In subsequent articles, you will learn about the advantages and disadvantages of specific methods belonging to this group of research. We'll show you how to prepare for research and we'll share a few tips related to conducting research. Today, however, we focus on evaluation research. Read on to learn more about this research method.
What is evaluative research? – table of contents
What are evaluation studies?
The evaluation research's purpose is to judge a concept or product and gain knowledge to improve a solution. We can determine whether a product is functioning as intended and identify areas for development and enhancement by conducting evaluation research as part of the UX process. Early in the design phase, evaluation research takes place frequently to examine new or existing solutions, and then done routinely – until the product reaches its final, definitive version.
Generative vs evaluative research
Generative research (otherwise known as discovery research), which we have already discussed in an earlier post helps us understand the motivations, problems and behaviors of our users. Their goal is to define the issue we want to solve and design the best possible solution.
On the other hand, evaluative research assesses an existing product solution and helps UX designers make sure it is easy, intuitive, functional and meets users' needs and expectations.
Both generative and evaluative research prove very valuable as decision-making tools in the work of a UX researcher and should feature throughout the product planning and design processes. When creating a research plan, analyze the competition and existing solutions, and determine the target audience and their needs. Depending on what you are looking for, and what questions you want answers to, you will be able to establish whether you should conduct generative or evaluative research at this stage. Still, keep in mind that both methods will come in handy throughout the whole research process – to obtain a variety of data and information.
Generative research will help you deeply understand users and learn about their needs, desires and challenges. Evaluation research, on the other hand, helps us see if the solutions we have developed in response to these needs, desires and challenges.
Why UX evaluation research is crucial?
In the UX design process, evaluation research is crucial since it enables us to test our solution and collect insightful user input that can enhance UX and improve the product. The results of evaluation studies are essential for assessing what already works well and what functionalities still require improvement.
This research method should always remain a part of the design process and further product development. By letting users interact with the product early and often, you will learn whether the developed solution is fit for your audience. The insights you gain from this type of research can hugely impact your design. You can show this data to your stakeholders to gain their support and achieve your product goals.
Types of evaluation studies
There are two types of evaluation studies: summative and formative. Although summative evaluations are frequently quantitative, they can also become part of qualitative research.
A summative evaluation helps understand the overall performance of a project. It is usually conducted at the end of the design process to evaluate its usability or to detect problems previously overlooked. It enables the project team to compare their solution with a previous one or with a competitor's solution. Its purpose is to determine the ultimate value of the change.
Formative testing, on the other hand, takes place early in the design process or during the design process to test and improve the solution even before the final one is approved. Conducting a formative evaluation allows for testing and identifying flaws in solutions during development and amending them on an ongoing basis based on customers' feedback.
A part of the UX design process concerns finding the type of evaluation that best fits the individual needs of your project, and then determining the research method to adapt. This can include usability testing, surveys, A/B testing, card sorting or focus groups. We will discuss all these methods in the following articles.
Summary
The evaluation studies discussed are a really handy UX research method. They allow a research team to obtain real users' opinions about the product on an ongoing basis and implement modifications and improvements if necessary. It is worthwhile to research the product both after the project terminates, as well as during or even before the process. Testing at each stage of the process will enable you to design a product best suited to the needs of the target audience and also avoid the obstacles associated with later mistakes (which entail a greater cost and delay in the delivery of the finished solution).
Of course, as before any other survey, take care of proper preparation and planning – from determining the purpose of the survey, defining research questions, analyzing the attitudes and behavior of our potential users to creating a persona – depicting the characteristics of the ideal customer. Adequate preparation is key to conducting any type of research efficiently and gaining valuable information that will translate into a better, more intuitive as well as suited solution.
If you like our content, join our busy bees community on Facebook, Twitter, LinkedIn, Instagram, YouTube, Pinterest, TikTok.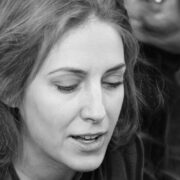 UX research: