In the previous article, we focused on UX research recruitment by discussing the issue of how many respondents should we test, how to select them as well as how to recruit them. Today, we'll present possible channels and tools for finding UX research participants, so if you are looking for ways to find an ideal UX study sample, search no more, take a minute and check out our post!
Tools for finding UX research participants – table of contents:
Sample profile
When determining the profile of our ideal user (their characteristics), preferably begin by determining whether you want to examine existing customers or people who are unrelated to our company and unfamiliar with the product under evaluation. This becomes crucial in selecting the right tools for finding UX research participants and determining the incentive for the study.
Enlisting our clients proves beneficial in situations when we are introducing an improvement, a new function of an existing product when a survey requires extensive knowledge and experience connected with the product, or when we care for probing "experts" and not newbies (because e.g. we are testing the extension of the application, PRO version, advanced functions, etc.). In such cases, we need individuals who know the product well and have sufficient experience to express it in a survey. With such measures, we will conduct our probing efficiently, without worrying about the choice of our respondents.
What is more, the involvement of our shoppers in the survey builds brand loyalty and a sense of attachment to the product.
However, there are situations when it's better to invite people not related to the product we have delivered. For instance, when developing a brand-new item you'll test usability on a group of novices (they should encounter obstacles and accessibility problems more easily than the experienced ones) when testing a potentially new group of consumers or in case of probing your competitors'. Thus, defining our sample enhances the selection of the right recruitment channels for screening.
Own database
By enlisting our clients, we save the budget as well as avoid external agencies or fund advertising. The access to the internal company base is an internal company resource to leverage here. There are several ways to run such an internal probing into your shoppers.
One way involves employing your company's social media channels (LinkedIn, Twitter, Facebook, Instagram) – especially if you have active and engaged followers who are also the buyers of the company. You can enroll them through direct messages, posts on closed Facebook groups for customers as well as targeted advertising.
When selecting the sample from the pool of our familiar consumers, our customer service department comes in handy – their employees are in contact with them every day. Additionally, those purchasers who contact the department are often open-minded people with many questions and extensive opinions, making them ideal candidates for participation in the qualitative investigation. On the downside, this approach obliges the involvement of the customer service department – what if they refuse to cooperate?
Another simple yet effective way to recruit your clients is by email. Simply turn your email list into a recruitment tool. People in our contact database who have already invested (time and money) in your product to some degree and may have valuable insights from a perspective that they are willing to share.

Recruitment platforms
If you're looking for participants who aren't necessarily related to the product and don't care about a specific location, you can exploit one of the proven recruitment platforms. Here are some that provide UX research and manage them efficiently:
User Interviews – With this platform, you can enlist respondents in one place (whether you wish to include your list or choose from their extensive database of potential respondents from several countries). What's more, the platform enables precise targeting by providing samples from over 140 different industries, job titles, demographics as well as other customized screening criteria.
TestingTime – The TestingTime platform suits those who want to focus on their probing Europeans. It also offers a UX testing service for companies looking for outsourcing the entire UX testing process.
Askable – This Australian platform Askable is a reasonable choice for those who aim at probing pools from Australia and New Zealand. They also offer a remote testing package with video, text chat, screen sharing, and recording of the entire session.
Respondent – It's a popular option for those wishing to study business professionals.
UserZoom – The website provides a set of UX tools for hand usability testing, as well as a large pool of potential participants.
Recruitment agencies
If you feel that you don't have enough knowledge and experience in recruiting for and conducting UX research or simply want to save your own time, you can employ a specialized surveying recruitment agency. These agencies are effective, though expensive. The average cost of such recruitment is $107 per one sampled individual – and remember, you usually need a minimum of five of them to complete a survey. It doesn't apply to small businesses though as you need a sufficient budget. Still, it's worth its price if you happen to have some to spare as you'll get priceless assistance from specialists.
Own website
The last method of obtaining UX research partakers involves engaging your website viewers. It is neither time-consuming nor expensive and requires little effort. It works well for enlisting our clients as well as newcomers – anyone on the net can visit the website. We do not need to create a separate recruitment panel.
In most cases, a new item with information about the ongoing recruitment process, short information about the probed product as well as the proposed incentive along with a registration form or direct contact with the UX investigation team will suffice. This method is not only quick to implement but also effective – as long as our website is functioning, and regularly updated and we take care of its content and SEO.
Channels and tools for finding UX research participants – summary
All in all, there are many ways, channels and tools for finding UX research participants. Specialized platforms, hiring a professional agency, searching among our consumers, taking on our company's social media or website – it all depends on the type of your inquiry, its size, your ideal persona profile and of course individual project needs. The range of possibilities and methods is growing exponentially, so there's a lot to gain if you keep up with what's on in the industry to get the most from running your UX research.
If you like our content, join our busy bees community on Facebook, Twitter, LinkedIn, Instagram, YouTube, Pinterest, TikTok.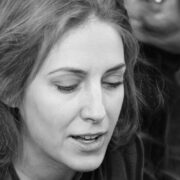 UX research: