Survey research is a well-established, popular UX research method. In this article, you'll learn about their benefits and limitations and you'll see how to properly prepare a survey with some online tools we recommend. With our tips, you will surely devise a sound survey, conduct a fruitful questionnaire study and obtain valuable data.
Survey research — table of contents:
What is survey research?
Survey research is a popular quantitative UX research method in which respondents anonymously provide answers to questions. The very process of forging surveys, publishing and gathering data should not pose much difficulty for a UX researcher. Currently, there are many free templates available online that make the process easier.
Survey research help verify the users' impressions of the product under study—and thus identify their problems. Still, remember that questionnaires identify only trends and general concerns. In most cases, questionnaires require further qualitative research, such as one-on-one interviews, focus groups or other methods tailored to one's needs and capabilities.
When to apply survey research?
Survey research has diverse applications. Among other things, they prove handy if you:
want to know the opinion of a large group on a given topic
care about the demographic diversity of our respondents
want to diagnose general trends or problems of our users
don't have the time, human resources, budget, or capacity for more engaging research methods
need statistical data based on a large group of people (e.g., to present to stakeholders and convince them of the importance of an issue)
Surveys enhance mostly the initial stage of the UX research process, as they quickly provide data on whether to confirm or refute a given thesis. They help in examining general trends and behaviors to direct further research. They reveal users' concerns to indicate the path the project team should take when doing more research and the project altogether.
Benefits and limitations of survey research
Survey research has a fair share of friends and foes. Their indisputable advantage is reliability and swiftness, as you can obtain opinions in situations requiring immediate decisions. They are quick, inexpensive and undemanding—the most troublesome part is certainly their preparation, asking the right questions, making sure they are easy to understand and kept to the optimal length of the entire form. A survey research allows you to collect a large amount of data in a relatively short period, which provides a solid basis for further research, deepening and analyzing the issues raised by respondents.
Surveys are also relatively easy to conduct. Recruiting participants isn't hard (as long as our target group is not a very specific niche) – it is enough, for example, to share a link to an online survey on a Facebook group or send it by email to a database of contacts (customers). Another undeniable advantage of surveys, on the part of respondents, is the little effort they require.
The people fill in the survey with little effort: they do it at home or even on the road (on a mobile device) and its completion usually does not exceed 15 minutes. In addition, such studies are anonymous, allowing the respondent to express his or her honest opinion without fear of judgment (which is often quite an issue for users, e.g., for one-on-one interviews or focus groups).
Despite the many advantages – survey research is not the ideal research method and will not work in every case. For example, when we are not interested in studying trends, but for example, attitudes and motivations – then individual in-depth interviews will work much better. Surveys provide very general data, so if we want to get to know the users in-depth, surveys won't suffice.
The anonymity of a survey – seen as an advantage from the participant's point of view – can sometimes stir up researchers as it makes respondents feel carefree, safe. With impunity, they may skip some questions, provide offensive, untruthful or mocking replies. This prolongs the analysis of the survey data, as it obliges at the outset to pick carefully responses that are valuable in the context of our project.
Preparation of the survey and conducting the questionnaire
When preparing for a survey, it is a good idea to already have the research objectives specified and know the general area/problem we want to study – the survey is intended to test our thesis. We should also have a broad picture of our persona prepared – who is our ideal user, what's their age, location, distinctive features, behaviors as well as troubles.
First and foremost, design a set of questions – your survey should contain mostly closed questions (easier for the respondent to select, and quicker for the UX researcher to analyze). Semi-open and open questions should come in moderation and balance out the closed ones. Mind keeping the survey brief. Watch out for the wording of the questions and answers – long, confusing queries containing contradictions may scare participants off at the outset, or cause distraction and generate false answers. In both cases, you end up with corrupted or insufficient data. Opt for plain language and set specialized vocabulary aside. A good solution is to conduct a pilot study, which is a general sample of the actual survey. This will help you check whether your questions and answers are understood by respondents.
You can survey in person, though current technologies favor the remote mode (note that in-person may work well, for example, when surveying seniors who are not well versed in computers and the online tools required to respond). The survey itself can be easily created using online tools – the most commonly used is Google Forms. All you need is a free Google account to easily and intuitively create a survey, add conditions (e.g., required answer selection, selecting up to 3 answers from a choice of options, etc.), generate a link to the survey and share it to participants with a request for completion. Respondents' answers come updated in real-time (which we, as owners of the sheet, have a preview of) and Google Forms provides plain data analysis by automatically generating graphs from the collected responses. Other popular (but paid) survey creation tools and platforms include Typeform, Interquest and Surveymonkey.
Each survey needs a metric placed at the beginning (questions about age, gender, place of residence, education, etc. (depending on our requirements) to provide a filter to classify only people who fit into the target group for the actual survey.
At the end of the form, it's a common practice to place an open-ended question to ask if the respondent has any comments about the study or the survey itself, maybe something else to add. You can get some valuable insight – often users write things that we as researchers could have not even thought of. It is also a place where they can report errors, and difficulties in completing the survey, and inform us if, for example, a question was incomprehensible or a technical error crept in. This will help minimize the risk of similar mistakes in the future and understand the respondent's point of view better.
Creating questions for the survey:
Formulate specific questions and answers
Write simply and to the point
Tailor questions to the respondent profile (questions aimed at a group of niche professionals and others aimed at high school students will sound different)
Remember to add metrics and filter questions
Follow the principle of "less is more" – by far the better choice will be to create a shorter survey (this reduces the time spent by respondents to complete it, thus making it easier to analyze the collected results)
Ask the attendees for comments, general impressions or other feedback on inquiries. Also, leave some space for any additional input for them.
Summary
Surveys – properly prepared and conducted – constitute a helpful research method in the UX process. The ease of their preparation and the relatively low cost of conducting have made surveys very popular for a long time. However, keep in mind that they will not work in every situation and need to come accompanied by other, preferably qualitative research methods. Remember – a survey answers the "whats", while an individual interview will tell us the "whys".
Read also: How to choose a research method?
If you like our content, join our busy bees community on Facebook, Twitter, LinkedIn, Instagram, YouTube, Pinterest, TikTok.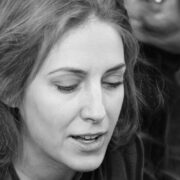 UX research: