What is Customer Experience and how to measure it? What influences it positively and what things effectively scare customers away? Read the article and check whether you do not make these key mistakes and how you can improve your customers' experience.
Customer Experience – table of contents:
What is Customer Experience?
Customer Experience is the sum of all experiences connected with a single company that a customer has at all touchpoints during the entire relationship embedded in time. From the moment the customer becomes aware of a given product till the customer parts with it. This is the so-called Customer Journey, which represents the entire way. Recently, the topic of Customer Experience has become a key driver of growth for all companies, regardless of status and size.
Unfortunately, many managers and business owners hold an obsolete view of customer experience as a matter solely related to the visual aspects such as physical stores or website layout. Such assumptions are wrong. Improving CX is not just about redesigning the logo, revising the website layout or equipping employees with tablets and hiring new, friendlier staff, or training the ones already working. All these elements are just "building blocks" from which you can start building a better Customer Experience.
Steve Jobs managed to capture the true essence of customer experience by saying "Design is a funny word. Some people think that design means how it looks. But of course, if you dig deeper, it's really how it works". He points out that design is not just about looks and aesthetics – but about performance, functionality, and usability.
What is the difference between customer service and customer experience?
In short, customer service is only a small part of the overall customer experience. Customer Experience is the customer's overall perception of a brand based on various interactions. Customer service is just one of those interactions – whether it's a pre-purchase conversation, a question about product availability, a refund, or complaint handling. All these are the key aspects of CX and we mustn't use those terms interchangeably.
What diminishes customer experience? – worst practices
Good brand image and positive customer experience are hard to get but relatively easy to lose. Many factors in many ways can lead to poor customer experience. If the customer is dissatisfied with only one aspect – not all is lost! We can still provide a positive perception of the experience as a whole. However, remember and take care that all (even the smallest details) have a positive impact on his journey with the brand.
Examples of aspects that may have a negative impact on Customer Experience may be:
long waiting time (e.g. for an answer to an inquiry, in a queue in a store)
misunderstanding of his main needs
rudeness or lack of competence on the part of employees
misinformation, misleading e.g. through unclear information on the website
hidden fees (appearing only at the checkout or in the shopping cart when shopping online)
unintuitive process of placing an order
problems with finding a given product or information on the website
slow loading website
There may be many more examples, so it is worth remembering about each stage of providing the customer with positive feelings from shopping / using the service.
How to analyze Customer Experience?
Customer impressions are rarely objective and analyzing their subjective opinions can be quite a challenge. Therefore, it is worth helping in this process with some indicators that will allow us to assess the current situation of Customer Experience in the company.
Having at our disposal various tools for measuring customer experience, we can track how the perception of our brand by customers improves (or deteriorates). This allows us to assess the success or failure of the changes we are making and to modify our actions if necessary. Below are some of these metrics:
Customer Effort Score (CES) – This is a "customer effort score" and measures a consumer's experience with service in terms of how easy (or difficult) it is to use the service or perform an action related to it. CES surveys are sent after a customer service interaction and ask, for example, "How easy was it for you to resolve a problem?" or "How easy was it to use the user panel?" The most common rating scale is 1 to 7, where 1 is "very difficult" and 7 is "very easy."
Net Promoter Score (NPS) – stands for "customer loyalty score" and is based on a very simple, closed-ended question "How likely are you to recommend our company to a friend?" In this case, depending on the wording of the question, we can use either a scale (e.g. from 0 to 10) or a yes or no answe
Customer Satisfaction Survey (CSAT) – is a "customer satisfaction survey" and measures the overall satisfaction or experience of a consumer with one of the aspects related to the product or service (it can be for example order process, shipping time or after-sales service).
Time to resolution (TTR) – or "time to resolution," which refers to the time it takes customer service to resolve a problem. This indicator is distinguished by the simplicity of realization because it illustrates an important part of the Customer Experience without the need to send additional messages or surveys to customers.
Summary
All in all, customer experience is the key driver of our brand growth and its general image on the market! A satisfied customer is a returning customer, as well as a customer who recommends our brand, our products or services.
Therefore, it is worth taking care of them at every stage (regardless of whether we are talking about online or offline customer experience), from the very beginning of getting to know a brand, through the presentation of products and services, ease of finding answers to questions, ease of making a purchase, to the delivery and post-purchase service. Of course, an equally important aspect is the design of the website or stationery store, as well as trained and friendly staff who will help the customer at every stage of their journey.
That's all you need to know about Customer Experience. Follow our blog category "The ultimate UX Guide" so you don't miss any of our next articles.
If you like our content, join our busy bees community on Facebook, Twitter, LinkedIn, Instagram, YouTube, Pinterest.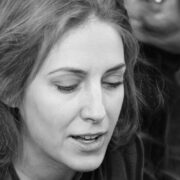 The ultimate UX Guide: