The Scrum Team should consist of up to ten people. But what to do when a larger group of specialists needs to work on one project? Or if the organization decides to follow an agile way of management? To solve this problem, Scrum developers proposed Scrum@Scale. It is a scale-free architecture to organize whole teams according to Scrum principles.
Scaling Scrum – table of contents:
Introduction
As soon as an organization grows, new kinds of problems appear. For instance, a drop in employee effectiveness that's caused by complex internal structure, difficult decision-making or direction setting. Companies operating agile at the small project-team level often look to scale up.
Many enterprises do well without scaling Scrum. Even if many Scrum Teams are running simultaneously, they don't need coordination as the groups operate independently. However, this does not mean that it is a multi-team Scrum. The need for scaling comes only when most of the organization is working on one product and can synchronize its multiple Scrum Teams effectively.
Most organizations that adopt agile management methods at scale choose the SAFE model, or Scaled Agile Framework. Today, however, we won't focus on SAFE but we'll discuss a different model called Scrum@Scale, as according to the 15th State of Agile report from 2021, it's the second-best choice among businesses that opt for agile.
Scrum@Scale
In 1996, the creators of Scrum, Jeff Sutherland and Ken Schwaber, were working on a large project. As they were doing it, they were having trouble keeping smaller teams working in Scrum in sync. They came up with a way to scale it, which they eventually called Scrum@Scale.
Analogous to the official Scrum Guide was the Scrum@Scale Guide, which defines this way of scaling work as:
A framework within which networks of Scrum Teams operate following the Scrum Guide to solve complex adaptive problems and creatively deliver products with as much value as possible.
The basic premise of Scrum@Scale is simplicity and efficiency. Therefore, its operation is based on a scale-free architecture. In other words, it uses Scrum to scale Scrum. In such a way, a scrum team composed of individuals acting as Product Owner, Scrum Master or Developer becomes the Scrum of Scrums: a team consisting of teams.
The Scrum of Scrums
The Scrum of Scrums is a scrum team with people taking traditional Scrum roles. However, since the task of Scrum of Scrums is to integrate the results of the work of several Scrum Teams, it needs additional posts:
Product Owner Team – a group of Product Owners who meet to agree on priorities and create a cohesive product vision
Chief Product Owner – Scrum Team's Product Owner or a person who deals exclusively with the Scrum of Scrums
Scrum of Scrums Master – the person who oversees the effectiveness of the Scrum of Scrums.
They meet at the same Scrum Events and use similar Artifacts.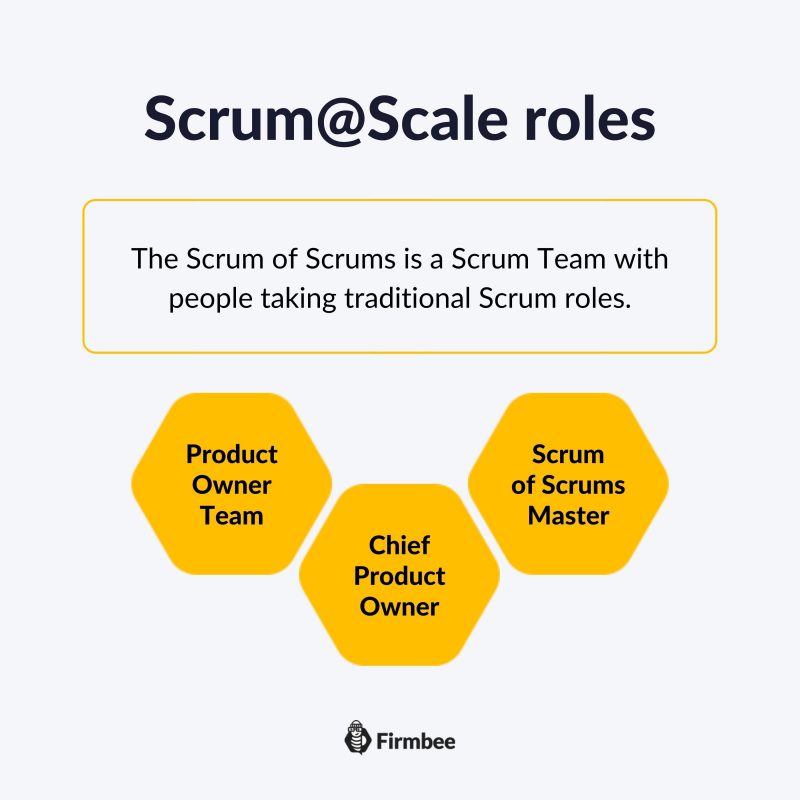 Further scaling and Scrum@Scale issues
The scale-free architecture of Scrum@Scale means that it enables scaling more than just once. If an organization needs to coordinate teams on an even larger scale, it can set up Scrum of Scrums.
However, scaling Scrum, like any other management methodology has its flaws, and in this case, they are similar to those of the basic Scrum Teams, only they are proportionally greater. That's why we recommend to work out the details of the collaboration within each Scrum Team before starting Scrum on a larger scale. We suggest scaling Scrum for experienced teams that have a good knowledge and understanding of values and workings of Scrum.
Scaling Scrum – summary
Scaling Scrum is no child's play. It requires Scrum Teams to proficiently apply Scrum principles and synchronize their tasks with other Scrum Teams. Therefore, the basic question to answer is: Is scaling needed? Just because there are many Scrum Teams in an organization doesn't automatically mean that coordinating them will bring better results.
If an organization chooses to augment Scrum, it gains a scale-free architecture that can be successfully augmented further. However, each augmentation is accompanied by an increase in the level of complexity that the Product Owner Team, Chief Product Owner, and Scrum of Scrums Master must deal with.
If you like our content, join our busy bees community on Facebook, Twitter, LinkedIn, Instagram, YouTube, Pinterest.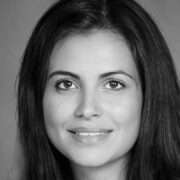 Scrum Guide: