Last year, predicting trends in the HR industry depended on the post-pandemic mood and social customs. Nowadays, apart from this, we must also take into account the rising inflation in many countries, which is forcing people to change their habits and reevaluate their way of life. So what HR trends are waiting for us in 2023? What changes does the HR department need to prepare for?
HR trends 2023 – table of contents:
Hybrid work
Last year we wrote about the popularity of remote work, which was introduced in many organizations during the COVID-19 pandemic. Nowadays, companies strive to find a compromise between online and onsite work by offering employees hybrid work.
Accenture has prepared a report showing that 83% of employees prefer a hybrid work environment. Employers' resistance to flexible work arrangements for employees can put them in a negative light. By failing to provide this benefit, candidates, as well as current employees, will be more likely to apply for positions at companies that take a more flexible approach to performing job duties.
Employee experience
You've probably come across the term customer experience, which refers to a consumer's interaction with a brand. We can define employee experience in a similar way. Every interaction an employee has with a company matters, from learning about a job offer to recruiting, hiring and leaving the organization. The cornerstone of good cooperation is the ability to listen and respond to employees' needs.
Taking proper care of employee experience can bring tangible benefits to an organization. A satisfied employee is more willing to perform their duties, which influences the quality of the offered products and services and builds a strong brand.

Employee welfare
Recent years have made many people slow down and reevaluate their lives. Taking care of their mental comfort and well-being has become a priority. Some companies have decided to support their employees in this by offering them space and opportunities to take care of their health, both mental and physical. Conducting regular surveys where employees can express their opinions, concerns or problems, offering flexible work arrangements or the opportunity to join health programs have become popular practices.
Taking care of employee welfare is also beneficial for employers. First of all, it puts them in a favorable light, thus reducing employee turnover and increasing the number of applicants for the offered positions. Well-being at work also has an influence on the quality of professional duties, satisfaction with cooperation and loyalty.
Constant development
More and more Millennials and Generation Z are entering the job market, for whom personal development and learning new skills is very important. During the COVID-19 pandemic, it was this group that was forced to learn online. This method turned out to be so accessible that many people began to use remote learning to develop their professional competencies as well.
Internal mobility
We are currently at a stage where the older generation is retiring, and in this way deprives companies of experienced and loyal employees. Organizations must then deal with filling this gap. It's not an easy task since many young people, although they have knowledge, lack practical experience.
The solution is to stop recruiting new employees. Instead, it's worth using the ones already working for the company. Their potential can be exploited by offering them a promotion, redeployment inside or outside the department, or commissioning additional projects. This can provide an opportunity for them to develop new competencies and retrain.
Soft skills
Until recently, it was thought that hard skills were the most important among the candidate's competencies. However, the dynamic development of the labor market has shown that soft skills, which are connected to character traits, interpersonal skills, or emotional intelligence, also count in business. As a result, employees show greater resilience to stress and the ability to find the information they need. So recruiters will have to learn how to source candidates with soft skills and how to attract them to the company.
Corporate culture
Corporate culture refers to the company's vision, values, beliefs and behaviors. It affects the interaction between employees and management, which translates into the company's performance and the employees' loyalty and commitment. Today, candidates pay great attention to an organization's culture when applying for a job.
They are looking for a workplace that respects similar values to theirs. So companies need to learn how to present their brand and what the organization is like from the inside – what vision it has, how work is organized, what kind of employees they are looking for and why their job offer is worth choosing.
AI and automation in recruitment
Artificial Intelligence, thanks to the ability to gather a lot of data and process it efficiently, can support HR departments in their daily duties, including the recruitment process. Automation makes it possible to quickly and effectively verify candidates and search for talent that is valuable to the company. The use of AI therefore speeds up the recruitment process, reduces the associated costs and relieves recruiters of tedious, repetitive tasks.
Cloud-based programs that support human capital and project management online also help to automate day-to-day duties. In the recruitment process, ATS tools that provide job posting templates, offer multiposting and are integrated with instant messaging to conduct interviews with candidates are useful.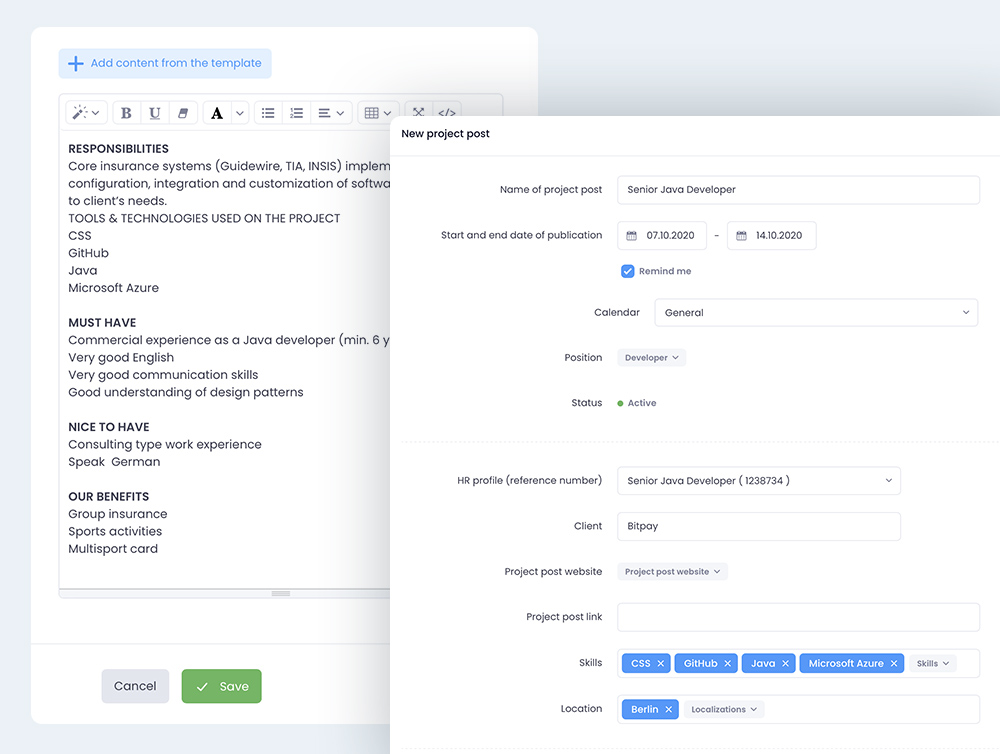 Mobile-friendly recruitment
Recruiters more and more often face the challenge of preparing a mobile-friendly recruitment. Candidates browse job offers in their free time, mostly on their phones. They are also more willing to send their applications from this device. The development of this trend is linked to the fact that users are now looking for jobs on social media, which are rarely viewed on a desktop. The HR department must therefore take into account such aspects as: preparing simple and understandable application forms, optimizing the "Careers" tab for mobile devices, or simplifying the application process.
Millennials and generation Z
As we have already mentioned, these two generations will dominate the job market. Recruiters must therefore try to understand people from these generations since they have different priorities than Generation X. Learning about their needs, interests and values will allow them to better tailor the job description and reach candidates more efficiently. The HR department needs to adapt to this new workforce in order to be able to attract and retain the best employees. And one way they can do that is by providing flexible work schedules, remote work opportunities and job sharing positions.
HR trends 2023 – summary
There are many challenges that HR departments must face if they want to reach and attract valuable employees. Trends in HRM and HR in 2023 put great emphasis on employee well-being, which manifests itself in the need to take care of people's mental and physical health, their professional development, or their trust in the company and working for an organization that is in line with personal values.
You've just read about HR trends in 2023. Read also: Social media in recruitment. 1 important reason to use them.
Check out our video about HR trends in 2023:
If you like our content, join our busy bees community on Facebook, Twitter, LinkedIn, Instagram, YouTube, Pinterest, TikTok.