Remote working has become a new norm over the past two years and more and more employers are switching to home office mode. It is worth noting that working from home remains troublesome, especially in cases of industries such as HR. How to effectively control the work of employees, keep records, and hold interviews? In our review today we would like to provide some handy tips and tricks for HR agencies on remote work.
Remote working tips for HR agencies – table of content:
Can remote working tips help HR agencies work more effectively?
Previously only applied to certain professions and freelancers, the prolonged pandemic has forced us all to adapt to remote working. Due to the epidemic threat, suddenly almost all industries were faced with the challenge of that switch. Although at first, it seemed almost unrealistic in some cases, the practice has shown that remote working is possible in almost every industry. HR agencies proved such an example as its nature revolves around communication.
It's good to point out those factors that make up for the effective and efficient work of a remote HR agency. From a tiny spark of an idea, its blueprint that branches off into particular solutions and schemes, its implementation and maintenance with the highest standards and professionalism – it all constitutes a Herculean task. Conducting a remote interview – is online recruitment effective?
A period of pandemic social isolation characterizes turning away from direct face-to-face interviews, to remote recruiting remotely. Contrary to the popular belief, it's possible given the two years it's already been in use. Video interviewing tools such as Teams, Skype, Google Meet, or even WhatsApp or Messenger are great for job interviews. One of the undeniable advantages of online interviews is that they put less stress on job candidates. It ensures that the answers to the questions asked are precise and devoid of the stressful tinge that is common during a traditional interview.
When it comes to strictly technical advice on how to conduct remote interviews, recruiters from HR agencies, despite the remote nature of such a meeting, should remain fully professional. The onset of global lockdown debunked many technological gimmicks, for instance, setting the background during a video interview or visual tacky effects, to name a few. Secondly, the quality of the conversation is also extremely decisive in this case – forget a smartphone held in your hand. Opt best for a tripod to stabilize the image and to get the quality and the feeling of close contact to imitate reality as much as possible.
Keeping employee records online
Digitizing company processes has become extremely popular and simply practical due to covid outbreak and social isolation. HR work would not be possible if it wasn't for the e-documentation. It takes off plenty of burdens like handling kilograms of documents to calculate salaries or completing employee folders on an ongoing basis.
It is worth emphasizing at this point that HR agencies have at their disposal many systems for full support for employee documentation and e-documents. An excellent example is firmbee.com, which provides access to all the necessary tools to fully maintain company documentation – bills, invoices, employee records, payroll, company assets, expenses, lists of contractors.
That one and many other HR agencies have access to modern and intuitive CMR strategies to keep accuracy at the par of a large company's office. Managing a company in terms of documentation can be just as effective remotely as it is onsite. This is especially comforting today when it is so common to work on the move.
Vendor immobility – how to deal with employees working from Home Office?
One of the most important tasks of the HR department is to control the quality of employees' work and check their effectiveness. Yet, two years of covid restrictions have uncovered plenty of obstacles like the lack of motivation and rise in depression among employees, some resulting from the lack of direct communication. Working from home gets troublesome, especially there are a lot of family chores to juggle, prioritize and schedule. That's why familiarizing yourself with remote working tips should be a must-have.
Many employees found it very hard, claiming that work as a facility and location gave them peace of mind to focus. Other main hindrances associated with home office are listed below: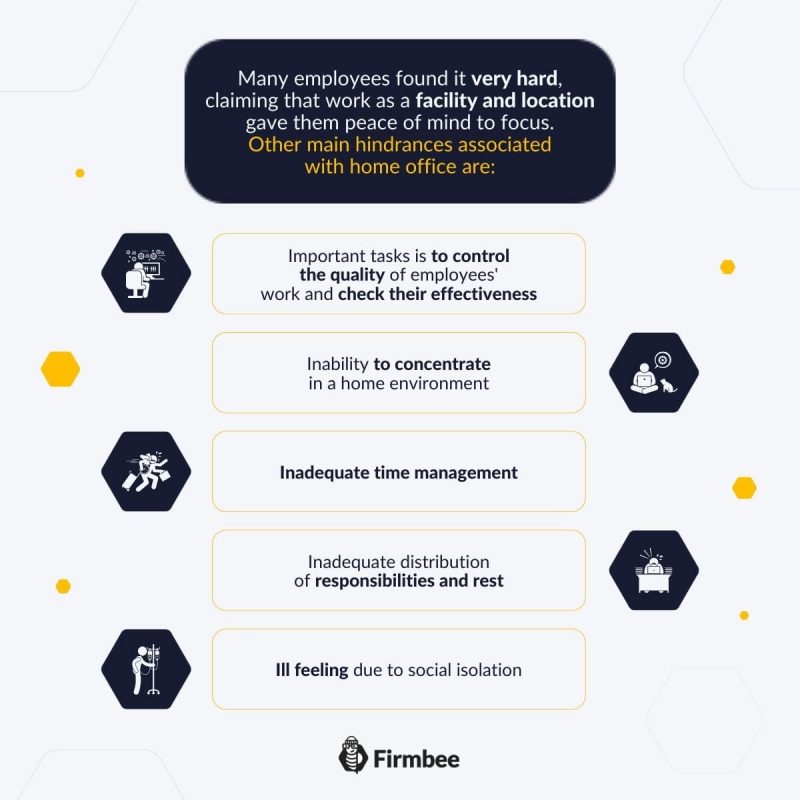 The work of salesmen in the vast majority of cases involves traveling and meeting with customers, which in the course of epidemiological restrictions is simply not advisable. Then the salesmen have to switch to the fully remote mode and contact contractors only through using one call and videoconferences. It is worth noting that this way of selling (remotely) can be as effective as talking directly to the customer.
At this point we would like to share a scientific curiosity – research conducted by scientists in the field of cognitive science has shown that the human brain reacts equally to stimuli coming from the real world and to images emitted by a computer screen. This means that with the right mental attitude, the experience of talking to another person through communicators such as Skype or Teams can be almost identical to that of talking to the person sitting across from you. It is for this reason that customer negotiation and sales via video calls can simply be very effective.
In order to introduce the sales department to work remotely, HR agencies should conduct some training sessions to introduce the ins and outs, warn and train and present the remote working tips which can help an HR agency stay effecitve. During such training (conducted in the form of a webinar, of course), effective ways of organizing working time on home office.
But let's not forget about the opportunities and comfort that remote working provides. The sales department employees will see remote work as purposeful, as with tools like emailing, messaging, researching, and video conferences, it is possible to make very effective sales.
HR agencies' remote work – summary
The remote working format has become the norm due to sanitary restrictions, and all signs point to the Home Office staying with us for longer. It's not just pandemic considerations, of course, as the restrictions will eventually be relaxed and lifted, however, the convenience of remote working and the ability to perform official duties from anywhere on earth shows a whole new horizon. It turns out that HR agencies can work just as effectively online as they can with the traditional, stationary mode of working.
The transition to online is obviously problematic at first, but the world is moving forward and this model of working is simply becoming the norm to adapt to. We hope that with this short guide, we have provided you with some handy remote working tips for HR agencies. Feel free to browse through other articles we have if you feel that this one was worth your while.
If you like our content, join our busy bees community on Facebook and Twitter.