Artificial intelligence is the new norm. Automobiles, cybersecurity, virtual shopping, and translation software….that's the bare tip of the iceberg of what already our machines can handle for us. With such a pace of pushing the envelope, no one knows how soon we will speak to HAL in our cars. But can AI deliver new solutions to HR professionals? Definitely! Check out our article and find out!
The use of artificial intelligence in HR – table of contents:
The nature of AI
AI (Artificial Intelligence) refers to the actions and behaviors of systems, machines and devices that derive from human behavior. The combination of technological automation and human factor guarantees the effectiveness and efficiency of performance.
The whole process focuses on collecting huge amounts of data and then processing the information and creating special algorithms. This combination enables the software to learn to acquire new patterns of behavior drawing from existing ones.
Is AI the future?
The great potential of artificial intelligence is indisputable. There are several key factors that perfectly explain this phenomenon.
AI applies the sophisticated deep learning technique that focuses on improving natural language conversion and voice recognition methods. During the procedure, the creation of neural networks takes place, so that there is a systematic analysis of data and, consequently, continuous development.
The pace of innovation in artificial intelligence and the quality of acquired data magnetizes and expands new horizons for entrepreneurs. Due to the share volume and value of information, the productivity and efficiency of all artificial intelligence functions keeps thriving providing accurate and reliable statistics, that in turn render powerful competitive advantage to modern businesses.
Artificial intelligence takes the automation of operations to a whole new level. The software works in an incredibly precise, effortless, sustainable but most importantly – unattended manner. The lack of human involvement means significant savings in money and time. Then, the user can focus on the core business, drawing on the knowledge and capabilities of AI software.
Offbeat and cutting-edge support is growing in popularity and success too. AI is a complement revolutionizing every sphere, take for instance healthcare. The optimal use of AI improves quality of life and offers the role of a private caregiver. AI reminds you of your medication and supplement intake schedule and monitors the overall health of your entire body. There is a tangible impact the machines facilitate for consumers.
Sales also belongs areas blessed with immense AI capabilities Accurate algorithms personalize purchase recommendations and even websites, which translates into profits for salespeople. A special report by E-consultancy confirms the effectiveness of such a strategy. The report reports that the personal nature of marketing raised conversion rates in 93% of businesses.
Artificial intelligence in HR
Will AI work for human resource management and support of HR functions? Definitely!
A survey conducted by Eightfold AI portal confirms a similar opinion. According to 225 interviewed HR managers in corporations, 82% of them declared willingness to implement more AI tools for talent management purposes. Such results undeniably highlight the great value of artificial intelligence in the modern enterprise.
The primary task of AI in HR aspects is to automate those tasks that do not require a direct approach. As a result, experts get more free time and the ability to direct their attention to the most important responsibilities.
The advantage of machines
To point out all the advantages of artificial intelligence, it is necessary to identify the chief objectives of the HR department. AI results in increased efficiency and productivity, regardless of the current stage of the recruitment process.
What is it worth keeping in mind? Here are the 3 most important determinants!
Recruitment
AI supports this phase by reducing all organizational and administrative activities. Software-based automation enables quick and efficient vetting of the available pool of employees. The computer sifts through hundreds of candidates, pinpointing authentic talent.
However, this is not all. AI arranges and schedules a calendar of upcoming meetings with interested parties, and handles any queries or concerns. Considering the aforementioned facilities, the recruitment run itself is simpler, faster and much more cost-effective!
Implementation
The offer of a specific job position is only the beginning. The successful candidate must demonstrate sufficient knowledge of the company's workings, rules and regulations. This is crucial as institutions with a low level of onboarding can experience as much twice the amount of resignation compared with those with high level of introduction standards.
Artificial intelligence is great at overseeing the entire onboarding procedure. AI uses business tools to provide the required package of information in a systematic and comprehensive way. The correct execution of the entire implementation process will result in a loyal and productive employee.
Training
That's the undervalued key aspect of modeling a team of professionals. The statistics strong support the claim stating that 86% of millennial candidates declare their willingness to continue in their role if the employer provides the right conditions for development.
Artificial intelligence enables an in depth analysis of a given position, suggesting HR the best training package. The employee gets a custom development path to grow, tailored to future tasks and responsibilities.
Moreover, the course of education itself guarantees faster results and a visible increase in the efficiency of the trainees. AI provides a number of automatic instruments, making learning enjoyable, intuitive, without the involvement of other company's HR resources.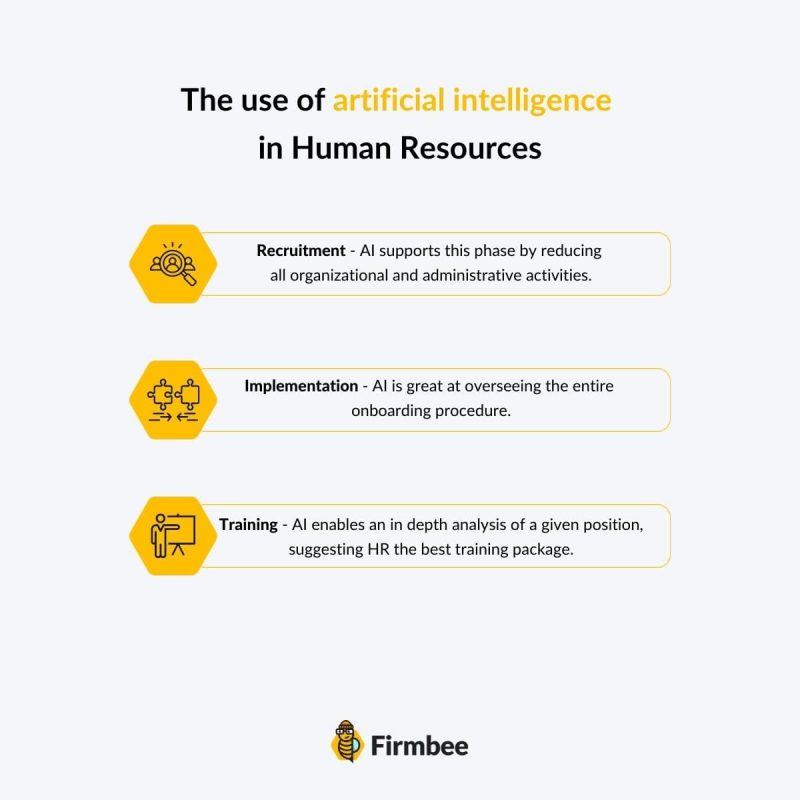 AI in practice
Nevertheless, despite countless gains, the implementation of artificial intelligence can generate some losses too. To avoid them, it's best to prepare. Here are 2 parameters that need to be taken care of:
Data – the AI phenomenon is based on rich information material. It is the appropriate amount and quality of data that determine the functioning of an innovative solution. For this reason, don't forget to building a database of statistics, lists, rankings, descriptions and analyses.
Doubts – HR department is especially exposed to the excess of innovative ideas and concepts, dedicated to working improvement. However, opinions and special studies on the possibilities of AI in business areas leave no ifs and buts. For instance a documentary movie of The Economist covering the issue portrays artificial intelligence in different perspectives – including professional. According to the survey, 79% of global executives point to AI as an element enhancing the performance of all professional's workflow.
Artificial intelligence in HR – summary
Artificial intelligence is a factor hugely influencing the value of product and services in basically all business areas. Businesses and customers see clearly how AI supports plenty of areas of our personal and professional life. We hope that after reading today's publication you'll feel convinced that we AI can, should and will positively impact all HR workings.
Read also: Talent management in company
If you like our content, join our busy bees community on Facebook, Twitter, LinkedIn, Instagram, YouTube.