Having a copywriting talent is not the same as generating effective content for the web. Internet users are distracted by many stimuli while surfing, moreover – developing texts that will be read not only on a computer screen but also on a smartphone requires proper formatting. Therefore, if you want to learn how to create effective content for the web – check out our web writing principles.
Web writing principles – how to write for the internet?
Web writing principles – background information
The art of creating content for the web is evolving – both user habits and best practices that make information easier to digest are changing. What is the difference between a standard article that will be published in a newspaper and a post on a website?
The rule of thumb is that Internet users do not read articles in depth from beginning to end, they focus more on skimming the content – all to quickly reach gripping and desired information.
So how can you make your content more attractive and grab the attention of your audience? Below are a handful of web writing principles that will help you discover the art of writing for the web.
Develop clear headlines
This is important for two reasons:
First, properly named paragraphs are a clear and straightforward indication of what the reader can expect from the content. It's a teaser of the content, so to speak, which should encourage you to read on.
Secondly, the use of H2-H4 headings is also important in terms of SEO, so make sure to saturate your subtitles with keywords relevant to your post. A clear division into clear and logical paragraphs is an incentive for the recipient to explore the content further. Check out our text on how to write good headlines.
Ensure internal linking to keep the recipient's attention
When creating texts, it often happens that the author mentions topics that have already been covered before – adding links to already published content that may be potentially attractive to readers not only keeps their time and attention on the page, but also has a positive impact on SEO.
Referencing previous publications allows you to redistribute already existing content.
Clear text is easier to read
Browsing online content is often done on the go and on a smartphone screen. This explains why it's important to make sure your text is structured properly, so it doesn't overwhelm the reader. This is one of those web writing principles that can't be overlooked.
The use of short paragraphs and sentences facilitates the reception and encourages the reader to explore the article further. This is especially important for recipients of mobile devices – then such clarity of text is worth its weight in gold, does not tire the eyes, and encourages further reading.
Shorter portions of the text are easier to absorb and make it easier to remember.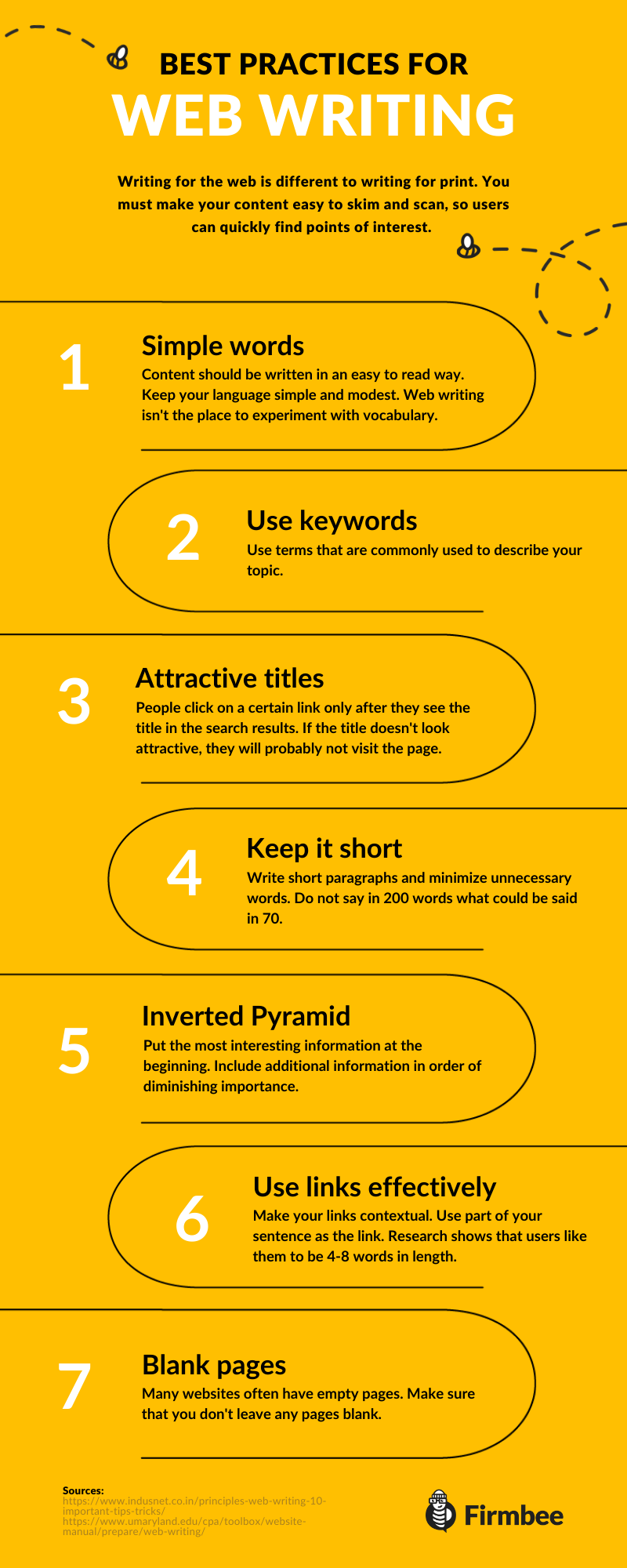 Web writing involves creating simple content
The art of text design involves writing about complex issues in a simple way that can be understood and easily assimilated by the user. In many cases, the less is more principle works, according to which avoiding complex sentences and presenting issues in simple language allows you to reach a wide audience.
Thus, if you want to reach a wider audience with your article – speak their language.

Substantive content for websites inspires trust
When browsing content on the Internet, you often come across descriptions that do not contribute much and do not provide a concrete answer to the user's question.
When developing content, it is worth focusing on factual texts that will help solve the problem of the Internet user, as well as interest him and build an image of an expert by sharing knowledge. Effective content marketing pays off in the long run and allows you to attract new users.
Train your web writing skills
Web writing is a key skill these days when creating content for the web. Whether you are a copywriter, marketer, or e-commerce specialist, effective webwriting should be the starting point of your skills.
With regular practice, you can spot effective solutions and deliver exactly the content your audience and customers want.
Want to stay in touch with our content? Join our Facebook community