Internal linking is an example of one of the basic SEO procedures. It consists of placing links inside the parent website, making it easier for users to navigate between existing subpages, and for Google robots to index them. It also works well for achieving content-marketing goals and redirecting users to other valuable content.
How to link well within a website? Below we present a handful of proven tips:
What is internal linking and what is its purpose?
Internal linking is the linking of pages within the same site using links.
As a rule of thumb, three goals guide this:
Indicating site hierarchy,
Making navigation easier for users and search engine robots,
Strengthening the overall value of the site.
Properly done linking will keep the user on the page for a longer and will guarantee a clear path for bots.
How to carry it out effectively?
Take care of the service expansion
The starting point for internal linking is to have a large number of subpages to link to. Without such a base, performing further operations will be impossible. If you generate a lot of content focused on the topic of the portal – then you naturally gain the opportunity to add links to other places on the site. This will strengthen its value and keep the users' attention for longer, as they will stay within the site and browse through other interesting content.
Anchor texts in the service of linking
If the domain of SEO or copywriting is close to your heart – you will surely have come across this term. An anchor, or anchor text, is a piece of content that hides a link that redirects to another page. It allows users to know what a particular subpage is about even before they go to it. When building a linking strategy, ensure that anchor texts are diverse and not just about a selected keyword.
Two mistakes when linking internally – avoid them!
Linking to the homepage is a popular trend, but it is worth keeping it in moderation. In practice, most sites have too many links just to the homepage. It is much more beneficial to strengthen other pages, hidden in the depths of the site. This will increase the effectiveness of positioning.
This tip also applies to another frequently linked page – the contact page. This is quite a common practice among beginners in content generation and internal link placement. As a rule – avoid adding links to pages from the main menu.
Use the right links
Internal linking should not happen carelessly, as a result of chance. Only the development of a strategy and its consistent implementation will allow you to achieve higher positions in Google and retain users inside the site.
For example, if you run a diet catering business – on a subpage describing vegetarian dishes you should avoid linking to meat dishes. It will not bring you any benefits and these two subpages should not be linked together. A better practice would be to redirect the user to the most popular vegetarian dinner offer.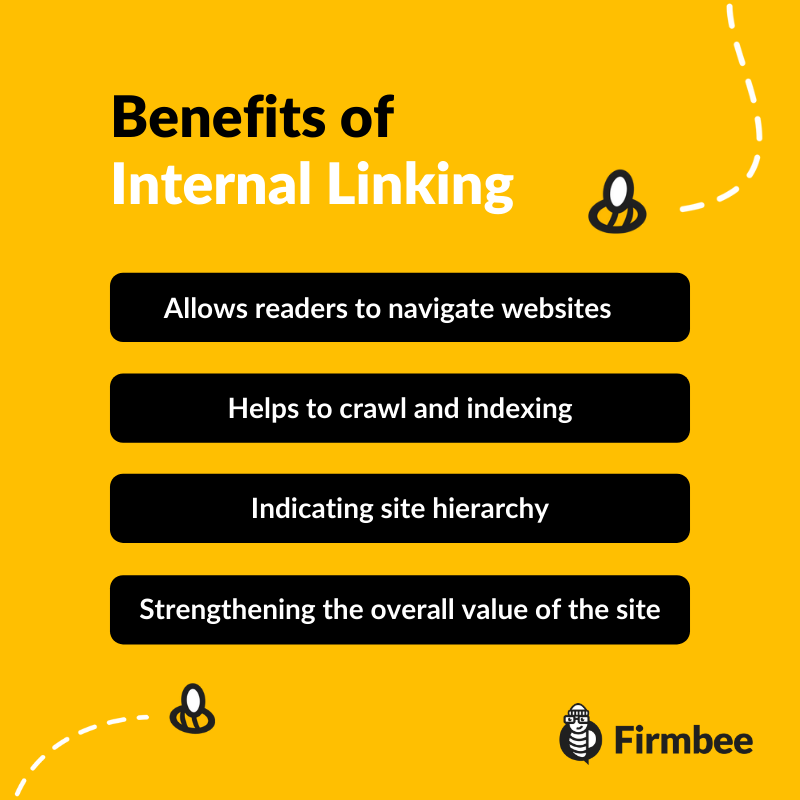 Benefits of internal linking
Skillful linking is your ally on the way to building better website visibility.
It is one of the basic SEO strategies that will help in keyword positioning. Clever placement of links in the form of important phrases is a way to tell Google's robots what your website is about. By properly covering these links with content, you will keep users on the site for longer – and this will help in creating the image of an expert in a particular subject.
Internal linking is one of several ways to effectively market and promote your business. If you're interested in this particular topic, you can get to know some more of our ideas and where you can upload your new product.