High-quality SEO content has a significant impact on effective site optimization. In order to write a good text for search engines and at the same time effectively meet the information needs of customers, it is not enough to just stiffly paste in a few key phrases and outline a few sentences in the language of benefits. So how to approach SEO copywriting and properly approach the process of SEO content creation so that the text is readable for the Internet users and generates proper traffic to the website?
SEO copywriting – table of contents:
Basic principles to help you create SEO content
Optimizing texts for SEO-friendly content is not an easy task. Here are 3 basic rules which you should remember when starting SEO copywriting.
1. Attract attention
The published content should eventually attract the attention of new recipients, who will additionally become interested in products or services offered by a given website. Catchy headlines can help with this.
Moreover, a well-prepared SEO text supports the entire positioning process and is highly valued by Google, thanks to which the website is placed high among the organic results generated by search engines.
2. Introduce keywords naturally
SEO copywriting requires the ability to introduce keywords naturally, use the right vocabulary, and reliably convey information and knowledge. Such content must be fully comprehensible and believable to readers and extremely pleasingly visual.
3. Focus on vocabulary and formatting
Of course, you also can't forget about linguistic and punctuation correctness, as well as proper text formatting. However, it is also worth getting familiar with a few basic rules that will significantly improve the entire process of SEO content creation.
Judicious placement of keywords
SEO copywriting means, above all, effective placement of the most important phrases for the client. Unfortunately, it often happens that copywriters overuse keywords when creating content, which makes the text seem too artificial and schematic.
Exposing users to content selected solely for search engines usually brings the opposite results. So how to find a golden mean? First of all, the length of a given text should be taken into account.
Proper saturation of key phrases and their placement in the text is also extremely important when it comes to SEO copywriting. It is also a good idea to look for semantic phrases, synonyms, and idioms to make SEO content more reader-friendly.
Proper text formatting
Most internet users only do a cursory search through the text to find the information they need. SEO content, therefore, requires proper formatting. Preparing clear and visually attractive texts encourages users to explore the website further.
Apart from using hierarchical headings, it is necessary to remember about bolding more important fragments, placing enumerations and bullets, as well as building content according to the rules of web-writing.
The right SEO content volume
SEO-friendly content, i.e., content created with SEO principles in mind should have a certain length. Of course, extensive and unique content with cleverly embedded keywords will prove to be the most desirable by Google search engine.
At the same time, you should avoid preparing longer texts with constant repetition of the same information. In such cases, it is better to publish shorter content that covers the topic in depth.
SEO text simplification
SEO copywriting requires preparing simple but still valuable texts. You should be guided here mainly by the target groups that the client wants to reach. Using high-flown words, specialist terms or technical phrases may quickly discourage a potential recipient from further browsing of the website.
Although SEO texts must be understandable for an average Internet user, they should also not contain colloquial vocabulary. After all, professionalism is always in fashion.
Generating audience response
The most popular and profitable ads usually evoked great emotions in the audience. A similar scheme can be applied when creating SEO texts. It will be necessary here to master the elements of the language of benefits.
Encouraging interaction, telling users what specific action they need to take to be successful in a given field or to achieve the desired effect will not only help generate more traffic, but also increase interest in your products or services.
5 tools to improve the SEO content creation process
The process of content creation itself should be further improved by using commonly available Internet tools. In fact, on the web you can find many effective solutions that will make both the creation of ordinary articles and SEO texts much easier. So which ones will prove particularly useful?
1. Answer The Public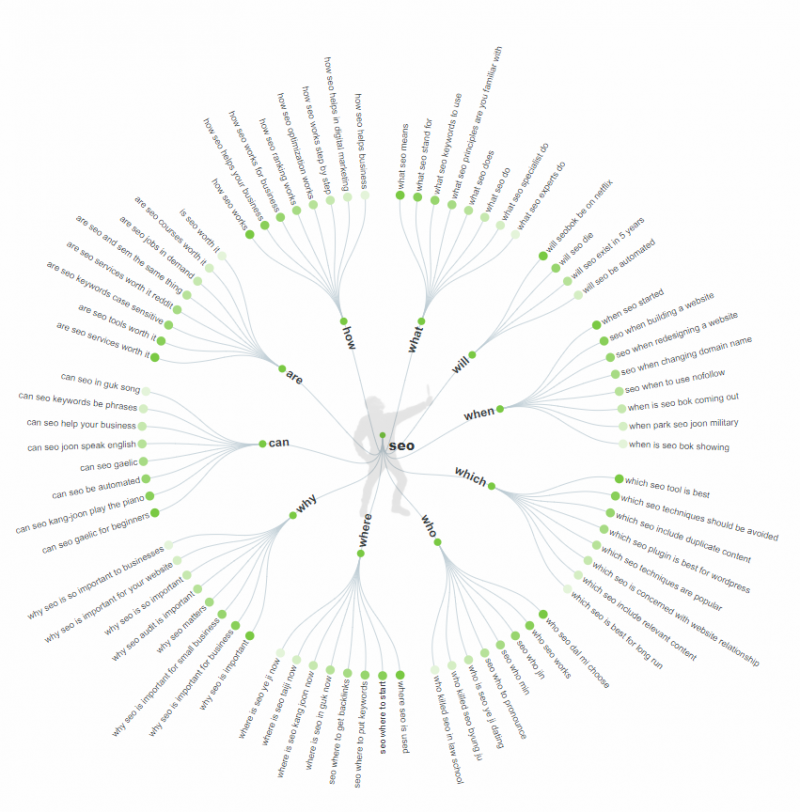 source: https://answerthepublic.com/reports/7eecb486-da82-4281-88e2-ab4b69765437
A free solution used mostly for SEO content creation. The tool, through effective analysis of Google search engine prompts, appropriately generates phrases typed most often by users. Moreover, it suggests what topics and themes can be raised in the text to make it interesting for the potential audience;
2. Ubersuggest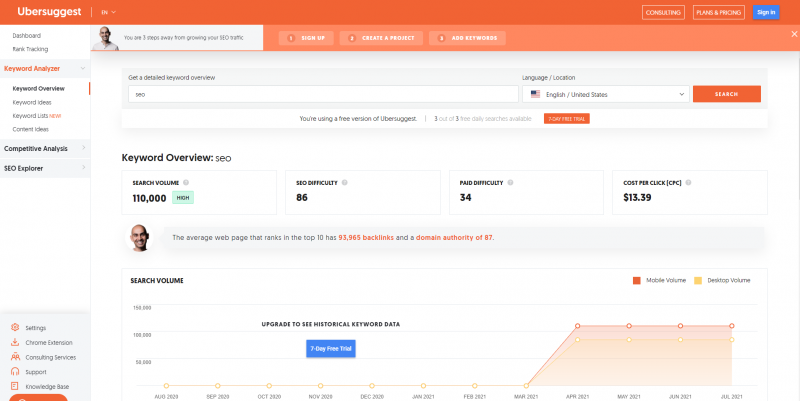 source: https://app.neilpatel.com/en/ubersuggest/overview?lang=en&locId=2840&keyword=seo
A fully free tool with which you can generate themes to improve content creation for websites and blogs. You can choose from several language versions.
3. SurferSEO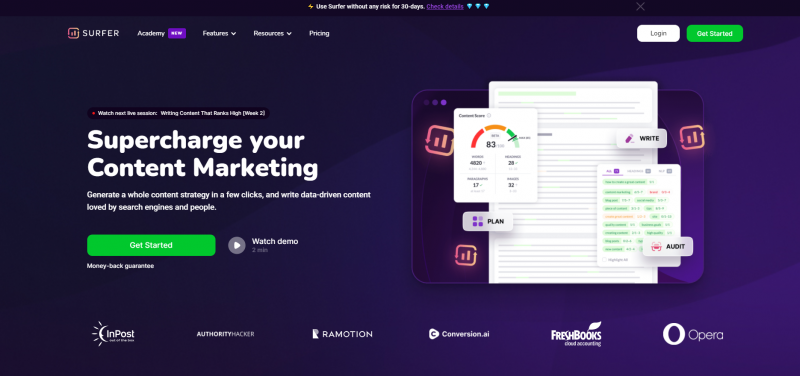 source: https://surferseo.com/
One of the most valuable tools to support the entire text creation process. Its operation is based on an in-depth analysis of the content of competitive sites in the Top10, so you can quickly see what characterizes the texts from the first page of the search. This applies both to the topics undertaken, as well as the number of contained paragraphs, headings and keywords. Based on this, it is worth preparing your own text, which is likely to replace the competitive content from the Top10.
4. Languagetool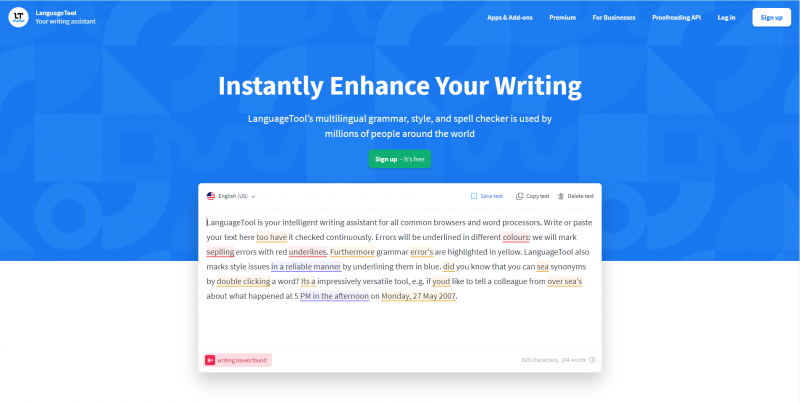 source: https://languagetool.org/pl
A site where you can verify the linguistic and punctuation correctness of the text you have created.
5. Hemingwayapp
source: https://hemingwayapp.com/
A tool that checks the readability of prepared content. Even the most valuable content cannot defend itself without high-quality SEO texts.
However, the whole process of creating SEO-friendly content can be significantly facilitated by using the mentioned practices. You should especially remember that SEO texts need to be constantly refreshed, as well as re-optimized once in a while, so you should regularly update the content you put on your website.
You may also like the topic: Voice search and SEO
Want to stay in touch with our content? Join our Facebook community