A content marketing strategy involves developing and distributing content according to a previously prepared communication plan. Designing such content that will answer the most common questions and pains of potential customers is a simple way to gain leads. How to use content in the service of increasing sales? What are some less obvious ideas that can help with this? Discover how to get leads with well-chosen content.
Content marketing – table of contents:
Interested in increasing sales through content?
Using autocomplete in Google when typing in relevant key phrases is one of the easiest ways to get inspiration. However, there is a drawback to using autocomplete suggestions – while they are valuable to both the user (responding to their real needs) and SEO, they do not provide room for innovation.
Basing on topic suggestions obtained from the top results in Google should be just one of the ways to look for ideas to create valuable content.
Types of content and lead generation
One of the best practices that is useful in developing valuable content ideas involves looking for blog topics not only in keyword planners and external tools, but also directly from the organization. After all, if one issue comes up among several salespeople – it's a clear signal to the marketer that it's worth exhaustively discussing the topic on multiple levels.
This new look at drawing inspiration occurs when generating content in those situations where a change in the organization's strategy is at stake. In many cases, for example, when SaaS companies plan to raise prices as they expand – it's important to reformulate the existing content marketing plan. This will help in reaching out to the high-end clients.
Your website statistics vs. your response to leads
A fairly common scenario proves that the target website may generate a relatively large number of visits, but this does not translate into a satisfactory number of conversions. What's more – data on website visits is not a proper indicator either – as these are quite abstract statistics that are hard to compare objectively.
The main problem for marketers is that they rely too much on the page view count, and this is for several reasons:
a large number of Internet users browsing the site with a low conversion rate means that the information on traffic analysis may be questionable,
many sites owe their popularity to generating traffic from just a few pages,
the desire to bring more traffic to the site may contribute to using content that, while it will increase visits, will not increase conversions and sales.
Acquiring leads through sales calls
Whether you like to experiment and use new techniques in your work – forget for a moment about the tools you already know well to help you create content.
For starters, try listening to your salespeople's calls. The overriding value for you will be to learn the voice of your prospects – their needs, arguments, and objections.
There is no golden rule to how many of these calls you should assist with – you may start to see value after just a few, or sometimes a dozen, calls. This experience will equip you with a powerful dose of knowledge about your target audience, which will allow you to redefine your current content marketing strategy on topics and types of content. In the long run, this will enable you to increase sales to your desired audience.
Step into the role of a salesperson in the service of acquiring leads
Sometimes the execution of a content marketing plan takes place without any cooperation with the sales department. And it's the salespeople who possess great knowledgeable concerning both potential and current customers.
If you feel up to it – you can go a step further and try to have a few or more of such conversations on your own – such a change of roles and getting out of your comfort zone is a win-win situation.
You will gain knowledge about the company's audience, its potential customers – and if the salesman is included in this experiment and is faced with, for example, the task of creating a blog article of value to his potential partner – then it is highly likely that he will be more willing to share it with customers. What do you think his reaction will be to the leads that will flow in through his SEO-optimized article by a copywriter?
Push the envelope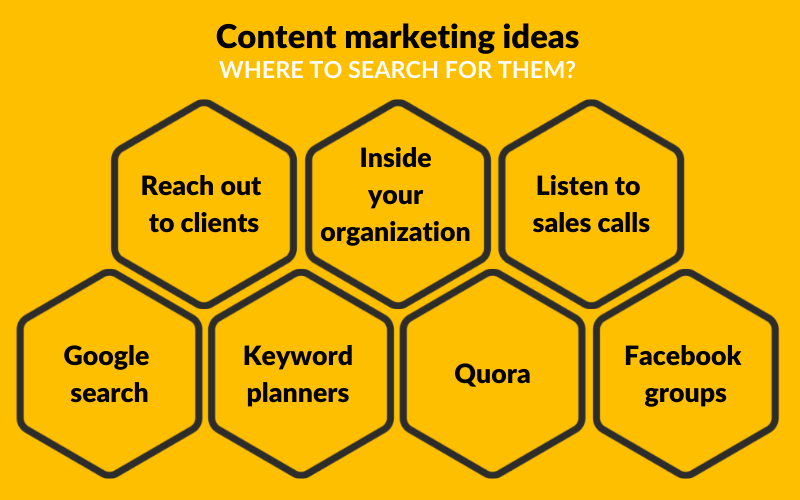 Acquiring leads by redefining your content marketing strategy can be highly effective and enable you to bring in fewer customers who will generate just as much (or even more) business for your company.
Marketing is very much about experimenting and finding new and more effective forms of customer acquisition. Thinking "out of the box" makes success possible, so – get to it!