What is social commerce, do you know? The development of the Internet has brought many new possibilities to business owners. E-commerce is no longer connected only with possession of website or marketplace platforms, it includes social media as well. Social commerce is the new, next expression from this area we need to learn about. What is it all about? Where and how to use it? Read the article to find out more.
What is social commerce? – table of contents:
What is social commerce – the definition
Social commerce is a term describing the ability to buy items with the use of social media services or social applications partially or end-to-end. Social commerce includes all events related to social media that may influence the purchasing decisions of clients.
Social commerce activities include:
Creation of a positive brand image and building trust in the brand – by creation of interesting and valuable content, that has a chance to help increase the commitment of internet users.
Building the community that is interested in a given subject or product – social media is an ideal place to bring together people that share a common passion.
Presentation of the shop's assortment – with the use of movies on YouTube or rolls on Instagram, the seller may present his products or services in an original and interesting way.
Shortening of the purchasing path – offering the login options that can be performed with social media account details, and the creation of links to products that are placed in posts and reports, all shortens the purchasing path and speeds up the decision-making process.
Steady contact with clients – this is the feature of social media – everything happens in real-time. Due to this the seller may respond to comments of clients, take part in conversations, and react to doubts of potential customers – all on an ongoing basis.

Advantages and disadvantages of social commerce
There are many advantages and disadvantages of social commerce. Among the advantages are:
A specified group of recipients – the brand attracts a community that is interested in the subject.
Technological possibilities – for example, social login, which is the functionality that allows logging to the website portal with details from already existing Google, Facebook, or another account.
An enormous reach of social media.
Ability to control the results of operations.
Shorter purchasing path – clients can buy products while accessing their social media accounts, this shortens the purchasing process because the client doesn't have to move from one website to another, where he would have to log in himself and fill all the forms..
Pleased customers may share the links and recommend the brand through their social media.
Disadvantages of social commerce:
Frequent changes in algorithms used in browsers – may cause a decline in coverage and usually force the shop owners to repeat the optimization training.
Negative reviews – simplicity and accessibility of social media encourages internet users to share their opinions and comments about the products, services, and shops – negative opinions are written under the influence of emotions.
The need for constant monitoring – permanent monitoring and fast reaction can protect the company from the image crisis.
Do social commerce and social selling mean the same thing?
Many people may have problems distinguishing between those two terms. It must be remembered that those terms don't mean the same thing. The main goal of those two processes makes the difference. The main aim of social commerce is generating sales, while the goal of social selling focuses on the building of relations with our potential customers. More about social selling read here.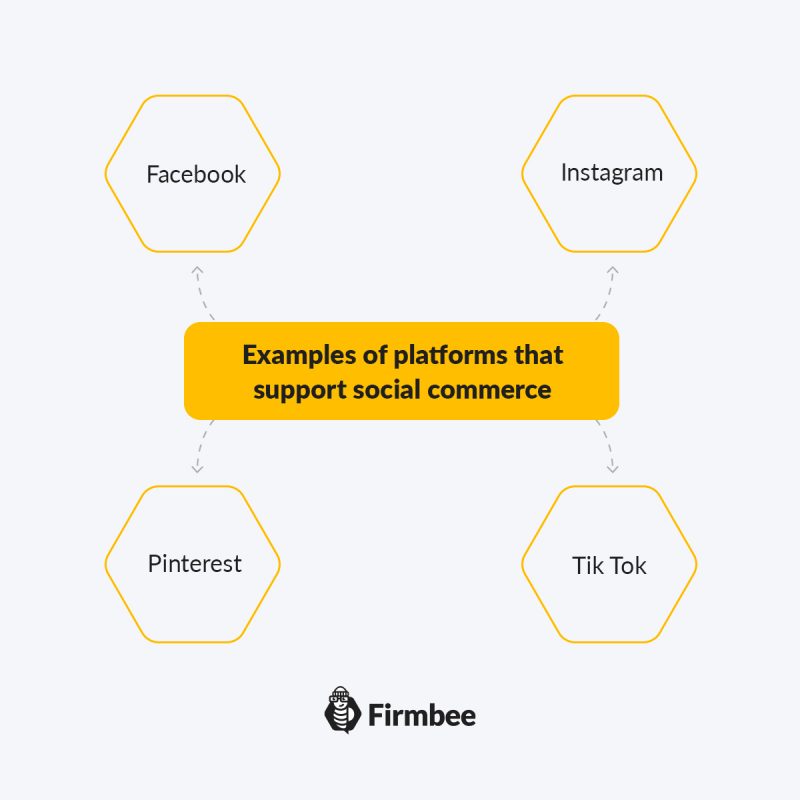 Examples of platforms that support social commerce
For the seller who decides to use social media for advertising his products, there is a selection of tools available on the internet. Let's take a look at the most popular of them:
Facebook

The sellers may create their shops on Facebook and present their assortment. Additionally, there is an option of product marking that is being added to the given shop or catalog. Thanks to this users, after clicking on a movie or image, can start the purchasing process immediately. Other functionalities, provided by Facebook, in the social commerce area are Marketplace sales or sales groups as well as live transmissions. The accurate guide, about the selling of Facebook, is available on our blog.

Instagram

There are many options on Instagram that are similar to those offered by Facebook. The owner of the company's profile can create a tab and the "See the shop" button will be visible on the profile. There is an option of marking products, not only in posts but in InstaStories as well. More about selling possibilities on Instagram in the article here.

Pinterest

Pinterest is the next, interesting website that can be used for social commerce. More about Pinterest read on our blog. To be able to sell with the use of this platform you join a program of verified sellers. This way you get access to functionalities such as a special plaque (that informs that the seller was checked out by the Pinterest team), buying offers, shop cards, or statistics. 

TikTok

The platform has launched a function that allows presenting and selling products directly through TikTok. There are three methods of increasing shop income: by running own live transmissions, in cooperation with other creators or agencies that operate on the platform, and by taking part in monthly campaigns organized by TikTok Shop.
Summary
What is social commerce? Many people agree with the conclusion that social commerce changes from a trend into an obvious fact of living. The two generations: Millennials and Generation Z seem to approve of this – they constitute the largest group of consumers that make their shopping through social media. Sellers who wish to be successful in the market should think about developing their business and moving their sales to new selling platforms.
If you like our content, join our busy bees community on Facebook, Twitter, LinkedIn, Instagram, YouTube, Pinterest.