Most people associate TikTok with a popular social media app for teenagers. Nothing could be more wrong. Our today's article will prove that it is just a prevalent stereotype and that the service itself hides a lot of pioneering solutions for the ecommerce industry. One of them is the TikTok Shopping feature which allows users to promote and sell products on the platform. How to sell on Tiktok? Read on to find out more.
How to sell on TikTok? – table of contents:
Sell on TikTok
TikTok is one of the fastest-growing apps in the world. Even the restrictions that a few countries have imposed on the platform, have not prevented it from expanding. For example, India banned TikTok twice, first in 2019 (the provision was repealed), and then in 2020. Some tight restrictions were also to be imposed on TikTok in the USA. Eventually, however, this did not happen, and a portion of its shares was bought out by American companies, Walmart and Oracle.
TikTok generated revenues of about 4.6 billion US dollars in 2021 alone. The number of users reached 1 billion last year, and it took only 5 years for the platform to achieve this result (Facebook and YouTube, for instance, needed 8 years to do so).
TikTok audience
According to the latest statistics by Datareportal, 56% of global TikTok users are women. The largest number of users are between 18 and 24 years old. The second dominant audience is between 25 and 34 years old. TikTok is also the most engaging app as the average user session lasts 10.85 minutes. To compare, Pinterest ranks second with 5.06 minutes.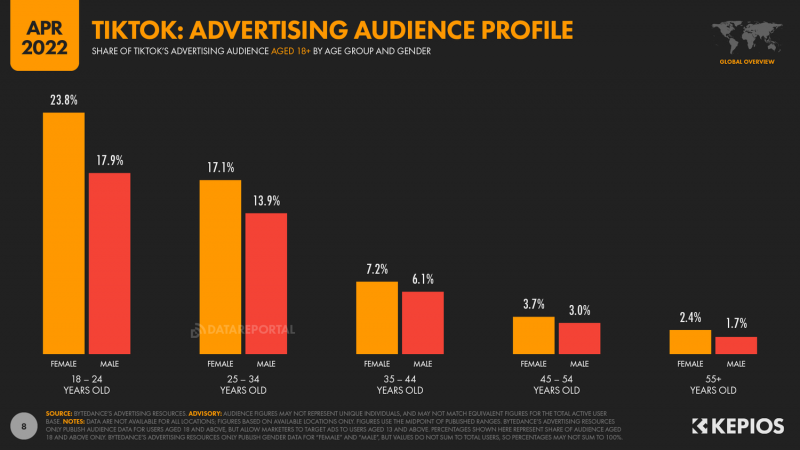 What is TikTok shopping?
As it turns out, TikTok is not only a social media platform aimed at young people who enjoy watching and creating short videos related to the latest dance trends, but also an ideal place for would-be entrepreneurs. To that end, the platform has launched a new feature called TikTok Shopping.
TikTok content creators can tag their videos with specific products that users can purchase directly from the app. This shortens the whole shopping process as they don't have to go to a separate online store to do so.
How to set up TikTok shopping? How to sell on TikTok?
TikTok Shopping feature offers two solutions for ecommerce. The first one is Direct Integration, while the second is Partner Integration. In both cases, merchants receive access to all the necessary functions and advertising tools. They are configured in a different way, though.
TikTok Shopping Direct Integration
How to sell on TikTok? The first step is to set up a shop in the TikTok Seller Center. It is a portal for merchants that lets them run their ecommerce business on this social platform. It provides comprehensive solutions, such as store management, customer service, and performance analysis. How to create a shop in the TikTok Seller Center?
Go to seller.tiktok.com.
Choose your country. There are 6 Asian countries and one European country to choose from.TikTok is working on expanding the feature to more countries, so this number may change in the next few months.
Sign up with a TikTok Account or with a phone and email.
Fill in your store information: a zip code, warehouse/pick-up address, contact person, phone number, country, and return address.
It is not possible to sell products or services without verifying your identity. How to do it?
Go to the TikTok Seller Center home page, click Verify Documents, then click Upload Documents.
Choose your business type: Corporation or Individually-owned Business.
Provide the name of the store. If you have a privately-held company, you need to send a photo of your ID card, driver's license or passport for verification (you need to send photos of both sides of the document).
In the case of corporations, photos of business license documents and proof of identity of the company's legal representative are required.
Upload the required documents and click Submit. The verification may take a few days.
Once you have verified your business documents, you must bind a bank account to your store so you can get paid for purchases and process returns. How to go about it?
Go to the TikTok Seller Center home page, then click Link Account.
Enter all the necessary details: country and currency of your bank account, bank account number, email address, etc. After completing the required fields, click Submit.
Once you've taken all these steps and been successfully verified, you can add products to your store.
TikTok Shopping Partner Integration
You can set up TikTok Shopping Partner Integration on a Partner Platform, manually or via API.
Partner Platform. Merchants can launch a store from a specific platform using the TikTok eCommerce Partner Platform, e.g.,Shopify, Square, BigCommerce and Ecwid. TikTok is still working on more partnerships.
Manual configuration. In order to set up TikTok Shopping Partner Integration manually, you need to create a catalog on TikTok Business Center, upload products to the catalog, create a store on TikTok Business Center, and link it to the created catalog. Finally, just connect a TikTok account with your store. You will find detailed instructions at this link.
API. It is possible to set up and manage the store by creating an application using the TikTok Marketing API.
6 useful tips for TikTok Shopping
There are no specific guidelines or solutions that will guarantee that your store on TikTok will be successful. It depends on many factors that you should pay attention to. Follow our useful tips:
Make your product catalog eye-catching. It will be your storefront, so you should make sure it attracts potential customers. Take care of the quality and consistency of added media. Users should be able to associate the products with your brand just by looking at the images. Keep your style coherent not only within TikTok, but also on other platforms.
Keep all product titles within the 34-character limit. Instead, you can put more information in the product description. Remember that links included in product descriptions are not clickable.
Put a link in a TikTok Bio. There are 80 characters to describe yourself, your company and what you offer. You can optimize it with emoticons, CTAs and a link redirecting to a specific page (in TikTok bio you can add only one clickable link).
Inform your customers that they can shop at your TikTok Shopping store. The shopping bag icon that suggests this is not clearly visible, so users may not notice it. Therefore, it is worth informing them about this possibility. Also, let them know that they can shop directly from the app.
Promote products in your videos. Of course, keep things in proportion so as not to discourage your viewers. Choose interesting content that will attract customers to your store.
Cooperate with influencers. This is one of the forms of promotion that relies on partnering with particular TikTok creators. In this way, you can reach out to a wider range of engaged audiences.
How to sell on TikTok – summary
TikTok Shopping is a successively improved feature that gives merchants new opportunities in the ecommerce business. Companies whose target audience is Gen Z or Millenials should closely monitor the development of the platform, as it is an ideal source of potential customers.
You've just learned how to sell on TikTok. Read also: How to run ads on Instagram?
If you like our content, join our busy bees community on Facebook, Twitter, LinkedIn, Instagram, YouTube, Pinterest.