The implementation of marketing actions on the most popular social media definitely has a significant impact on business development and brand recognition online. In fact, social media have long ceased to be just entertainment sites. They have become important advertising tools that businesses can use in many ways.
How to create a company instagram – table of contents:
A company's profile on Instagram is playing an increasingly important role in successful marketing campaigns. How to start running a business account and what should you post on it?
Company's Instagram profile – marketing key to success
This platform, next to Facebook, is currently the most popular social network, attracting more than 500 millions users all over the world. Many companies, also well-known bloggers and celebrities, begin to see the incredible advertising potential resulting from maintaining an account on Instagram.
A large group of this online community may end up being future customers. They just need to be properly convinced of the products or services you offer. How to run a company's Instagram profile to make it an important marketing tool? All you need to do is follow a few basic rules.
How do you run a company's Instagram profile?
A company profile on Instagram should, above all, be maintained in a reliable and professional manner. This is not the place to publish private content, opinions, or photos from vacations with friends. In this case, what counts is quality and presenting the brand, products or proposed offer in the best possible light.
It is best to start your adventure with business profile by carefully filling in the basic data. The account description must include the most important information about the company, as well as a link redirecting to the online store or official website. As with any marketing and advertising campaign, it will also prove extremely strategic to prepare a proper Content Plan.
Certainly, what matters is the regularity of the posts added, the attractiveness of the photos, the diversity of the content and the overall creativity. Instagram users also attach great importance to the consistency of published posts and attempts to create their own distinctive style.
After a few weeks of systematic posting on the company's Instagram, more accurate statistics will appear. You will be able to update the previously prepared Content Plan in terms of the most viewed or commented posts.
Instagram – company account vs. user interaction
Company account, however, should not be limited only to regularly sharing new content. In order to reach the largest possible audience, it is essential to ensure proper interaction with other users. Replying to comments, responding to tags on private profiles or watching the most active accounts will greatly help to take care of an active relationship with potential customers.
It's also worth spending some time here on versatility, so that each user feels singled out in an individual way rather than a mass way.
Practically since its inception, Instagram has been associated mainly with hashtags. Entrepreneurs can therefore use this popular tool to create their own keywords that identify a specific business. By encouraging other users to tag your company's products with dedicated hashtags, you can simultaneously effectively ensure greater brand recognition online.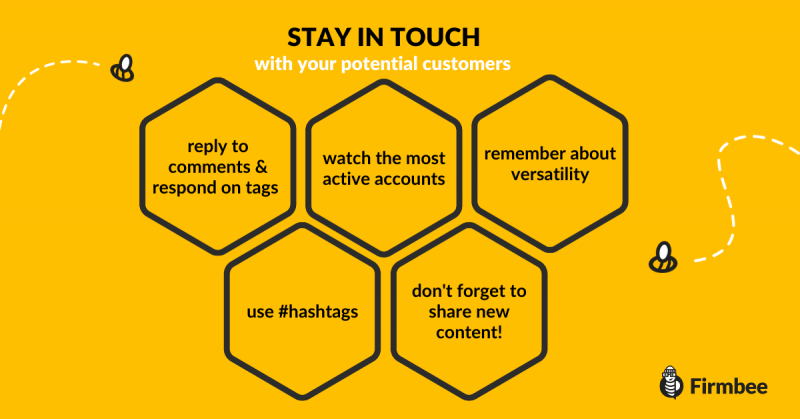 What to post on a company's Instagram profile?
That kind of account should not contain only a pushy advertisement of the services or products offered. In published posts, in addition to attractive photos or creative videos, it is worth including interesting content related to the business of the company.
These can be both previews of new collections, as well as opinions or reviews of others, and even posts on popular social or cultural topics that gently smuggle the brand's offer.
Also, don't forget about sharing accounts on InstaStories. This tool can be used to post more interesting "behind the scenes" materials, custom employee activities, organize contests for users or share special discount codes.
Here you can find some ideas how to diversify your company's Instagram account and make it even more interesting! You also need a strategy to gain an audience to watch your content.
A company's Instagram profile is certainly an excellent solution,thanks to which you can quickly reach a larger group of potential customers. Properly maintained account will not only effectively increase the recognition of the company or a great brand promotion on the Internet, but above all, will increase interest in the activities of the company.
Therefore, it is worth spending some time on a systematic and reliable business account on Instagram, to gain many new and satisfied customers over time.