Why is it worth creating a media plan? Does scheduling posts on Facebook beforehand make a difference? What kind of posts should you focus on publishing on social media? We have researched the topic and prepared answers to all these questions and more in the article below.
How to make a good media plan – table of contents:
A posting calendar to facilitate creating engaging content
Gaining consumer attention is one of the overarching goals of marketers and social media professionals. If you want to stand out from other brands and avoid chaos on your social media accounts – keeping a media plan should be one of your regular practices. Why should you keep a social media calendar? Let's take a look!
When you develop a long-term plan, you can control the content and eliminate the element of randomness in the posts you create. You'll gain an advantage if once a month you decide to write out the most important areas you want to cover on Facebook, Instagram, or your company Linkedin.
The arrival of another innovation in the company, winning a prestigious award – these are just a fraction of the possible topics to cover in your media plan. Where – besides the organization itself – to look for more opportunities to draw inspiration for valuable and coherent content?
Media plan – how to make it?
The most convenient option is to use a monthly planner – this is the optimal period for preparing content for your social media. For inspiration, check out other online calendars that focus on scheduling various activities. Incorporating such entertaining elements can also help highlight the less formal side of your business.
Social media is one of the most effective tools to build relationships with the environment and gain loyalty. Regardless of whether you represent a B2B or B2C company – a human being is always at the end of the chain and it is worth fighting for their attention.
The Internet offers many tools and ready-made templates for planning Facebook posts. You can successfully use their capabilities or try a spreadsheet – after adjusting it to your needs you will be in control of your social media! Such a document will help you both to collect ideas for content and to set a publishing schedule.
You can dedicate one sheet of the document to writing down topics that you or your team members will find inspiring in searching for content. Another good idea is to list the most popular topics/articles from your website – let them serve as "pillar content".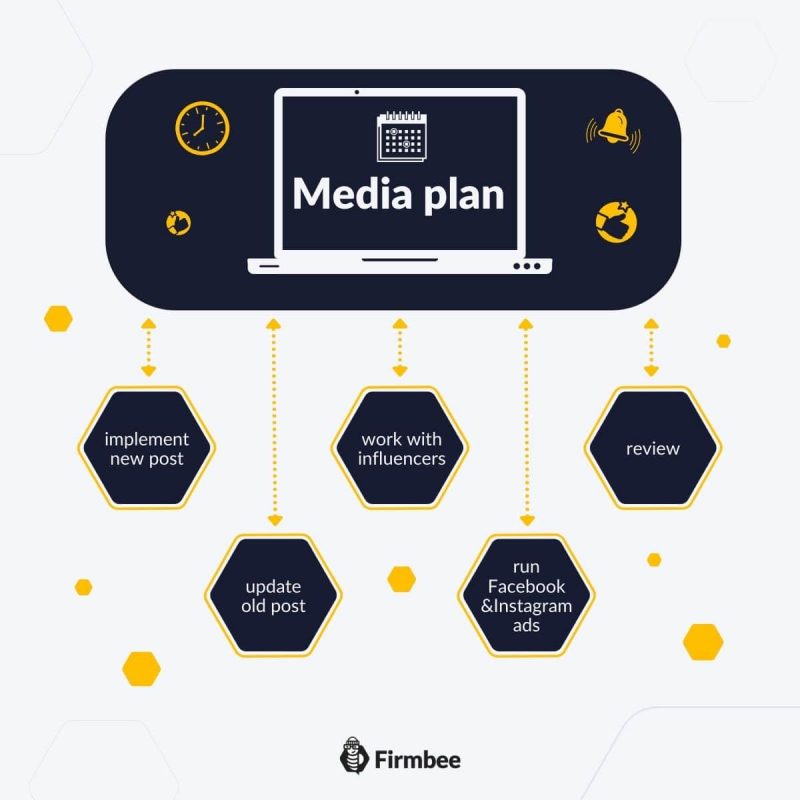 How to benefit from pillar content?
To start with, let's define the term. Pillar content is the most important and valuable content on your website or blog. It covers the most common issues that attract your visitors and is timeless.
In channeling your communication, whether you plan posts for Instagram, Facebook, or Linkedin, try to incorporate elements of your pillar content. This could be a photo or a short animation highlighting a particular issue. This way, you will constantly deliver content that is inspiring to your followers and provide knowledge or entertainment they have found on your website. It's a win-win – you can occasionally present the content you already know well, yet in different editions and formats to keep it fresh and attractive.
Diversify goals in your posting calendar
Measuring the effectiveness of your social media efforts is possible if you've clearly defined your goals in advance. Are you aiming at increasing the number of followers or the number of visits to your website? Maybe it's the interaction with a brand that you're after? By setting the priorities you'll find it easier to attain them.
When planning your posts, take into account whether the developed content has a chance of achieving these goals. Properly developed CTAs will help you get the desired statistics.
Start running a media plan and see what happens!
If you haven't kept a calendar of posts so far – it's time to change optics and start your adventure by keeping such a schedule. After just a few such sessions, the difference in your activities will be palpable.
First, it will enable you to eliminate anxiety in a situation when after a few days of absence from social media you feel obliged to prepare a post.
Secondly, once you've clarified the goals of your content, you're sure to see an improvement in responses – because if you assume that a post is meant to spark discussion, for example, you'll use the right actions to encourage followers to put your plan into action – such as asking engaging questions or using CTAs.
If you like our content, join our busy bees community on Facebook and Twitter.