Using LinkedIn for business marketing is becoming more and more popular. That social platform used by over 660 million users daily, can be a great place to increase awareness of your brand, build a community around it, generate leads, and finally – increase conversions. How to use the full potential of LinkedIn in marketing?
What is LinkedIn?
First of all, you need to understand how it differs from its social media competition. It is very different. The founding idea of LinkedIn was to enable specialists to build a valuable network of contacts. Initially, it was mainly used for job search, but from a mere recruiting platform it quickly turned into a social network for comprehensive personal brand building. However, it still allows for establishing contacts: employers with employees, specialists with other specialists, and brands with their potential customers.
However, LinkedIn requires caution. While the trade is already booming on Facebook and Instagram, and users have gotten used to the fact that their friends' content is mixed up with ads and sponsored posts, direct sales activities on LinkedIn make no sense. Even taking into account the fact that the website has already provided a function that allows you to invite friends to follow company websites, it is worth using it carefully. The messages should still be personal in nature and focus more on establishing a relationship than converting. However, users should be interested in establishing relationships by providing them with valuable content.
Lead generation and employer branding on LinkedIn
And there's no room for improvisation here. Using LinkedIn in business marketing requires well thought out strategy. Content should be well thought out, really useful, and preferably branded with the name of an expert in a given field. Importantly, you should forge your "expertise" not only by creating content (articles, infographics, videos) but also by engaging in industry discussions; provided, however, that we can add value to them.
Companies can also use LinkedIn for content marketing activities, publishing texts announcing the addition of new employees to the organization, presenting their profiles, and showing CSR sensitivity. But that's not all. A platform is also an ideal place for lead generation activities. It will not be an exaggeration to say that companies operating in the B2B sector cannot afford to neglect it.
The process of collecting leads, however, can be carried out in two ways: using the personal network of contacts of a company employee or using paid advertising forms. In the latter case, however, you need to prepare for considerable costs and a lot of work to turn them into profits.
LinkedIn for business marketing in practice
Sponsored posts
Sponsored posts are nothing less than organic posts that have already been posted on your profile, and – for a fee – can simply reach far more people. This way, you can redirect traffic to your website or corporate blog using the following formats:
single image ad, i.e. single text and graphics,
video ad, i.e. video material that allows to increase engagement among platform users,
carousel, i.e. a sequence of images that tell a brand story.
Direct inMail messages
By delivering personalized, private messages directly to LinkedIn users' inboxes, you can increase both the number and engagement of your prospects.
Messages consist of a greeting, a CTA (call to action) button, and content that should encourage the user to take the desired action, such as downloading a report. These types of messages are purchased on a "cost per-send" basis, which means you pay for each message delivered.
Text ads
They are similar to regular search engine ads such as Google Ads or Bing Ads. They are billed in the CPC or CPM model and allow you to create multiple ads within one campaign.
Text ads are ideal if you want your campaign to get started quickly, and be easy to set up and manage. They tend to have lower CPM compared to other formats, yet they are great at increasing brand awareness.
Dynamic ads
Highly personalized dynamic ads can entice users to like your company's page, apply for a job, leave a contact, and/or download material. Two formats can be used:
follower ads (to gain new followers of the company profile)
spotlight ads (to redirect traffic to an external landing page)
Dynamic ads are a very effective way to increase traffic to your landing page as they dynamically generate format using information from your profiles. A personalized message has a better chance of reaching.
Lead generation forms
Lead generation forms are displayed in News Feed and look very similar to sponsored posts. They work as standard: the user has one click to access all their data, which is automatically imported from his profile.
Premium display
Impact ads are also available on LinkedIn, but can only be purchased in the programmatic model, on selected DSP platforms.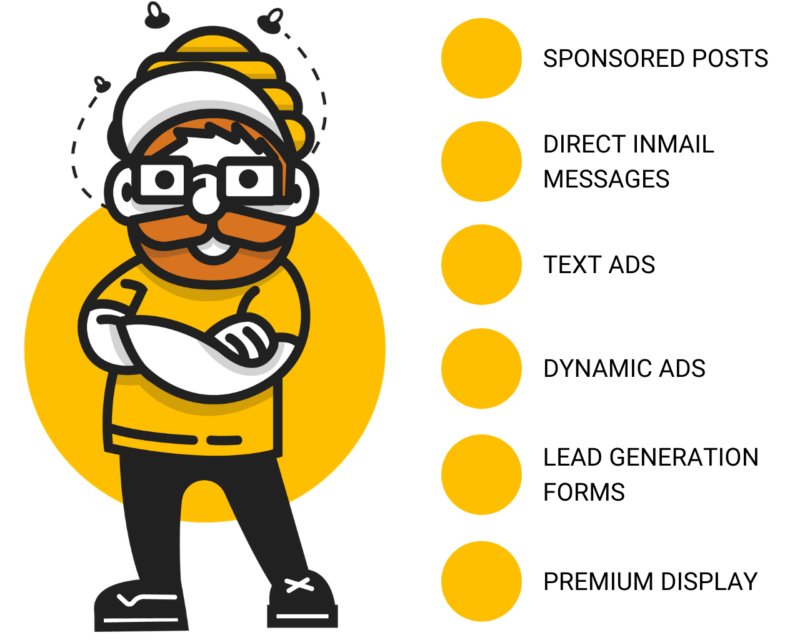 How much does advertising on LinkedIn cost?
Ads on LinkedIn are billed in auction models. You can pay per click (CPC), thousand impressions (CPM), or pay per impression (CPV). When setting up a campaign, the system automatically suggests what rate will guarantee us achieving the set goals.
The factors that affect the price of your ad are an audience, bid, goal, and relevance. You can manage your budget by setting the maximum amount you want to pay for clicking, viewing, or delivering an InMail
Overall, however, you need to be prepared for high costs. Linkedin is paid in dollars, and the minimum rates are not small:
$ 10 – daily budget,
$ 10 – total budget.
If you're interested in how to use social media to increase traffic on your sales website read our article