Successful Kickstarter campaign – do you know how to start it? Do you wish to start your own business but you don't have the funds? Currently, most of the entrepreneurs, who don't have their own money, use funds collected from online community, and the community offers them funds when the idea for the product is good. It seems to be too beautiful to be truth but the operations of the American portal Kickstarter are formed this way – entrepreneurs can collect funds to create new products. There are many ways to create and run a successful crowdfunding campaign on this website. Read the article and find out how to launch your dream company with the help of Kickstarter collection campaign.
Kickstarter campaign – table of content:
Kickstarter campaign – your project
Create the idea that is worth buying
The first and the most important step in business creation is your strong faith in the success of the entire project. It is obvious that you should believe in yourself, but many tends to forget about it. Before starting your project make sure that your idea has a chance to attract followers, who will be committed to the project as you are. Try to conjure up a comprehensive reason for others to help you with your endeavor. Your are the person that has to convince them.
Tell your own story
Many entrepreneurs have already found about the power of storytelling. This is the reason why you should consider using storytelling technique in your Kickstarter campaign. Should it prove to be emotional and interesting the internet users may decide that they want to join you and become a part of something better and bigger from themselves.
Make a professional promotional movie of your project
The best campaigns, those who are well received by the Kickstarter community usually have a representative, who is not afraid to show his own face. Take some time to think of your promotional movie, where you present yourself, stages of your project and its future. Good movie – that's half of the battle of each crowdfunding campaign. So everybody, who sees your movie is intrigued by your project and willing to support it financially.
Choose crowdfunding model appropriate for your idea
If you start a new technological company you will not collect your funds with the use of crowdfunding platforms that are based on donations. In such scenario it is better to choose equity crowdfunding model or rewards-based crowdfunding model.
Be transparent at each stage of your campaign
While describing the aim of your collection be honest with your prospective investors. Nobody likes to be deceived – any type of swindling methods used during crowdfunding campaign may bring you bad reputation and loss of support.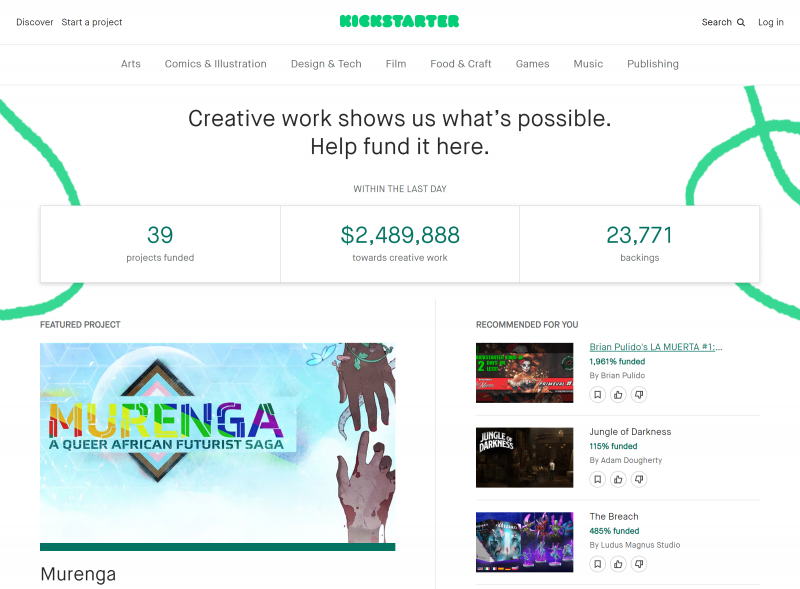 How to start your Kickstarter campaign?
Choose the category and subcategory of your new campaign. Here you have a choice of 15 different main categories with the subcategories that appear after your initial choice. The subcategories particularize your selection.
Kickstarter offers the selection of subcategories to allow you exact specification of your campaign variant.
In the next step you have to choose your localization from the list of 26 countries.
Then you will be asked by the system to log into the existing account or to sign up and create of new account.
Then you have to fill up the form in your account panel, where you have to provide all the data related to your campaign (name of the project, images, videos, descriptions, financial goals, rewards, payment methods, shipping costs, risks and challenges, collaborators, bank account details)
After sending your project to Kickstarter you can expect that it will be reviewed and checked with Kickstarter's guidelines. Accordingly to terms and conditions on the website the campaign should:
be creative and aim to produce a product that can be shared with other users
be described and presented with honesty and transparency
present projects that cannot collect funds for charitable causes or offer shares
cannot involve any prohibited items or activities (illegal activity, cheating people, offering object that are forbidden on Kickstarter, harassment, spam sending, viruses sending, malicious software sending, misuse of personal data of platform users)
How to make your Kickstarter campaing successful?
Marketing
Start from a very good marketing plan of your campaign. Use all available tools offered by the Kickstarter or hire marketing specialists, who can help you with this task.
Contact
Remember, being in regular contact with your investors strengthens the bond and sense of belonging. Try to publish the information about your project regularly – send frequent updates to your backers. Use Live functionality in Kickstarter that gives you the opportunity to put on a live show.
Awards
Crowdfunding type that is offered by Kickstarter is based on awards, hence the platform offers 50 different tools to create awards for your backers. Undoubtedly, those functionalities increase the interest and commitment of prospective backers. Award all the supporters of your idea with unique items related to your project.
Deadlines
Set the execution time for each stage of your project. It will make the whole project more transparent, while the supporting individuals will know where they stand. Show them that you are a person that takes his own creation seriously.
Professionalism
Stay up to date and provide frequent updates. Let your users know about the development of your project and inform them about the anticipated awards. Show that you treat your campaign seriously.

Summary
All these activities will result in the success of any campaign as long as the idea is well-thought out and worth support of others. The key to success of even demanding projects is the combination of good, creative plan and well organized fundraising. The Kickstarter has been hailed as the most popular platform in the world not without reason. If you really believe in your project, stay open, be engaged and share your passion with others – who knows, you enthusiasm may be catching.
Check out 5 most popular types of crowdfunding
If you like our content, join our busy bees community on Facebook, Twitter, LinkedIn, Instagram, YouTube.