We have observed an intensive development of the capital market since 2008. As a result, alternative ways of financing businesses have emerged, e.g. crowdfunding. The concept has recently attracted much interest from a number of entrepreneurs and investors. It has become so popular that the EU legislator has started to work on creating uniform crowdfunding regulations that would apply throughout the EU. In the United States, however, such a law has been in force for a long time now. In the following article, you will read about 2 essential crowdfunding regulations.
2 popular crowdfunding regulations – table of contents:
Europe – the ECSP regulation
The content of regulation of the European Parliament and of the Council on European Crowdfunding Service Providers (in short: ECSP Regulation) was adopted in 2020. It entered into force in November 2021.
Crowdfunding regulations make crowdfunding platforms similar to the investment firms. The ECSP regulation applies to crowdlending and equity crowdfunding only. It isn't applicable to donation-based and rewards-based crowdfunding. The passage of this bill is expected to bring beneficial changes to both investors and entrepreneurs.
Key assumptions of the ESCP regulation:
The obligation for crowdfunding platforms to have a license and to be continuously monitored by the Financial Supervision Commission – Business owners need to apply for a permit to conduct crowdfunding activities, and thanks to the license they can operate throughout the European Union. Additionally, entities with a dubious reputation and a lack of legitimate opportunities for business success are rejected.
Campaign limit – It has been increased from €1 million to €5 million (2-year period to reach this threshold).
Increased investor protection– Crowdfunding platforms have to test the investor's knowledge about the project, the correctness of their offer, as well as to verify the entire data included in the necessary investment tracking spreadsheet. Entrepreneurs who are organizing a crowdfunding campaign must prepare an investor information sheet, which ought to be written in a clear and understandable manner. It also shouldn't exceed 6 pages of A4. In such a way, investors can efficiently assess the risk involved in a particular investment.
There is no doubt that the ESCP regulation will bring several positive changes. Its main goal is to increase the safety of crowdfunding. It contains information concerning essential documents, professional secrecy and a system of implementing new regulations.
Unfortunately, apart from numerous benefits, the ECSP regulation has a lot of drawbacks. For instance, it doesn't take into account some obstacles that entrepreneurs can come across on the crowdfunding market, e.g. tax issues.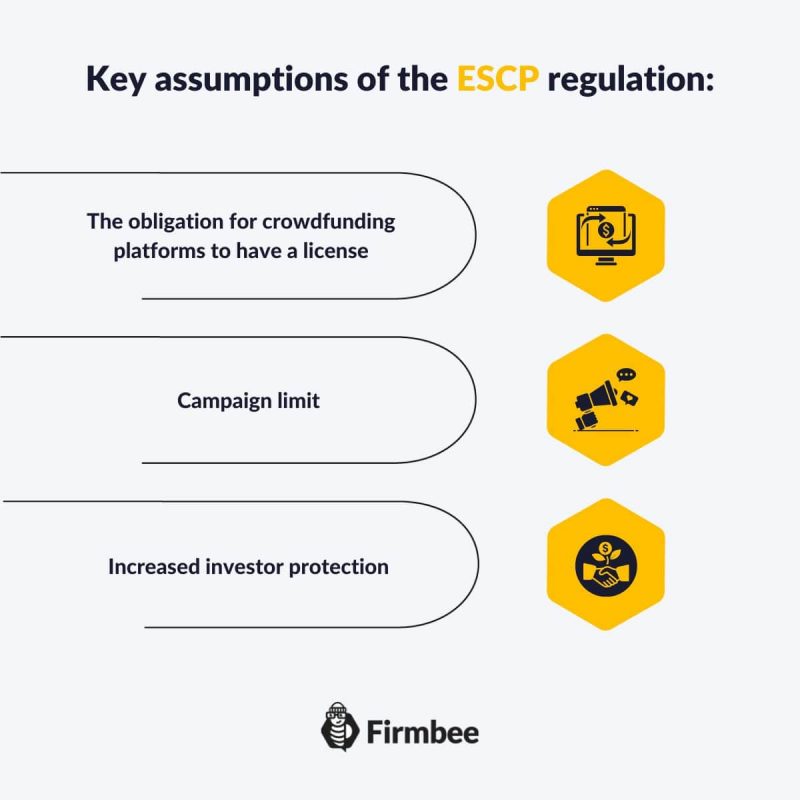 The United States – The Jumpstart Our Business Startups (JOBS) Act
The bill was approved by Barack Obama in April 2012, and it was the first attempt to regulate crowdfunding. In the United States, crowdfunding platforms are now regulated by both state and federal law. Parts II and III of this bill are considered the most important when it comes to raising funds by startups, and the development of crowdfunding itself. The bill is designed to support microbusinesses in the US.
Before the enactment of the JOBS Act, conducting a crowdfunding campaign was only possible if all restrictive conditions were met. Financing projects with the help of the Internet was regulated by Regulation D and state law. Platforms, which operated in accordance with these provisions, directed their offers to accredited investors, i.e. people whose net wealth did not exceed $1 million, and whose monthly earnings amounted to about $200 000 a year. Such investors constitute around 10% of the American society, so these projects weren't dedicated to the entire Internet community.
Crowdfunding regulations – summary
The emergence of new business funding options beyond the supervision of classical state systems forces the need to create new crowdfunding regulations. It is also in direct competition for traditional financial institutions (banks, personal lenders and stock exchanges). Crowdfunding platforms operating on the market are available to all investors from every corner of the world. Crowdfunding opens up many opportunities, but also entails new risks.
If you enjoyed our article on crowdfunding regulations, you might also like How to start crowdfunding?
If you like our content, join our busy bees community on Facebook, Twitter, LinkedIn, Instagram, YouTube, Pinterest.