Crowdfunding as a way to raise funds for your own business is becoming increasingly popular. Especially, in the time of pandemic, which has caused heavy losses among banking institutions and investors, who now don't want to support budding entrepreneurs' uncertain ideas. However, the project alone is not enough to be fully successful. In order to guarantee 100% success, you need to build a loyal community around the project and promote it on the Internet. How to start crowdfunding? Read our article to find out.
How to start crowdfunding? – table of contents:
Crowdfunding success
Crowdfunding allows you to raise money for any project. However, you must be sincerely interested in it and convince investors to come on board with an endeavor. In order to promote a money collection sucessfully, its campaign must be planned with attention to every detail. What should you keep in mind?
How to attract investors
Here is the secret recipe for a successful crowdfunding campaign:
create a catchy headline
use images of your project
write concise, but informative content
use a powerful call to action phrase
Start with a video
How to start crowdfunding? A successful crowdfunding campaign might depend on a good video. Introduce yourself and your business idea in such a way that everyone who watches it gets encouraged to financially support your initiative.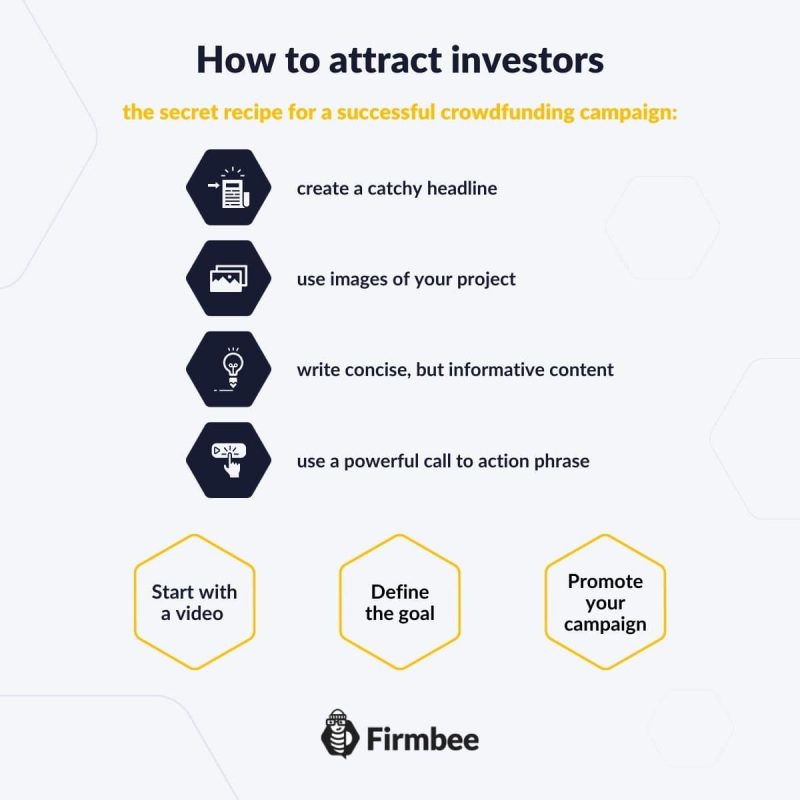 Define the goal
The project description should be concise, understandable, and clear. Also, it shouldn't exceed one A4 page. It must include:
information about the idea
the purpose of the project
rewards and ways of compensation
activities that have been conducted so far and challenges that will come up in the future
alternatively, links to similar projects that have appeared on the web
Promote your campaign
Even a well-prepared project won't be successful without a proper promotion on the Internet, and people who will hear about it. Share information about your crowdfunding campaign on social media and search for investors on forums and Facebook groups.
Actively observe all promotional and marketing activities. A great marketing move would be to promote your campaign with sponsored articles. If you have a website or blog, mentioning the campaign there won't hurt.
Choose a crowdfunding platform
How to start crowdfunding? The whole crowdfunding is 100% up to the entrepreneur. A properly chosen crowdfunding platform will help to promote it better and increase the chance of its success. Take costs and legal issues into consideration.
Crowdfunding on Kickstarter
The largest crowdfunding site to date, Kickstarter.com, operates on an all-or-nothing model. A particular collection is realized when 100% or more of the initial amount is raised. Otherwise, all of the funds raised are returned to the donors. According to data provided by Kickstarter.com, every 10th campaign hasn't earned even a dollar.
People who want to launch their startup mostly choose Kickstarter.com because it is the most recognizable crowdfunding site. This is also the reason why it is not easy to get featured on it. Several other projects make it difficult to get noticed there. Therefore, it is advisable to try your hand at a local crowdfunding site first. However, it is also a good practice to run your crowdfunding campaign on two platforms simultaneously.
Advantages of crowdfunding
The advantage of crowdfunding platforms is that the entrepreneur doesn't depend on one investor, but on many contributions from Internet users. Investors are more likely to fund a Facebook successor or a mobile app that is currently trending than refreshed versions of hardware and games that used to be popular in the past.
Crowdfunding platforms are now on par with the largest investors. 95% of all completed projects are located in Europe and the United States. Thanks to the support of Internet users, risky ideas turned out to be successful. A good example here is the Pebble smartwatch, which was launched in 2013 with a significant financial backing from Kickstarter.com.
More importantly, the approval process for the entire venture is faster on local crowdfunding sites than on global ones. Starting a campaign on the domestic market does not require so many formalities when compared to foreign sites. In the case of crowdfunding campaigns on Kickstarter.com, the creators have to meet several requirements to implement their projects, e.g. they need to have a representative who is a U.S. citizen, an active bank account, and a relevant social security.
How to start crowdfunding? – summary
When making use of crowdfunding, you should objectively assess the potential of your idea. Unfortunately, many entrepreneurs get disappointed with the duration of their crowdfunding campaigns. That's why it is essential to prepare the prototype of the project well and describe its various stages in detail. An objective look at your business opportunities and a proper implementation of the campaign will guarantee its success.
If you like our content, join our busy bees community on Facebook, Twitter, LinkedIn, Instagram, YouTube, Pinterest.