Facebook advertising, remarketing, marketplaces… There are plenty of ideas to reach customers. Here are 18 ways to increase sales without cutting prices – check them out!
18 ways to increase sales – table of contents
Add your business to Google Maps
People interested in buying products or using services (especially hairdressers, beauticians, gyms, or car mechanics) constantly ransack the web in search of the best option and most convenient location. Ever since the dawn of web marketing, Google has been displaying search results strictly adjusted to geolocation. For example, if you type "car mechanic" into Google, you will see the results for a specific location, e.g. car mechanics from Opole, not for the whole of Poland.
When you type in a phrase such as "beautician" or "beautician London" into Google, the search results will display not only ads and links to websites, but also a map with local beauty salons marked on it.
Additionally, each point on the map is accompanied by a virtual business card with opening hours, contact details, and customer reviews. Therefore, make sure to inform potential customers about your presence in a given loacton by adding your company to Google Maps – it is completely free.
Sell through partners
Think about partners and integrations. Find companies and portals with similar themes to yours and partner with them. For example, if you sell foreign tours, you can approach travel shops or various travel portals to have them place your banners or recommend your services as part of an affiliate program. If you are an English translator, for example, cooperate with copywriting companies. Look for connections and business opportunities everywhere you can.
By doing so, you will increase your chances of reaching many new clients potentially interested in your services. If you don't have the budget to pay commissions, think about recommending each other's services through barter.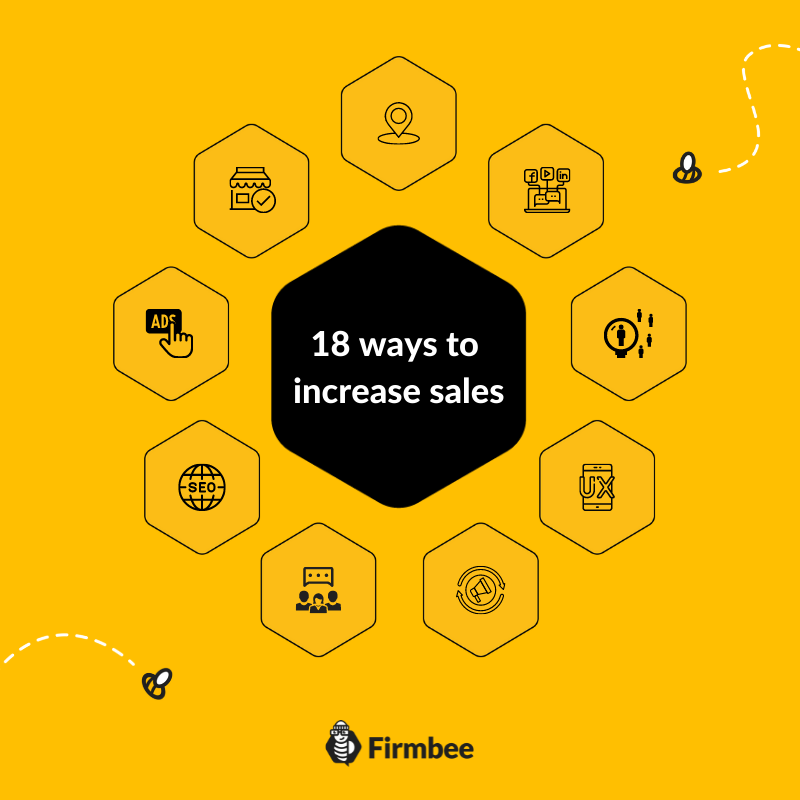 Sell in marketplaces
Marketplaces are online sales platforms, usually thematic, where you can display your products or services. Selling with the help of marketplaces is a good idea especially for new brands, which do not have many customers and it is difficult for them to break through the competition. Marketplaces, visited by thousands of Internet users every day, offer the possibility of reaching a huge number of buyers – in return, however, they charge quite high commissions on sales, usually about 20-30%.
Popular examples of marketplaces are Airbnb, Mercado Libre, Rakuten, eBay or Amazon.
Build a community on social media
Social media, despite its declining reach, still allows you to reach thousands of viewers, build a group of engaged fans and sell directly. Choose the right social media channel and make yourself known to your potential customers. Build good relationships and tell people about your company in an interesting way. Engage your fans: ask questions, chat, comment, share opinions on a topic, show off your products and behind-the-scenes photos, stay current and capitalize on trends.
Unfortunately, there is no recipe for success in a week. However, if you are consistent and patient in what you do, social media will help you increase your sales and grow your business.
Advertise on Google Ads
Google Ads (formerly AdWords), which are ads displayed on Google's search engine and its partner network, allow you to reach new customers, attract old ones, and increase sales. Your ads can be displayed to users who search for keywords related to your products and services or who browse various websites with similar themes to yours.
For example, if you run a china shop, you can advertise for the keyword "china coffee cups". When a user types it into Google, your ad will appear next to search results or on websites related to that topic.
Advertise on Google Shopping
Google Shopping is a service created for online shops, operating within Google Merchant Center. The service makes it possible to present an offer using product ads, i.e. ads containing a product photo, price and seller's name.
To create product campaigns, you need to connect your AdWords account to your Merchant Center account.
Advertise on Facebook
Advertising campaign on Facebook allows you to reach a precise target group that may be potentially interested in your products or services. In this way, you can reach inhabitants of specific cities and districts, people who run their own businesses, people who like your competitors' fan pages on Facebook, people with specific interests, and even friends of your fans and users who have visited your page in the last 30 days.
Take advantage of trends
Observe the phenomena occurring on the web and react to them. For example, spring is a time when Internet users search for more information and offers concerning DIY – especially tools and metal products. 66% of people who plan various repairs or alterations in the spring season look for such articles on the Internet. In July, on the other hand, there is an increase in the number of inquiries related to electrical appliances, articles for home and interior design, and especially bedspreads and pillows. Stay ahead of competition and take advantage of this by preparing advertising campaigns in advance and increasing the marketing budget during this time.
Take advantage of remarketing
Remarketing allows you to show ads to people who have visited your website before. Your ads can follow them as they search for information on Google, browse the web, or use various mobile applications, and remind them of your brand. So, for example, you can reach out to people who added a product to their cart but didn't complete the transaction, or customers you want to encourage to make more purchases.
Participate in forums and groups
You can also promote your products and services on forums and topic groups where your potential customers appear. Remember though, nobody likes spam. If you run a hardware store, for example, you can post in topics related to laptops and computers and advise Internet users on choosing hardware – thus building the image of an expert in your industry – while occasionally recommending your products to them.
Send samples
If you have the opportunity to present your products (e.g. in the form of a sample or product thumbnail) in stationary stores or at events where your potential customers appear, take advantage of it. A small gift given straight to the hands of the interested party will make the customer remember your brand better and associate it with a positive experience. To increase the chance of a sale, you can do this in exchange for sharing contact information such as an email address, for example.
Take care of your SEO
SEO is a concept that every entrepreneur should know. A website alone is not enough to make money. The website needs traffic, i.e. customers who will visit the website. For this purpose, it pays off to carry out well-conducted SEO, wich will guarantee increased visibility of the website and brand awareness among customers.
Start a blog
Writing a company blog is a good way to build the company's image on the Internet, and also to increase traffic to the website or shop. As the blog begins to regularly appear interesting and substantive content, readers will more often visit it. If the company presents itself on the blog as professional and trustworthy, such an image will also be transferred to its products and services.
Some companies outsource blogging to their employees, others hire copywriters. It is important to create content by a person who has at least a little idea about the industry, can write in an interesting and correct way, and also finds time to run a blog.
Write guest articles
Reach out to various portals, websites and themed blogs that your potential customers look at and offer to write them a guest article. For example, if you run an herbal shop, it might be a good idea to write an article about cheap, natural substitutes for expensive creams. If you are in the business of 3D printing for businesses, technology portals may be interested in an article about the specifics of such a business.
This way, you have the chance to not only reach out to new customers but also make your presence felt online. Moreover, it brings benefits in terms of SEO. It also helps you present yourself as an expert and a reliable, trustworthy company. If you don't have time to write, try searching for interesting articles and the latest industry news and comment on them. You can also send your opinions to journalists – there is a chance that your comment will be included in the publication.
Take care of user experience
An online shop's website has to encourage people to shop – both by its appearance and by the simplicity of navigating through it. It should be designed so that it meets the needs not only of the seller but above all the customers.
In many shops, the registration process is tedious and time-consuming, just like the shopping procedure itself, which makes many customers get discouraged and give up. Going through the shopping cart, filling in all the fields, finalizing the transaction… Maybe just simplify it? Experiment with the forms and A/B tests to see which ones are the most convenient for the customers. Bet on shopping without registration
Implementation of some of these changes does not have to require time or specialist skills. It can, however, make it much easier for customers to use the e-store and significantly increase conversions. Especially in times when consumers pay more and more attention to shopping convenience instead of prices.
Pass out flyers
Open up to offline activities. Leave flyers in places where you expect to meet your potential customers. For example, if you run a catering company, it might be a good idea to take flyers to nearby office buildings or fitness clubs.
Show up at trade shows
An entrepreneur's schedule is always tight, but it is worth saving some time for industry meetings, thematic fairs and conferences. There you can meet potential clients and make valuable business contacts. Talk to people, tell them about your business, hand out business cards, collect feedback, make friends and sell. The more people who learn about your business, the better.
Track the effects
If one of the brand's goals was to increase ring sales by 30% in the first two months, verifying the effects to see how close the brand came to meet that goal, or exceeded it is a definitely worthwhile. The same applies to realizing what campaigns were generating the most sales, what products were selling the best or who was buying the products. Answering where the most traffic came from and which actions brought satisfactory results will also provide valueable insights.
A better understanding of the user and the effects means more transactions. Therefore, analyzing the collected informationand follow the results of your research. This can be done for example with the help of Google Ads and Google Analytics tools. With Google AdWords, you will check, for example, which keywords are most frequently searched by users. Google Analytics will help you assess which campaigns are profitable and how to plan new activities.
And what are your ways to increase sales? Be sure to share in the comments.
Do you want to know how to increase your sales before Christmas? Check out our previous article here.
If you like our content, join us on Facebook and Twitter!