Every entrepreneur dreams of having an eternally expanding company with exemplary ratings of product increase and together its quality and delivery of service. Curiously, many can't make it not due to a lack of ideas, but insufficient time and other resources to time to implement them. Running a company is primarily about managing relentlessly incoming daily duties and tasks, which often take up most of the day. There is little time to strategize, mastermind then schedule the future or look for new opportunities. If you're at the stage of winding though daily to-dos just to survive, it's high time to hire a Virtual Assistant.
11 reasons to hire a virtual assistant – table of contents:
Who is a Virtual Assistant?
Virtual Assistant is real personal; support for those busy entrepreneurs who do not need to hire an additional full-time employee, yet would VA's work involves taking over all tasks that can mostly be done remotely. Such is time-consuming, often routine, not requiring the competence of the business owner himself, but necessary to perform. By delegating them, you gain time for development or creative work.
The range of duties an outsourced Virtual Assistant handles is so broad that to seek the best support specify in detail what competencies you expect. Especially if the assignment is for a specific skill like Copywriting or Social Media handling. Since the level of skill varies and no one is a master of all, each Virtual Assistant specializes in slightly different areas.
If you're still hesitant about whether VA will do well for your business, here are 11 reasons to change your mind:
Billing for closed transactions – you don't need to hire a full-time person
Most entrepreneurs do not need full-time support. They just look for someone to whom they can delegate only part of their tasks. Most Virtual Assistants work in a B2B model, so they do not expect to become full-time employees. The benefit for the entrepreneur is also that they only pay for the completed task. This is because work does not include coffee breaks or conversations with co-workers. Here, only the time effectively spent on a specific assignment counts.
Daily chores delegation
In business, it often happens that although you would love to find time to create a new offer for a client or send a message with a proposal for cooperation, you simply do not have enough time. Thousands of tiny tasks keep popping up. Issuing an invoice, responding to inquiries together with checking money transfers all add up to devour the lion's share of your working hours. Having a Virtual Assistant on board enables you to delegate those mundane yet necessary tasks so you can focus on what is most important for the development of your business.
Technical assistance
These days, social media and all internet activity are a must-have. Even if you are a great photographer or interior designer you won't get new clients if you don't reach out to them. Promotion and advertising aside, the greatest challenge concerns technical issues.
Establishing a social media presence requires knowledge of the appropriate programs. It also applies to creating your website, operating it or sending newsletters to customers. For those entrepreneurs who feel incompetent and green about those and all other technicalities, or can't find more time, cooperation with a Virtual Assistant is a perfect remedy.
Time-management boost
You are the one who chooses which tasks to delegate to the Virtual Assistant. There are times when some trivial activities take up far too much of your time or you go bananas just by thinking about them, let alone do them. Yet, now within an easy reach there comes this miracle cure in a form of a VA. It is also the very resourceful solution for people whose lacking organization skills. This is often the case for people who work creatively. A Virtual Assistant can help you plan your day, organize your to-do list for the week and plan everything so that you maintain a work-life balance.

Growth acceleration
Entrepreneurs who are just starting their careers usually have big plans for achievements. However, that's when their biggest enemy appears – time. Working with a Virtual Assistant is an investment that will often allow you to reach your next milestones much faster than on your own.
Flexible working hours
When working with a Virtual Assistant, you are free to negotiate working hours with her. If you find that you will need support in handling a webinar that is to be held in the evening, this will certainly not be a problem. The work of a Virtual Assistant is freelance. These people often work from home, so they are available at different hours.
Social media management and strategy
If you know what you want to share with your community, but don't know how to put it together – the support of a Virtual Assistant is for you. By selecting the right person, you will gain help in creating graphics, publishing them, and even creating all the content for social media. As a result, you will improve your online image, and your company will be perceived as more professional.
Confidentiality
At the beginning of cooperation with a Virtual Assistant, you can sign a confidentiality agreement. This will ensure that your client's data or your company's strategy will not go to your competitors.
Professional customer service
The range of competencies of Virtual Assistants is immense. They are often people who have already had to deal with working in an office regularly and decided to try their hand at their own business. Therefore, they have the relevant experience, which you, in certain matters, may lack. After all, an entrepreneur does not need to know everything. One of the elements that you can put in the hands of virtual support is customer service.
Today, the number of online stores that offer the same products is huge. Therefore, to compete in the market, it is necessary to provide adequate service. Customers will choose the store where they receive real support during shopping and answers to all their questions about the product.
Versatile specialist
A Virtual Assistant is an ideal solution for a growing business. By hiring one person you can gain several employees. All thanks to the fact that the range of competencies of a Virtual Assistant marvels. Frequently, one person will professionally design graphics, develop a marketing strategy as well as prepare content for your newsletter.
Virtual Assistant will complement your weaknesses
Entrepreneurs are all-rounders, making a huge difference to those who run a small business. Yet, we all know that no one is a professional in all skills and domains. Virtual Assistant are specialist in a few chosen disciplines. By selecting one with the right competencies, you can find a great argument to your business.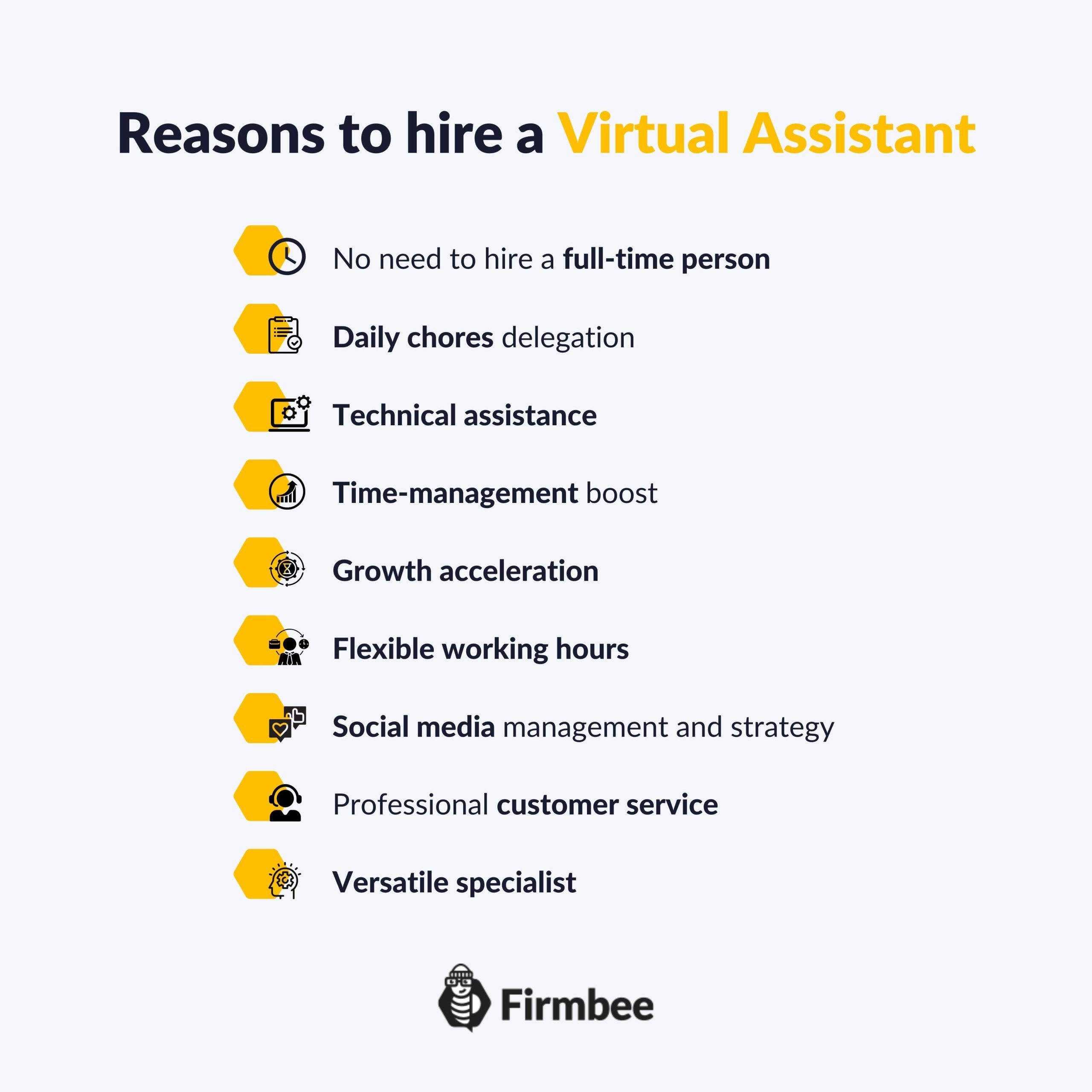 Reasons to hire a virtual assistant – summary
Hiring a Virtual Assistant is a great way to grow your business or kick-start a new idea. By delegating tasks rationally, you'll gain more energy for priorities that will help you grow. You'll take care of what's most important and put everything else in the hands of a Virtual Assistant.
If you like our content, join our busy bees community on Facebook, Twitter, LinkedIn, Instagram, YouTube, Pinterest.