The times when a lack of money was an obstacle to running your own business are long gone. Crowdfunding has somehow become a phenomenon in the 21st century. The idea of crowdfunding has developed in a rapid pace and, surprisingly, it has been easily accepted by the society. Thanks to its fast growth, we now have several types of crowdfunding, which we can use depending on the needs of our product and target audience.
Types of crowdfunding – table of contents:
Equity-based crowdfunding
The first business funding option is equity-based crowdfunding, which is also known as investment crowdfunding. As the name suggests, it is a certain way of investing money. The concept is relatively young since it has only been around for 11 years. This solution is frequently used by startups all over the world.
Thanks to it, it is possible to skip traditional ways of raising money for your business. Companies and startups which use equity-based crowdfunding don't provide their investors with any rewards, but offer them shares instead. The method is so advantageous that everyone who's interested can participate in it. Over time, as the value of your business increases, the acquired shares can be either sold or distributed as dividends (profit sharing).
It is interesting that entrepreneurs using equity-based crowdfunding aren't allowed to raise more money than the amount declared at the beginning of the process. This is strictly connected with the number of shares of a given enterprise.
The greatest advantage of equity-based crowdfunding is the fact that it is a modern and advanced form of business funding, and simultaneously the best regulated in legal terms. Platforms that offer equity-based crowdfunding are Beesfund, Seedrs oraz Crowdcube.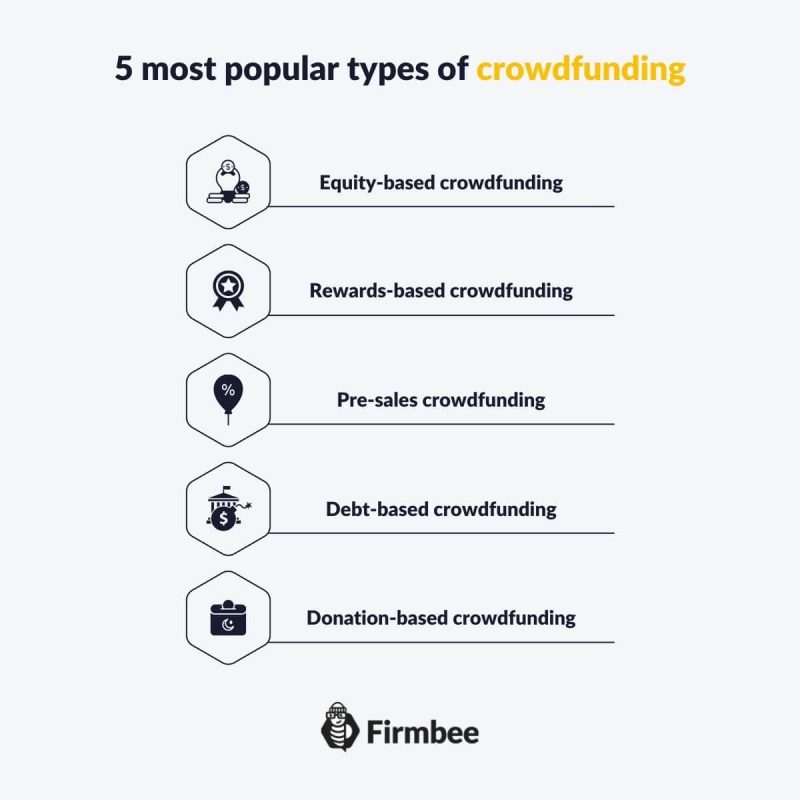 Rewards-based crowdfunding
It is considered as one of the most popular models of crowdfunding. An entrepreneur offers their donors specific goods or services in exchange for a financial support of a given project. Unlike in equity crowdfunding, investors here are not receiving an ownership stake of the company.
In most cases, the value of the offered reward isn't proportional to the payment made, and it depends on the size of the deposited funds. It is usually an item related to a product or service, which thanks to Internet users, will be launched on the market, e.g. a poster or a video promoting the project.
Rewards-based crowdfunding works on the basis of two available models:
flexible funding
all-or-nothing
In the first case, entrepreneurs don't have to raise 100% of the specified amount, but only a part of it in order to be paid. However, they are still obliged to deliver rewards to their investors. Indiegogo, which is Kickstarter's main rival, uses flexible funding model.
In the second situation, the creator must raise the entire amount by the end of the campaign. Otherwise, the collected funds are returned to the donors. This is how Kickstarter works.
Pre-sales crowdfunding
This type of crowdfunding allows the creator to keep 100% of their stake in the project. It could be the creation and launch of a new technology, product or service.
American crowdfunding site Kickstarter.com uses the all-or-nothing model.
If the creator manages to raise 100% or more, the entire amount is transferred to their account and the project can be started. However, when the creator overestimates the potential of their campaign, the collected funds go back to the donors.
In this case, investors help the venture to come into being on the Internet. They don't receive shares and perspectives of later financial profits in contrast to equity crowdfunding. It is also worth mentioning that Kickstarter earns a commission of 5% from the raised amount. If the campaign is not successful, its creator will not be charged any fees.
Debt-based crowdfunding
Debt-based crowdfunding is also known as peer-to-peer lending and crowdlending. To put it in a nutshell, this crowdfunding option is similar to a loan and allows you to get high amounts of funding without the need to dispose of any equity in your business. In exchange for their money, investors usually require a binding agreement to repay the amount that they give you within a certain period of time.
Debt-based crowdfunding is a better business funding option than traditional loans from a bank, as it doesn't require a mountain of demanding paperwork.
Lending platforms play a purely control function here – they assess the entrepreneur's financial credibility , determine the interest rate, and also process the applications with regard to legal issues.
It should be noted that only 10% of submitted applications are approved for further processing. Platforms that use debt-based crowdfunding are Zopa and Mintos.
Donation-based crowdfunding
It is the only funding method that doesn't guarantee any benefits. This particular form of crowdfunding is commonly used for charities and social causes. Donors can only count on the organizer's sincere gratitude in return for their financial support. On of the most popular platforms related to this type of crowdfunding is Causes.com.
Types of crowdfunding – summary
When choosing a model of crowdfunding, it's worth considering what form of support a specific project needs. Regardless of its type, crowdfunding is an attractive way of raising funds since it has a global reach and involves a large community. It constitutes a great alternative to all kinds of loans and grants, therefore it brings a number of benefits to the development of economy.
You've now learned what types of crowdfunding are. Read also: 2 popular crowdfunding regulations that you must know
If you like our content, join our busy bees community on Facebook, Twitter, LinkedIn, Instagram, YouTube, Pinterest.