Setting up a store on Shopify is only the first part of making sales on this platform. The next steps are related to adding products and choosing the right way to promote and market a store. How to sell on Shopify? Let's find out!
How to sell on Shopify? – table of contents:
Adding products
1. Adding products manually
To add a product, go to the administration panel and click on "Products". A list of tabs will then expand all products, inventory, orders, shipments, collections and gift cards. To proceed to add a product, click on "Add product".

The add product page will pop up. You will have to provide the information concerning:
title,
product description – it should contain keywords that will make it easier for buyers to find the offer. It is worth betting on unique content, not copied from manufacturers. A good description should contain all the necessary information and parameters that will encourage the user to make a purchase and answer any questions he may have,
multimedia – photos/videos should have the highest possible quality. Do not forget about alternative texts, which affect better positioning in search engines,
price (optional price before and after discount),
the cost of manufacturing the product (the buyer will not see this amount),
SKU number and quantity of products,
determining whether it is a physical or digital product,
specifying the weight of the product,
optionally providing variants.
On the right side of the window, the seller has space to enter information regarding:
vendors,
product type,
collections,
tags.
The prepared product offer can be previewed before publishing.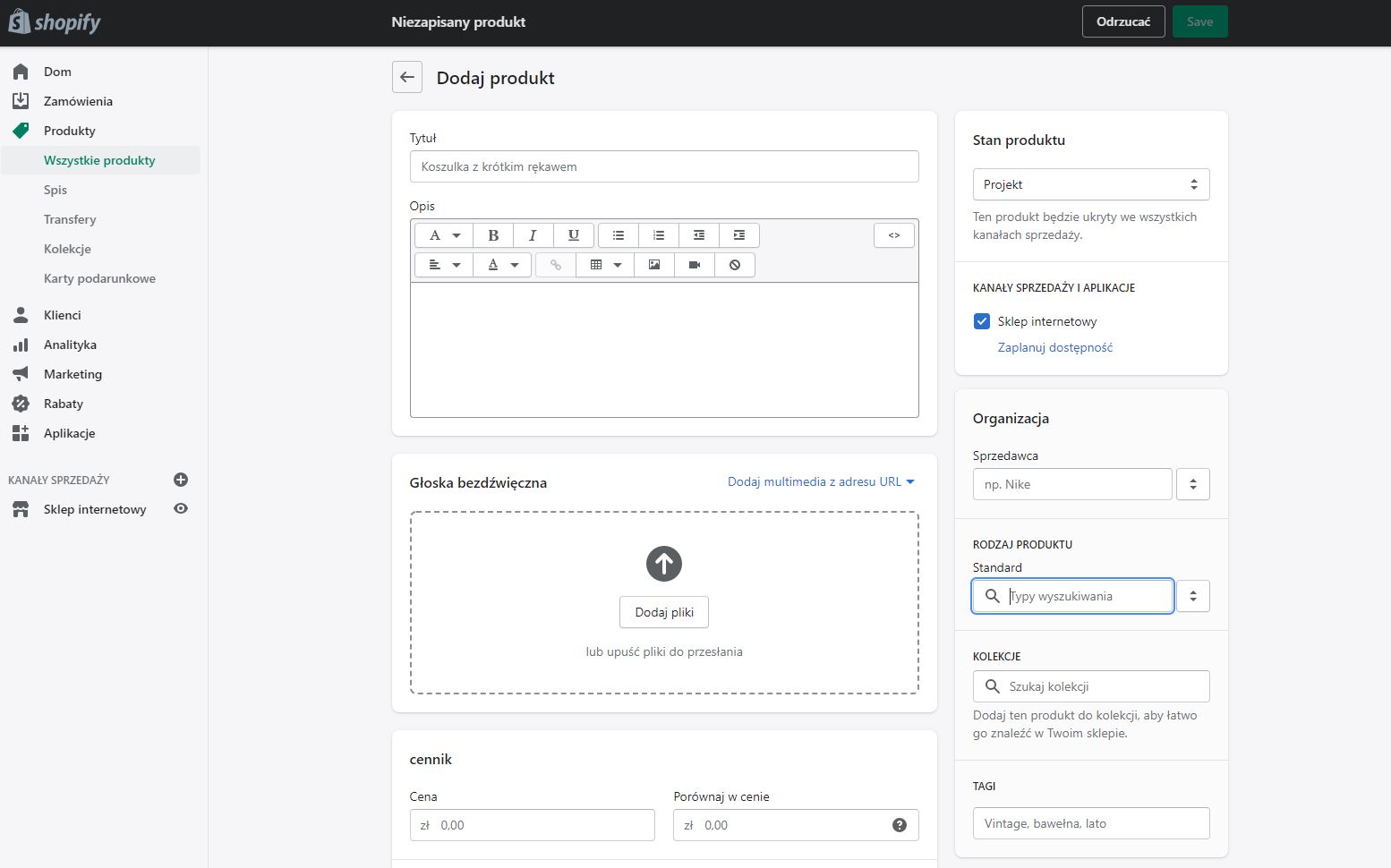 2. Adding products using a .csv file
Shopify allows you to import all your products in one go, using a .csv file. To do this, go to the "Products" tab and press "Import" in the upper right corner. A window will then appear where you can upload the appropriate file. The seller has the option to download a sample .csv file.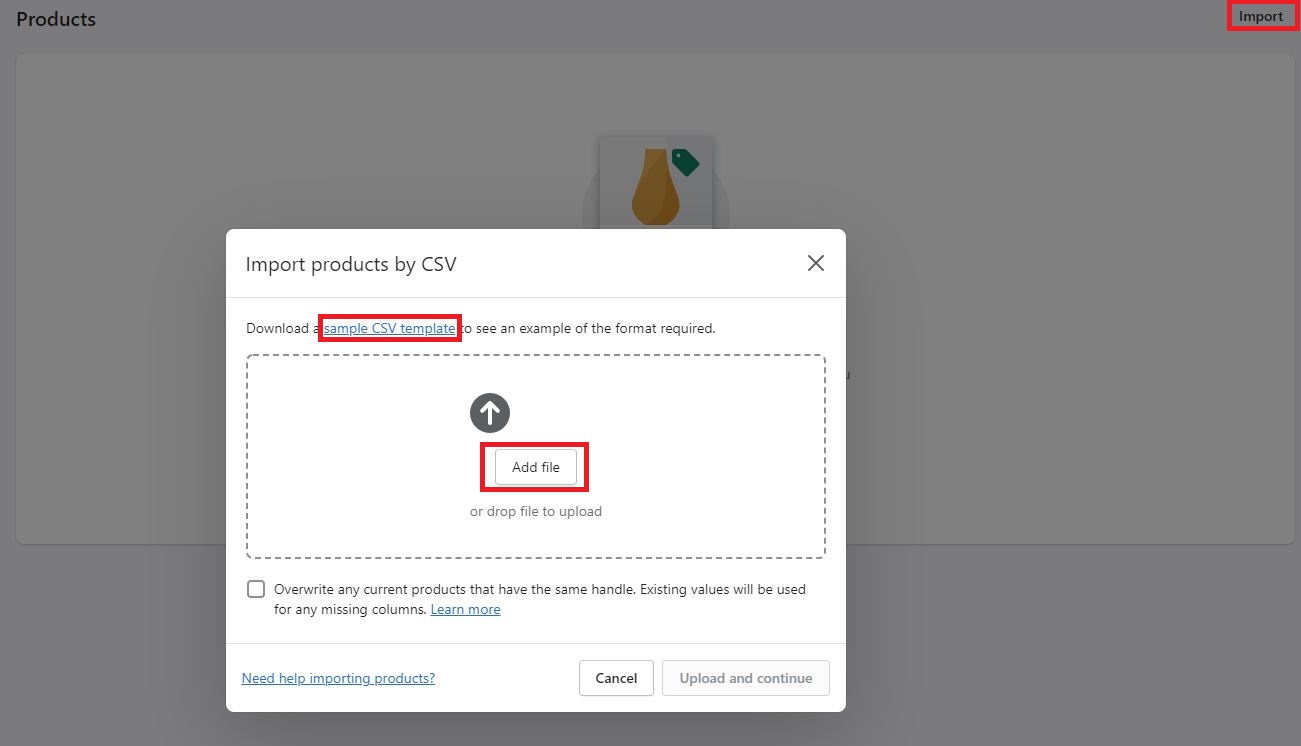 The sample file is available in English. Shopify has prepared a special guide, explaining each line of the sheet, in such a way that the seller will have no doubts about what to enter. The guide is available at this link.

3. Shopify Collections
Shopify categorizes products by collection. Such a procedure helps customers search for offers based on categories, such as women's clothing, sale, holiday decorations, etc. The seller has two types of collections available:
automatic collection – the seller uses the selection conditions (max 60) and determines whether the products must meet all of them or only some of them. When the owner adds a new product, it is automatically assigned to the collection whose conditions it meets. The disadvantage of this solution is that it is not possible to remove a product from a collection – this can be circumvented by editing the details of this item so that it does not meet the conditions,
manual collection – this method requires more work, as adding and removing products must be done manually.
To create a collection, go to the "Products" tab in the administration panel → "Collections" and in the upper right corner press the "Create collection" button.
Personal selling
Shopify POS is an application that allows you to sell products in person. You can use it to sell at various locations, such as stationery stores, markets, etc. By synchronizing Shopify and Shopify POS, it is possible to track orders and inventory across all sales channels. For in-person sales, you need the right equipment. Stores located in the US, Canada, UK, Ireland or Austria can purchase such a device directly from Shopify.
Marketing and promotions
Developing the right marketing plan can help increase traffic and conversions in the store. The owner can implement the following to help reach more users:
Search engine optimization (SEO) – this includes page load speed, responsiveness, product and category descriptions (containing keywords), linking, and completing the meta title and meta description.
Promotion on social media – setting up accounts on social media platforms, will allow you to showcase your offer, inspire confidence in potential customers and build your brand image. Shopify gives you the ability to connect your store with Facebook, Instagram and Pinterest, allowing you to sell directly through social media. Products bought via social media will automatically reduce the inventory in the store, so the seller won't have to control it manually. Social media profiles are also a good place to connect with customers and answer their questions.
Paid advertising – the seller can use paid forms of advertising, such as Google Merchant Center (advertising presented through, for example, an image), Google Ads (helpful for, for example, display and remarketing campaigns) and Facebook Ads center (paid Facebook ads).
Promotions – the vendor can choose to launch promotions, such as quick sales or seasonal sales. It is also possible to offer discounts and manage them from the admin panel → "Discounts".
Under Administration Panel → "Marketing", it is possible to create marketing campaigns and automation. A marketing campaign consists of one (or more) marketing activities, such as advertising, and content marketing. Using marketing activities in Shopify, it is possible to save them as drafts. Automation can help capture new users who have visited the store but also reach out to existing customers (e.g. through email marketing). Campaigns and automation are available to those with a Shopify Basic plan or higher.
Shopify Inbox
Shopify Inbox is an application that allows you to add chat to your online store. In this way, customers gain the ability to send messages to the seller, while making purchases. This app brings together in one place all the messengers through which shoppers can contact each other (e.g. Facebook Messenger), so the owner, can manage all the messages from one place. The app is available on the internet website and can be downloaded to Android and iOS mobile devices.
Analysis
There is an "Analytics" tab in the administration panel, through which the merchant gains access to Shopify's analytics and reports. Their type depends on the subscription plan that the store owner has purchased. Each package gives access to information, regarding:
average order value,
the number of orders and sales,
the most frequently displayed products and visited pages,
number of sessions by source, location, device,
rate of returning customers.
With the above data, the store owner can organize and sort by time interval and create statements of the period. The information gathered through analytics can help optimize the store, diagnose what problems customers are facing and understand what traffic source is most effective. The vendor can also set up external analytics tools, such as Google Analytics.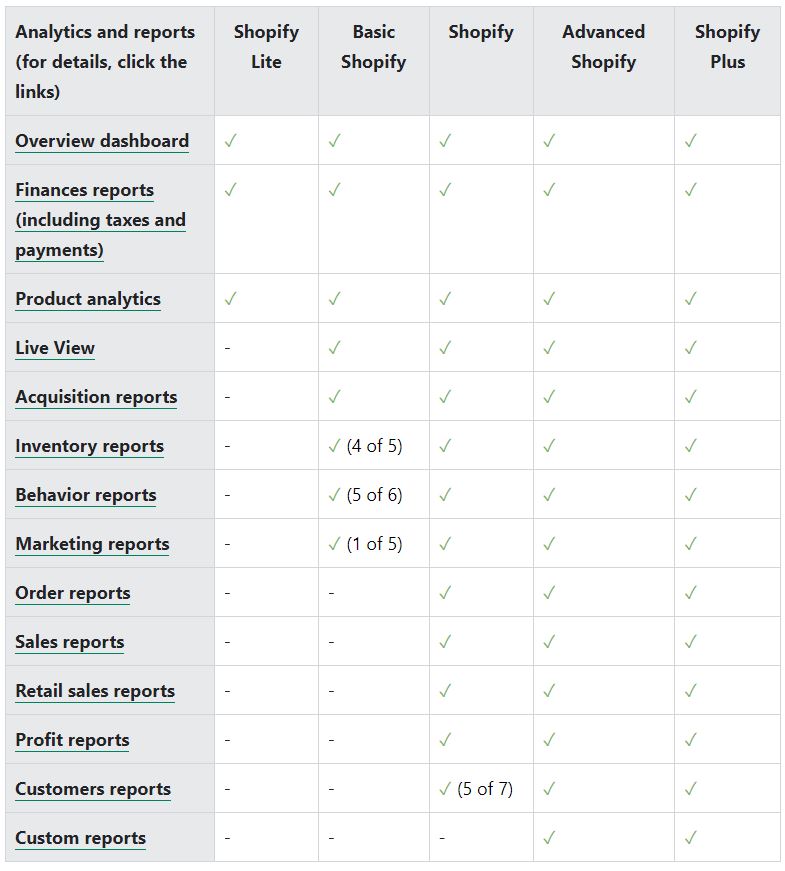 Sales abroad
Shopify Markets has a global reach. The first step is to identify your target markets. It is worth considering the ease of doing business in them, the size of the market and the return on investment. It is good practice to let shoppers make purchases in their local language and currency and to automatically calculate customs fees so that customers are not surprised by additional costs. Shopify has prepared a separate e-book to help merchants understand cross-border sales.
Dynamic purchase fulfillment buttons
Dynamic purchase completion buttons are helpful for shoppers who want to make a purchase quickly. Such an option shortens the purchase process because it skips the shopping cart. The button is visible next to "Add to cart". It can be used only for a single product variant, for example, a customer can use the dynamic button to buy two gold bracelets, but will not buy one gold bracelet and the other silver.
Two types of dynamic buttons are available:
without branding – the button says "buy now". By clicking on it, the customer skips the shopping cart and proceeds to complete the Shopify purchase,
with branding – the logo of a third-party company that supports expedited purchase fulfillment, such as Amazon Pay, Google Pay, Apple Pay, Shop Pay, and Venmo, is placed on the button. Such buttons are displayed to the customer only if the merchant has the third-party company's expedited purchase method enabled in the payment settings.
How to sell on Shopify? – Summary
Appropriate product setup, and well-chosen marketing affect conversions as well as traffic to the online store. Most of the methods described today do not require additional financial outlay, so beginners can implement the recommended practices without worrying about the budget.
Now you know how to sell on Shopify. Check out other selling platforms such as Etsy, Ebay or Amazon.
If you like our content, join our busy bees community on Facebook, Twitter, LinkedIn, Instagram, YouTube, Pinterest.