eBay is currently the second-largest marketplace platform in the world. It already has over 1.7 trillion monthly users, giving sellers access to numerous potential customers. In this article, we will show all beginners how to sell on eBay.
How to Sell on eBay – table of contents:
Creation and configuration of a merchant account
In order to create a seller account, press "sign up", which is at the top left of the eBay homepage.

In the next section, select "Company Account" and fill in the required information such as company name, its email address, password and the country where the company is located.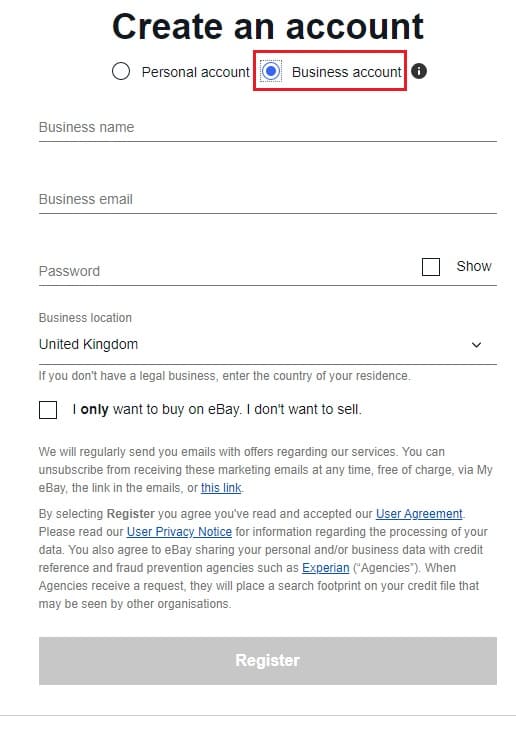 Once registration is complete, set up your account by:
Confirming phone number (or email address),
Adding company (or personal) information,
Adding bank account details.
All information provided, eBay will need to verify so that the seller can receive their payment without delay. To confirm identity from individual sellers, the platform will require the following data to be completed:
First name, last name,
Address of residence,
Aate of birth,
Social Security Number (SSN).
If the seller is a registered company, you will need information to verify it:
Individual identification information for beneficial owners, officers, directors, or account managers
Legal business name
"Doing Business As" (DBA) name (if you have one)
Employer Identification Number (EIN)
Business address
Phone number.
In some situations eBay is not able to verify identity based on the above information alone. The seller may be asked to upload a photo/scan of their Federal or State-issued ID card/driver's license/passport.
When verifying bank details, the platform will need: Name on the checking account, Bank name, Routing number, Account number. If these details are not sufficient for proper verification, then eBay may ask you to use either of two methods:
Using microtransfers – the platform will send two transfers for a small amount to the indicated bank account, which should then be confirmed in the Merchant Panel,
Sending a color photo showing one of your most recent bank statements.
Seller protection
The Seller Protection Program is designed to protect sellers from inappropriate customer behavior and from incidents that happen beyond their influence. The program covers those acting in accordance with eBay's Terms and Conditions and providing appropriate customer service. If a buyer makes an unfounded negative seller review, eBay will remove all seller reviews and close any discussions.
What to sell on eBay?
The most frequently purchased categories are:
mobile phones and accessories,
video games,
health and beauty,
home and garden,
computers and tablets,
fashion.
A great hint for beginning sellers can be eBay's search engine. It allows you to see what keywords people are typing in most often.
What are sales limits?
New sellers on eBay are subject to a sales limit, which is designed to ensure secure transactions and gradual sales growth. The application of the limit can be completed either by confirming the required information or by achieving a positive sales history. Three types of limits are present:
Account limits – limit the number of listings per month and the value of sales per account,
Category limits – limit the number of listings in a given category,
Limits on items – are used to prevent the sale of counterfeits.
What are payment services?
The eBay platform has made it mandatory for all sellers to register for payment services from 2021. With this service, sales are made in one place, while buyers have multiple ways to choose to pay. Sellers can choose the frequency with which they get paid (daily or weekly). They are paid within 2 business days (Monday to Friday). Joining the payment services system removes the need for sellers to enter into a relationship with the company that processes payments – everything is done through eBay. The platform recommends that you have a euro currency account, so you can avoid the extra fees your bank charges for currency conversion.
Buyers can use the following forms of payment:
Most credit and debit cards
Google Pay
Apple Pay
PayPal
Why check for HTTPS compliance?
HTTPS is a way to increase the security of the information you send. Some offer links to external content, such as graphics. If these contain HTTP links, the recipient receives a "This site is not secure" message. A warning about the lack of security can discourage potential customers from buying. Starting in 2019, eBay checks that each new (or revised) listing has HTTPS – if not, they are blocked.
To make it easier for sellers to manage their auctions, you can edit up to 500 listings at the same time using the "Edit auctions collectively" button. Using the "Find and Replace" function, you can easily change "HTTP" to "HTTPS".
Opinion card
A feedback card is a source of information for customers about a seller. If it is set to private, it is not possible to sell on eBay. A seller with a public rating card gives potential customers the opportunity to inspire confidence in him and thus increases the chances of a successful transaction. The public status gives you the opportunity to view comments on the seller left by previous customers.
To change the status of a feedback card, please:
Click on Site Map (on the top of the site),
Right-hand column "Opinions" → "Set public/private opinion card" → "Set public/private feedback card",
Save
Service standards
Service metrics are guidelines by which eBay is able to determine how a seller is performing against the competition. These include:
Data that tells you how many returns have been made because the goods did not match the description or the item did not arrive,
Comparing the seller's cases to those of competitors who offer similar items,
A report on the number of listings for which a post-sale case was reported.
If a seller has metrics marked "Very High", they can expect a higher commission rate on sales.
Service standards allow the platform to distinguish between vendors whose level of service stands out. It can qualify them for one of three status levels:
Top Rated – by maintaining a consistent, superior level of customer service, a salesperson can count on benefits: extended protection and discounts on sales commissions.
Above Standard – This seller is maintaining good service but needs to improve certain metrics to earn Top Rated status.
Below Standard – merchants who don't meet the standards may face consequences for doing so, such as limits being placed on their account, additional fees being charged to them, their listings being less visible, etc.
If eBay determines that the seller's actions are in some way a threat to the customer, immediate sanctions may be applied to the seller.
eBay's actions may seem more restrictive than those of other marketplace platforms. However, this is to ensure the best possible customer service. A seller who reads and complies with the requirements can expect a token of appreciation from the platform and support for growth.
If you like e-commerce, also read: Amazon Seller Account- registering and configuring account settings !
You can also stay in touch and join our Facebook community!