What is a CCO? What does a CCO do? (Chief Commercial Officer) is one of the most important members of the management team. CCOs are primarily responsible for the commercial strategy and the development of an organization. In this article we will provide more information about the CCO role and responsibilities. Read on.
What is a CCO? – table of contents:
What is a CCO?
What is a CCO? The CCO (Chief Commercial Officer) is one of the most senior executives in an organization who is responsible for designing, developing and approving the company's commercial strategy. The CCO role requires being able to manage all aspects of the business, as well as having problem-solving and leadership skills. CCOs should also be able to deal with the enourmous volume of information.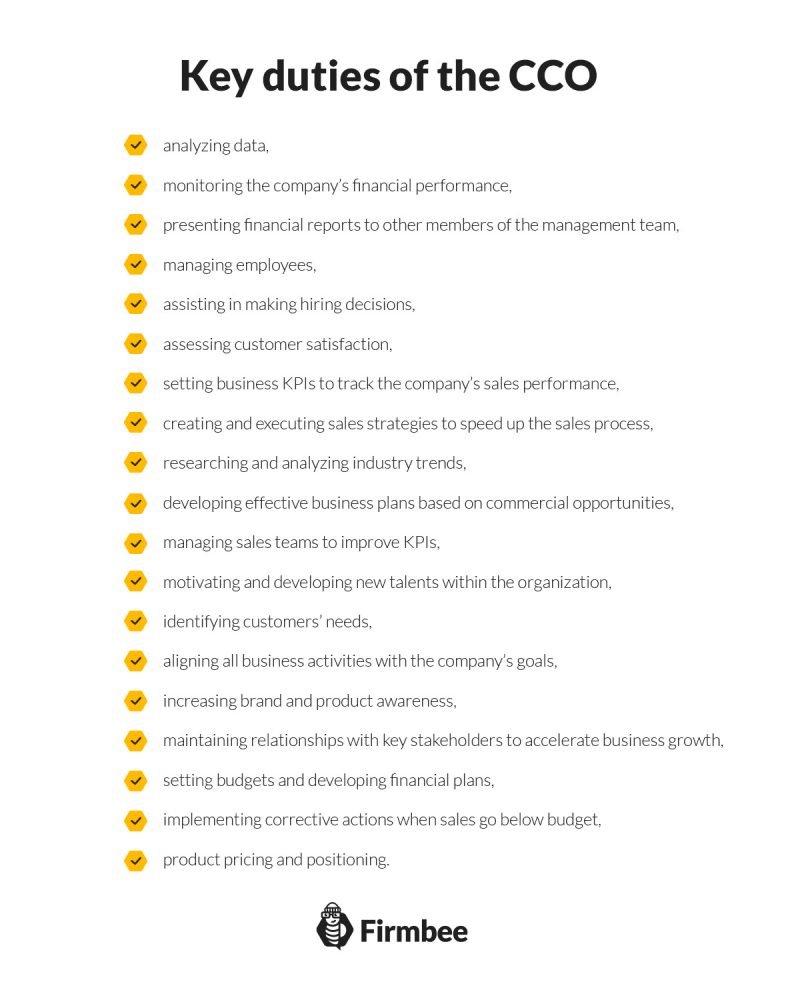 CCO role
Among the major roles, the CCO is responsible for making key decisions within the scope of marketing, sales, product development and customer service. All CCO's efforts are to bring notable earnings, stimulate the business growth and increase in the market share. Most CCOs manage multiple teams such as the sales, marketing and advertising departments.
CCOs are set very high in the company hierarchy, and they report to CEOs. In order to play their role well, they need to be in constant contact with customers and closely cooperate with product development teams. This helps to design and market products with the most desirable features.
CCOs possess extensive knowledge when it comes to the processes taking place in the company, e.g. hiring and budgeting. They deal with a lot more than just advertising and marketing. Also, CCOs are usually informed about the financial condition of the organization, and their job is to make sure that all departments bring substantial profits.
Chief Commercial Officers are frequently sourced by headhunters since their skills have a huge considerable influence on all aspects of the company's marketing strategy.
What does a CCO do?
The CCO's main function is to make sure that your business provides products and services that meet the customers' needs. The position requires a devoted professional who would embrace the challenge of planning complex trategies to reach the company's goals and sales targets. The CCO's another important objective is to maintain good relationships between internal departments and external customers.
CCO responsibilities
One of the CCO's key responsibilities is to interact with customers in order to provide them with the right offer. CCOs market products that customers are interested in by ensuring that the company's strategic goals are accomplished. CCOs develop and implement long-term commercial strategies which must align with the organization's mission and budget.
CCO's responsibilities may vary depending on the industry they work in, and on the very company they work for. CCOs often deal with developing sales and marketing plans, as well as with budgeting. They also need to conduct cost-benefit analyses, evaluate customers' requirements, and ensure that the company's goals are set and later fulfilled.
In every industry, CCOs must have profound knowledge concerning products or services, and know how to pass information to potential clients. Finally, CCOs lead the launch of new products and later assess the customer satisfaction in order to come up with new practices for the sales departments.
Key duties of the CCO
Key tasks of the CCO include:
analyzing data,
monitoring the company's financial performance,
presenting financial reports to other members of the management team,
managing employees,
assisting in making hiring decisions,
assessing customer satisfaction,
setting business KPIs to track the company's sales performance,
creating and executing sales strategies to speed up the sales process,
researching and analyzing industry trends,
developing effective business plans based on commercial opportunities,
managing sales teams to improve KPIs,
motivating and developing new talents within the organization,
identifying customers' needs,
aligning all business activities with the company's goals,
increasing brand and product awareness,
maintaining relationships with key stakeholders to accelerate business growth,
setting budgets and developing financial plans,
implementing corrective actions when sales go below budget,
product pricing and positioning.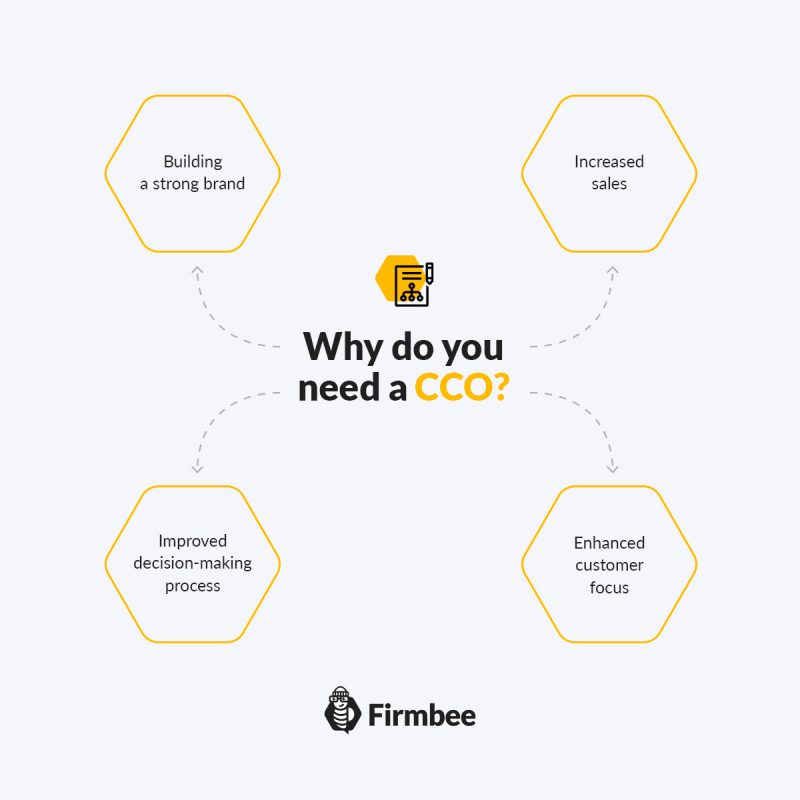 Why do you need a CCO?
The right CCO may bring a number of benefits to your company. These include:
Building a strong brand. The CCO will help you build the company's brand and make it stronger to develop emotional connection with your customers and drive demand.
Increased sales. The CCO may help you improve sales in various ways. They can actively sell products and services, as well as collaborate with salespeople to achieve commercial goals. They can also assist in implementing strategies to boost your company's revenue and meet customers' needs.
Improved decision-making process. CCOs analyze data coming from several sources and cooperate with multiple teams, so they will certainly help you make smart business choices.
Enhanced customer focus. The CCO will help you better understand your customers' needs and ways to meet them. They will create a positive customer experience and make your clients feel heard.
What is a CCO? – summary
Strong CCOs are leaders in their own right. Chief Commercial Officers are true professionals, usually with extensive knowledge and experience. Since they have a significant influence on companies in terms of strategic planning and budget management, CCOs are increasingly in demand.
In this article we've answered the following question: What is a CCO? Read our other resources: 7 startup roles .
If you like our content, join our busy bees community on Facebook, Twitter, LinkedIn, Instagram, YouTube.