Sellers and marketers are eager to use techniques that help them move around their online store. One of them is cross-selling, which is also known as reselling. As research shows, about 1/3 of sales on Amazon comes from cross-selling. It is relatively easy to implement in online business, and the benefits of this step are visible and measurable almost immediately. What is cross-selling and what are its advantages?
Cross-selling – table of contents:
What is cross-selling?
The idea of cross-selling is based on getting the consumer to buy a product that is related to the one they have already added to their cart. The objective behind this technique is to increase sales and customer satisfaction. Strengthening his satisfaction with the purchase consists of complementing his basic basket with other complementary items that could be useful for him or her.
Cross-selling is not a pushy form of advertising – it indicates products that the customer would sooner or later probably buy anyway but in another place. This technique allows you to increase the value of the order without additional activities after the implementation of products that will be related to the main items.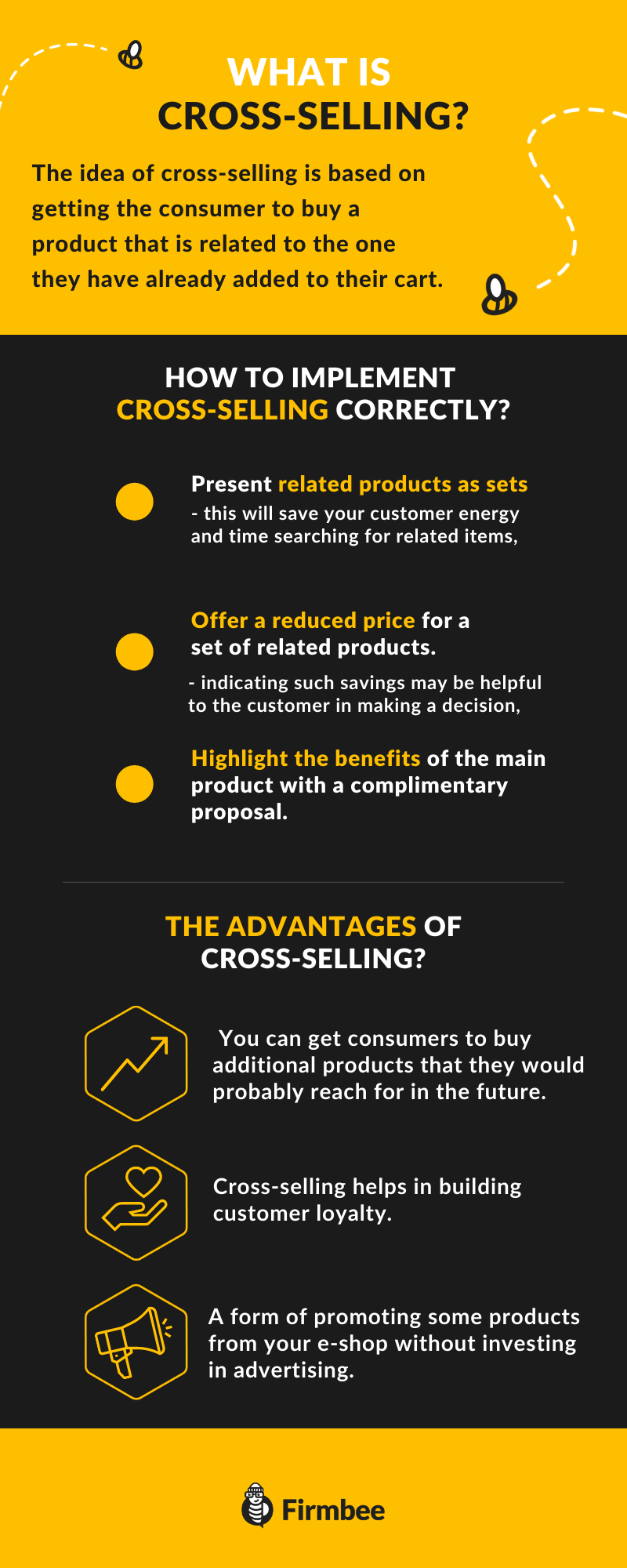 Examples of cross-selling
Let's use an example to illustrate cross-selling – if a customer has added trekking shoes to their basket – you can offer them thicker socks or insulated leggings.
In the case of an online drugstore – if the consumer is buying a face primer – you can also suggest a brush on the product card for her to apply the fluid.
These are not goods that come in sets, but ones that complement each other. Resale of accessories or related products is not only a form of increasing sales – but it can also be treated as one of the elements of the pro-consumer approach and targeting the needs of customers.
How to implement cross-selling correctly?
There are several approaches to successfully practicing cross-selling:
present related products as sets – this will save your customer energy and time searching for related items,
offer a reduced price for a set of related products – indicating such savings may be helpful to the customer in making a decision,
highlight the benefits of the main product with a complimentary proposal.
Cross-selling versus upselling – the differences
Both of these techniques have two main objectives – the first is to increase the turnover of the online store, and the second is expressed in improving the customer experience.
However, these strategies do not rely on the same thing. Upselling is based on offering newer, improved versions of the product desired by the consumer – e.g. a more modern version of a telephone model. Cross-selling, on the other hand, involves selling accessories that can improve the user experience. So, if your target product is a mobile phone, cross-selling may include wireless headphones or tempered glass.
What are the advantages of cross-selling?
The cross-selling strategy generates more sales in an online business. Without investing in additional forms of advertising, you can get consumers to buy additional products that they would probably reach for in the future. You simply shorten that path and cause those funds to stay in your e-store.
What's more – cross-selling also helps in building customer loyalty. You make them aware of the existence of a problem, which perhaps they would have come to shortly after receiving the package.
It is also a form of promoting some products from your e-shop without investing in advertising. The sale of such accessories and complementary items is based on already gained customer engagement.
How do you maximize profits from cross-selling?
Adapt the strategy of social proof of rightness, referring to the tendency studied by social psychologists. It consists of the fact that in the situation of uncertainty, when we do not know what decision to make or how to behave – we rely on the actions of the whole. That is why products presented as part of cross-selling should be enriched with the slogan "Customers who chose this product also reached for…". Such persuasive wording of suggested items may help you increase sales of accessories and add-ons.
Cross-selling is the way to increase sales
Cross-selling is an opportunity for you to resell accessories and complementary items that you offer in your e-store that can enhance the consumer experience. Implementing cross-selling is one of many techniques that will allow you to grow your online business.
If you're interested in e-commerce topic, read our article about the importance of customers reviews and what's the difference between e-commerce and marketplace.
Don't forget to join our Facebook community to stay in touch!