The role of social proof in e-commerce, where products cannot be seen or touched, is crucial. Reviews given by customers – both about your store and a specific product – firstly increase the conversion rate, and secondly, have a positive impact on your online visibility. So how to ensure positive feedback?
Customer reviews in e-commerce – table of contents:
Why you should encourage customer reviews
A product with five reviews is 270% more likely to sell than a product without reviews. For more expensive products, reviews increase conversion rates by as much as 380%, according to a Spiegel Research Center study. And this is just one of several statistics that prove that encouraging customers to give reviews is a game worth the candle, because:
93% of people say reviews influence what they decide to buy. (Source: Podium)
84% of people trust online reviews as much as recommendations from friends. (Source: Broadly)
80% of consumers said they decided not to buy something after reading a negative review. (Source: Cone)
Feedback from customers, whether in the form of stars or reviews, affects the perception of your brand, the chance to sell products, but also visibility in the search engine. Google, whose primary goal is to provide users with satisfying results, wants to show them the brands they can rely on.
Customer reviews and sales
For every "complaining" customer, there are dozens of satisfied ones who remain quiet. It is a risky assumption. Those who are not satisfied may as well say nothing and… never come back to you.
Customer feedback – especially bad one – should be a determinant of further actions for e-shop owners. It is worth encouraging it and taking it seriously because in this way you can find out what customers really think about the store, products and after-sales service, and use this information to improve all these aspects.
Customer feedback will also allow you to make optimal decisions about your assortment, which is especially important when you sell goods from different manufacturers.
Over time, you can also start to use this information more creatively, such as typing out consumers who may – with more or less encouragement from you – become your brand ambassadors on social media, which can translate positively into sales in the long run. Ambassadors work in the sphere of incluencer marketing – if you want to learn more about it read our guide on this topic.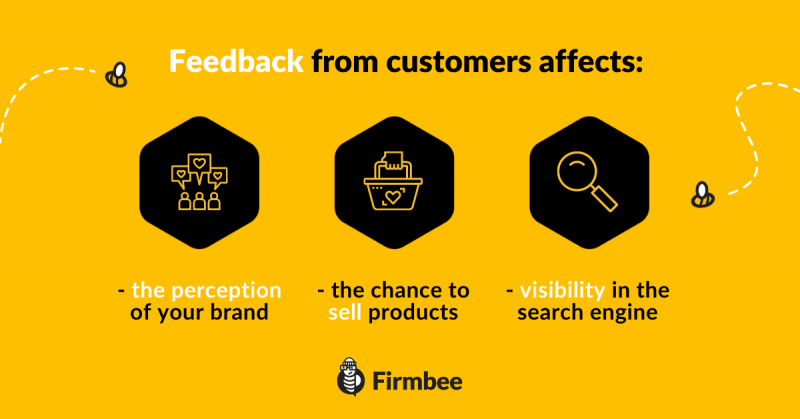 Customer reviews and your offline and online visibility
Google, which wants to recommend the most reliable companies to users, takes into account customer reviews when ranking organic search results. The better the indicator of credibility expressed, among other things, by positive reviews, the greater the chance for a better place in the ranking. This is not a direct relationship, as many other factors affect the position in search results, but Google encourages you to engage in dialogue with your customers, regardless of whether their review is positive or negative. In either case, it's worth responding to it to show both customers and search engines that you care deeply about their satisfaction.
Statistics show that of the customers who received a response from a business after posting a negative comment, 33% came back and posted a positive review and 34% deleted the original negative review. (source: Chatmeter)
Online reviews should no longer be seen as a static or one-sided flow of information. Brands need to interact and engage with customers to create an open channel of communication.
Would you like to learn more about e-commerce or other business-related topics? Join our Facebook community to stay in touch!