Influencer marketing has revolutionized the digital advertising space. Learn how you can get in on the game with our beginner's guide to influencer marketing. Influencer marketing has become one of the hottest trends in the digital marketing industry, and for good reason. Investing in influencers to help your marketing is a cost-effective method to grow your business by tapping into social media powerhouses with huge followings. Whether you are a small business or a veteran company, there is much to gain from getting involved with influencer marketing. The question is how to get started. How do you find influencers? What should you offer them? And what are some dos and don'ts when it comes to reaching out to these individuals? In this beginner's guide to influencer marketing, we'll answer all these questions and more so that you can start building relationships with influential figures on social media today!
Influencer marketing – table of contents:
What Is Influencer Marketing?
What exactly is influencer marketing? First, it can help to understand what an influencer is.
Influencers are individuals who are in an industry or niche and have amassed a large social media following. Influencers can range from online celebrities to bloggers or industry superstars. As the term influencer has widened over the years, more and more individuals have taken the mantle of "social media star."
Here is a shortlist of some of today's top influencers and the number of "followers" they have across social media channels:
Kim Kardashian West: 200+ million followers
Justin Bieber: 172 million followers
Logan Paul: 56 million followers
These individuals have amassed a huge following on social media and use it as an avenue to communicate with their audience. The main key to being an influencer is the ability to influence others in the actions they take. This is where influencer marketing can be a powerful tool in the hands of a strategic marketer.
Why Is a Guide To Influencer Marketing Important For Companies & Brands?
In the digital-first economy, brands can no longer lean on print and television media to sell their products or services. Now, brands must utilize online personalities to help spread their message and convince their target audience to make a buying decision. With online influencers have the ability to interact and influence so many through social media, marketing via these digital stars has become increasingly effective.
With influencer marketing, brands and agencies can harness the power and reach of social media influencers to market a particular brand, product, or service. This marketing method has become a successful way to reach an audience that might not otherwise have been available to the company through traditional advertising channels such as print and television.
An example of successful influencer marketing was when emerging clothing retailer H&M partnered with top online influencer and model Kendall Jenner for their 2017 spring fashion campaign. H&M's successful campaign generated a lot of buzz on the internet due to Jenner's young follower demographic being targeted by this advertisement in a novel way. When Jenner's fans may not have been reached via print and television ads, social media became a gateway to reach new, younger consumers.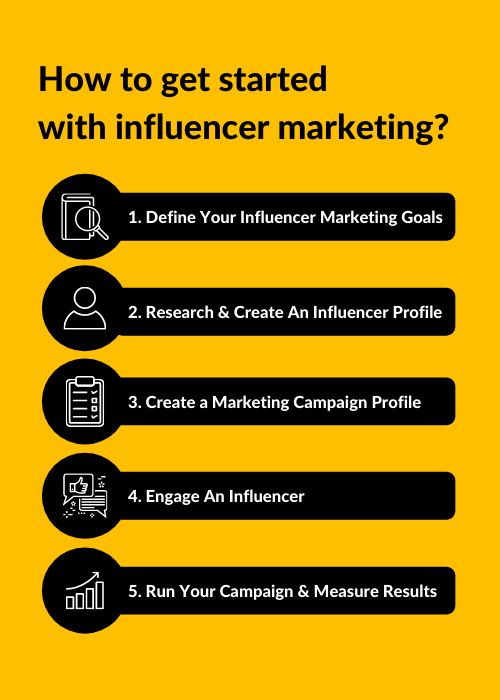 Want to discover how advertising with influencers can help boost your brand? Here are a few key steps to getting started with influence marketing:
1. Define Your Influencer Marketing Goals
Like any marketing strategy, you should begin with the end in mind. So before you try to engage with an influencer, ask yourself: "What are my goals with this marketing move?" Whether you want to increase brand recognition, reputation, or promote products, knowing your goal will help you pick the right influencer to partner with your brand.
2. Research & Create An Influencer Profile
Next, you will want to define the type of influencer you want to partner with for your brand. Invest time in researching potential influencers in your industry or niche. Define numbers such as follower count, type of content, engagement level, and how often they post.
3. Create a Marketing Campaign Profile
You will also want to create a profile for your influencer marketing campaign. Include the goal you're trying to achieve with this partnership, what type of promotion is involved (such as product placement or mentions), any restrictions on what can be said in posts about the brand. This can save you a lot of headaches should your influencer partnership go sideways unexpectedly.
4. Engage An Influencer & Ask Them To Market For You
Once you've defined your type of influencer, it's time to find one! The best way to find the right influencer for your advertising goals is to check out online tools such as Buzzsumo, Followerwonk, and LinkedIn.
Influencer marketing platforms are also a great resource for finding new influencers – you can use these sites to search through potential partners based on location and unique demographic interests.
Once you select a potential influencer partner, approach them with your advertising project, and prepare to offer a package for them to consider. For example, will you pay them in cash, with free products, or a combination of the two? Setting up these expectations ahead of time is key, as many influencers will want to negotiate terms before signing a contract.
5. Run Your Campaign & Measure The Results
Once you have an influencer selected for your influencer marketing strategy, it's time to launch your campaign! But how do you make sure influencer marketing will work for your business? Our guide to influencer marketing will help.
To measure the success of an influencer campaign, it's important to track their social media following and engagement after they've been exposed to your brand. If you notice a spike in followers or likes on their posts, that means the campaign is working!
In addition, you will need to measure your key metrics such as web traffic, online purchases, and any other measurements that are directly impacted by your influencer campaign. If you find that the campaign is working well, it may be worthwhile to continue your influencer marketing with the same influencer – or branch out and hire more!
Best Practices For Influencer Marketing
It's not enough to just find influencers and start advertising with them. You'll also need a solid strategy in place for how you will work together. Here are some best practices for influencer marketing:
Keep It Relevant: You should always work with influencers that are related to your brand. For example, if you own a fashion company, it's best to find an influencer who is also in the clothing industry. Come To The Table Prepared: Remember that influencers want exposure too! It may be tempting to offer them compensation or pay them more than other companies they typically partner with. Make sure you are ready to offer a lucrative offer when you reach out for their help.
Make Sure The Influencer Knows Marketing: If the influencer is successfully convinced of your product or service but doesn't know what they're doing regarding marketing, then both your influencer and your product will not be successful. So make sure they understand your marketing goals – and how you can reach them together.
Pay Attention To Details: The influencer should be given a lot of information about the product or service before they promote it so that they can mention all important details about features, price, and where to buy. Avoid Long-term Contracts: It is best for an influencer to only commit to promoting your brand on social media one campaign at a time. In the world of online influencers, stars rise and fall on unexpected posts and controversy. So don't let your brand get locked to a radioactive influencer.
Keep It Subtle: The key to influencer marketing is subtlety. It is important that influencer marketing be presented so that it does not seem like it is trying to sell the product. Instead, the influencer convinces their followers to buy a particular brand or product because they do it themselves (even if the product was given to them to promote.) This is one one of the most important rules when it comes to the guide to influencer marketing.
Be Ready To Wait: It takes time for influencers to establish a following before a particular marketing strategy can be effective. Influencer marketing is not quick, but it's worth the wait. Always remember: Building an audience from scratch for your brand could take months and cost hundreds of thousands of dollars. However, your influencer can bring a ready-made fanbase – if you have the patience to wait on viral exposure.
Give Influencer Marketing A Shot For Yourself
Influencer marketing can be a big step for smaller companies. Starting a blog or an Instagram account is one thing, but investing in influencer marketing takes it to the next level. Take it slow, and follow the right steps and best practices, and watch as the right influencers bring your brand more exposure and success than you could have anticipated!
Have you tried influencer marketing and found success for your brand or business? Did you find this guide to influencer marketing useful? Let us know in the comments below!
You may also like: YouTube marketing as an effective brand marketing tool