If you are just working on moving your business online – you are surely considering whether to choose one of the marketplace platforms or focus on developing your own online store. Both of these options have their advantages and disadvantages – below you will find their clear characteristics. Taking a look at both options will allow you to make an informed decision that will best suit the needs of your business.
E-commerce vs marketplace – table of contents:
What is a marketplace?
Marketplace is an online platform that aggregates offers from multiple vendors. This diversification of offers works like a magnet for consumers, as they have a wide range of choices from various suppliers.
The advantage of this solution is its simple implementation – you can even register in the marketplace via your Facebook account. This means that you can start selling your products immediately. Examples of such platforms are Amazon, eBay.
Advantages of selling on a marketplace
The advantage of this form of e-commerce is the absence of costs associated with the launch of their own platform. We are talking about the investment in the domain, hosting, shop maintenance and promotion. By listing your items on the marketplace, you are not burdened with any of the above obligations.
It is the target platform that takes care of the website maintenance, advertising and offers a secure payment system. Its mediation ends at the moment of finalizing the transaction – the purchased goods are stored and shipped by the seller.
What are the disadvantages of selling on a marketplace?
The above-mentioned aspects are certainly tempting, especially for beginner entrepreneurs, who are just starting their adventure with selling via the Internet. However, the disadvantage is the necessity to share the profits – marketplace platforms usually charge the seller with a commission for each finalized transaction. An alternative is a fixed membership fee. The amount of such commission depends on the portal and varies from a few to several percent.
Own e-commerce – is it an option for you?
Owning one's own online shop deprives the seller of middlemen – the entrepreneur can offer his goods to many customers without competing with other contractors. There are also only two parties involved in the whole process – the buyer and the seller.
Modern technological progress makes it possible to set up an e-shop without any knowledge of coding. Popular platforms provide many functionalities at the very beginning that makes it easy to add products to an e-shop on your own and use available templates. It is worth paying attention to the possibilities of such e-commerce platforms as WooCoommerce, Shopify, Shopper or Magento. If you would like to learn more about e-commerce, read an article we recently wrote about this topic.
When does it pay to switch to your own e-commerce?
If your offer is niche and dedicated to a narrow group of customers – it will be a profitable step to accumulate efforts to establish your e-store. Taking care of positioning, which will shorten the way of reaching your business online is an example of a perspective action that will help you in the expansion of your e-commerce.
It's also a cost-effective step if you're expecting a large turnover – having to share the margin with middlemen won't be profitable for you then.
Your own online store also allows you to easily manage your inventory. Therefore, if your brand already has an established position on the market – then basing only on solutions of the marketplace type is not the best way. You can treat such platforms as a support of the main sales channel.
E-commerce vs marketplace – which is more profitable?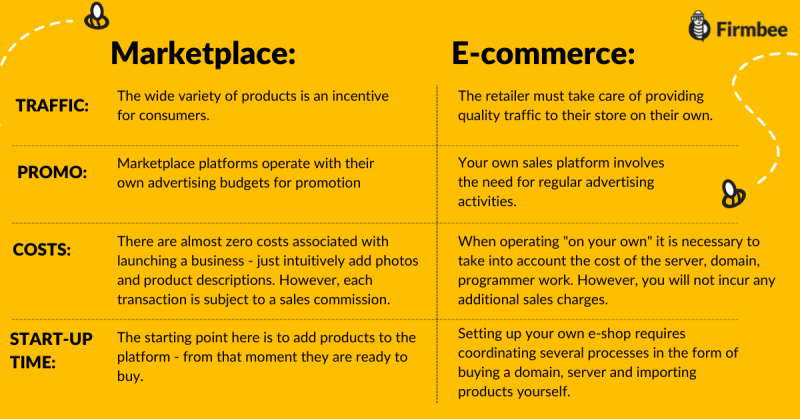 E-commerce vs marketplace – it is hard to point out a clear favorite in this comparison. It all depends on many factors. However, the conclusion is quite clear – if you are just starting to sell your products online, this will be a much more convenient option for you. You don't have to take care of the whole technical background connected with launching your platform – you rely on the already existing one.
Still, the disadvantages are high competition and the need to share profits. Your own e-commerce is synonymous with an investment of time and resources, but it gives you greater autonomy and no need to pay commissions.
Join our Facebook community to stay in touch!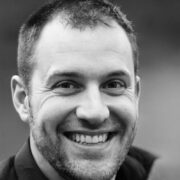 The most important questions
Marketplace – what is it?

A marketplace is an online platform that aggregates offers from multiple sellers. Examples of marketplaces include Amazon, eBay.

How to sell in the marketplace?

When you list items on a marketplace, you don't incur the costs of setting up your own platform. The marketplace itself takes care of website maintenance, advertising, payment systems. The seller only stores and uploads the offered items. You can find the details of how to join the various marketplaces in their terms and conditions.

When is it worth switching from marketplace to e-commerce?

E-commerce pays to set up especially for niche offers that can be easily positioned, and also when high turnover is expected. E-commerce is also a solution for brands with a reputation in the market. In other cases and at the beginning of your journey in trade, the marketplace appears to be a better solution.