What are the best practices for creating invoices? Is it true that anybody can issue an invoice? Do you know how to you issue invoices quickly and efficiently? It seems that currently, not only experienced accountants can issue invoices. Since specialists have their secrets, we have collected some simple hints and tips to help you with the process. You should be able to issue invoices single-handedly knowing best practices for document creation. Read the article to find out more.
Creating invoices – table of contents:
Use ready-made templates
We begin our list of best practices for creating invoices by the proposal of using ready-made templates. An invoice is an official document, that confirms the transaction between the seller and the buyer. It has to include certain elements that cannot be omitted and are required by law. You don't have to use specialized software to issue invoices – you may use even a spreadsheet program or a word processing program.
There are many ready-made templates on the Internet. Those templates facilitate significantly the process of invoicing. All you have to do is to fill up the blanks with the content and the invoice is ready. Such an invoice will contain all the necessary, important information. Ready-made templates can be found in the invoicing software as well. It is a particularly good source of templates because all of them were created by specialists. You may be sure that there will be no lacking elements on your invoice, especially those required by law.
Include your logo
There are some benefits of including your logo on invoices. What kind of benefits? Adding your logo helps you to build a professional image of your company. It influences positively relationships with clients. Invoices with a visible logo stand out in the crowd of similar documents. This may influence the speed of payment because a distinguishable invoice is easy to found and therefore the client may pay it first. An additional benefit of having a logo on your invoice is the increased recognizability of your brand. What if you still don't have your logo? You may create it by yourself or hire a specialist.
Readability first
Creativity pays, but it is not good to go overboard with a creative approach in some branches. Accounting is one of them. Hard facts and reliable data are more important here. During invoicing process opt for a readable and transparent document layout. Keep it neat and tidy to allow fast search for all necessary data. The invoice should present the information about:
The seller and the buyer
The goods or services the invoice is for
The value of all items on the invoice
Total amount to be paid
When and how to settle the payment
If all those elements are visible it means you have made great work. Each person that sees your document will know what it is all about. I may influence positively the process of payment.
Avoid mistakes
Committing mistakes is a human thing, although we must do everything to avoid them. Issuing erroneous invoices has consequences. What kind of consequences? Usually, explaining the imprecisions takes time and additional work, hence it is better to check the invoice thoroughly before sending it to the client. Even the best template won't be able to protect you from accounting errors. Invoicing applications are recommended in this situation since they provide you with modules that allow the creation of correct and precise invoices. If you're looking for a free invoicing app, try using Firmbee. It enables you to create all types of invoices with custom currencies, tax rates, and discounts without any mistakes.
Provide accurate payment date
All business parties appreciate fast payments of their invoices. Many of the companies expect to be paid on delivery. Theoretically, such type of payment is fast and safe and obliges the client to immediate payment. Practically it is not always so. Some of the companies pay only once a week it may be related to internal procedures, document circulation, or arrangements with the accounting office.
Invoices with payment on delivery are not always beneficial – by issuing them you may create an inconvenience for your clients. You may expect immediate payment when you deliver the products to the client yourself. In all other situations, you may expect proems. Most of the clients expect deferred payment terms. Accurate dates of payment protect you from unnecessary discussions, unexpected problems, and disagreements. It is always better to give precise, accurate, and transparent payment rules.
Offer online payment
Currently, in the era of new technologies, why not switch to online payments – could this be the option that facilitates the processes for your customers. There much more forms of online payments than bank transfers. Some clients would prefer to pay by credit card or directly from their bank account. Such solutions are known for years and are particularly useful for payments of electronic invoices. Gain a competitive advantage and use online payments in your company. If your business deals with innovative products it is even more important.
Send your invoices online
It's time for the last, but equal important, practice of creating invoices. Electronic invoices have the same legal value as paper documents. The fact that you may send them quickly to your client is their biggest advantage. Online mail is operating 24 hours, the whole day, 7 days a week. It means payment can be done faster. Create your invoices electronically to speed up all the processes. Such an invoice doesn't have to be printed out, you reduce the waste of paper consumption, which has a significant environmental effect.
You need to remember though that an electronic invoice has to be kept as long as it is required by law. Keep order in your invoices, create them anew each time, when the clients purchase your product or use invoicing software – be organized and keep your documents handy.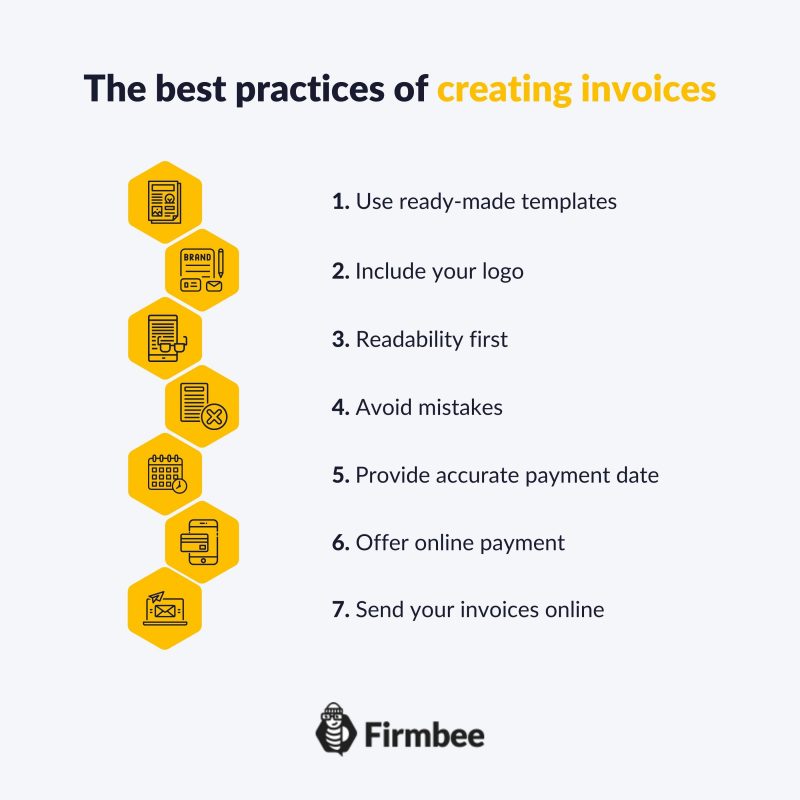 The best practices of creating invoices – summary
Issuing invoices doesn't have to be done by a specialist, and currently, any business owner may try to issue invoices single-handedly. What are the best practices for creating invoices? Do you know how to issue invoices quickly and efficiently? Specialists have their secrets but even simple hints may be helpful, especially at the beginning of our adventure with invoicing.
If you like our content, join our busy bees community on Facebook, Twitter, LinkedIn, Instagram, YouTube, Pinterest.