As a business owner you can determine payment terms by yourself. However, there are some rules that you need to follow when setting them. If you forget to include a payment term on your invoice, the recipient of such a document will have to pay it within a statutory period, depending on the country where you run your business. Therefore, it's best to specify it. What are the most common payment terms? Are there any limitations? You can find out more about this in the following article.
Invoice payment terms – table of contents:
Common payment terms
While you have a lot of flexibility in setting payment terms for your invoices, it's worth checking how others do it. What payment periods are most common in practice? Here are the most popular ones:
7 days,
14 days,
30 days,
60 days,
90 days.
In some countries, the statutory payment period is 30 days. This is the case, for example, in the United States, where invoices issued by freelancers must be paid within 30 days. Similarly, in the United Kingdom, the default payment period is 30 days after receipt of an invoice, delivery of goods or provision of services.
On the other hand, in some European countries, a recommended payment period for asymmetric transactions, i.e. transactions where the parties differ in size, is 60 days. The exception are transactions with public entities, which should pay the invoice within 30 days. However, nothing stands in the way of setting a shorter payment period, for example 21 or 14 days. When should you inform your contractor about the chosen payment term?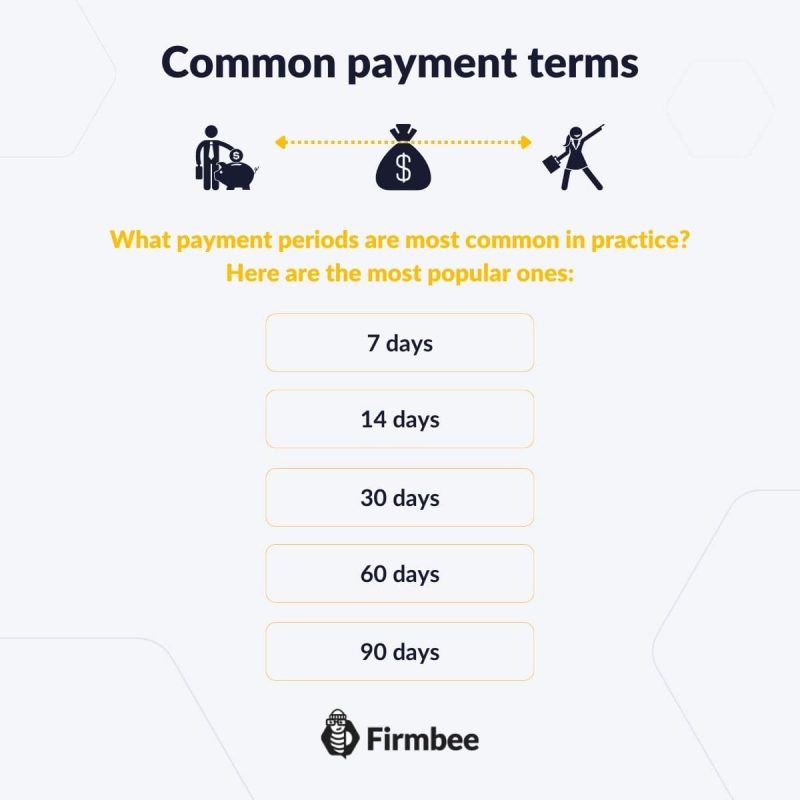 Why is it a good idea to set a payment term at the beginning of cooperation?
You should remember that such issues as payment dates must be determined when signing a contract or accepting an order. Why? If you haven't set a payment date before you take an order, your contractor will expect to receive an invoice with a statutory payment period. If you invoice them with a shorter period, they will have the right to be surprised. This will not reflect well on you, especially since paying the invoice after due date may result in interests.
Therefore, it's best to be clear when accepting an order. It will be enough if, in the email correspondence connected to establishing order details, you mention that you plan to issue an invoice with, for example, a 14-day payment deadline. In such a case, your contractor will be aware of receiving a document from you, which he will have to pay within the indicated period. In this way, you will give the impression that you are a professional who takes care of all the details of the transaction.
Why do big companies need longer payment terms?
If you work as a freelancer or run a small business, you probably don't receive many invoices. The path from receiving an invoice to paying it is quite short, especially when you use accounting software which makes it easy to control costs. You can easily check if you placed orders for goods and services listed on the invoice. Then you just make a transfer in your bank and this is it.
It looks completely different in large organizations. There, an invoice has to go through two or even more departments before it finally gets paid. Why is this happening? Invoices go to the secretary's office or administration department, where they are accepted and registered. Then, they are forwarded to the accounting department, but this does not mean an immediate payment. Depending on the procedures adopted in a given corporation, it may be necessary to check who ordered goods or services, whether the amount is consistent with the signed order, and whether the payment period or other data indicated on the invoice are correct. Such tasks may be done by completely different people.
Later, the invoice is submitted for payment. It should be noted that the signature of the person authorized to approve the payment is still necessary to process the transfer. This is time-consuming, so you should take it into account when cooperating with large companies. However, when determining the optimal invoice payment term for both parties, remember that going to extremes can be unfavorable. You must also keep your own needs in mind.
Why do long payment terms affect your business?
By setting up a very long payment term you credit your contractor. While you are waiting for the payment, your client can already benefit from the goods or services you have provided. If they paid you immediately, you would be able to spend the money and benefit from it. This is especially important if you have liquidity problems. In such a case, it is better for you to agree on shorter payment terms.
If you invoice someone with a very long payment term, such as 90 days, and you run out of money at that time, you may have to take out a bank loan. This will involve additional costs that you could have avoided if you had invoiced them with a shorter payment period. If someone convinces you that a longer payment term should not be problematic, you can always try to reverse the situation. How to do it? You can offer a prepayment for your services in exchange for a small discount. This can be a much better solution than taking out an expensive loan.
How to encourage your contractors to pay their invoices quickly?
If the payment term is counted from the receipt date of the invoice by the contractor, then an invoice sent electronically will help in getting a faster payment. In this case you don't have to wait for a mailman to deliver it to your client. Additionally, if the recipient of your goods or services uses a CRM system, an electronic invoice can make their work easier, thanks to which you can expect a faster payment.
Is there anything else you can do to speed up the process? For example, you can offer a discount for a faster payment. Obviously, you have to calculate the discount amount so as not to lose on it. Also, you can warn your contractor that if they don't pay the invoice on time, you will add interests for late payment. Anyway, set a mutually beneficial payment deadline and then monitor whether your client has met it. With our free invoicing app you can set reminders for upcoming payments and with just one click check the amount due and due dates.
If you like our content, join our busy bees community on Facebook and Twitter.