The corona virus pandemic has disrupted the operations of many businesses. Remote work was the only solution for some companies in those days. For many employees working remotely seem to be better option – it is convenient, comfortable and efficient. Marketing agencies are among many companies which may use advantages of mobile work and complete majority of their assignments.
Tips for marketing agencies – table of contents:
The marketing agency
These days, when you look for a job you can pick and choose both the way and amount of time you work. There is full-time, ¾ time, part-time, an hour a week, or even seasonally on commission. Different to the-40 h/week- 9-5 week schemes have proven equally successful. Also from an employer's angle, the Internet era has brought forth a variety of employment modes.
The choice ranges from stationary work to home office with hybrids "in the middle". But which mode fits best in the case of marketing agency? If not in the office, how and when should it carry out its main duties? Those include devising content marketing strategies, SEO and SEM activities, analysis of advertising, preparing presentations, observation and organizing meetings. In today's article we would like to present ways and useful tips on how to manage marketing agency in the remote work conditions.
The marketing agency usually consists of many specialized workers forming a team capable of conceiving, developing and skyrocketing a brand. A programmer, graphic designer, copywriter, content manager, marketing and PR specialist… – these are the people who through practical and creative skills can create something from virtually nothing while achieving the business goals of clients.
Definition of remote work
The term "remote work" refers to performing assigned duties outside a company's headquarters, typically in one's own home. Not only freelancers can afford it carrying out orders most often found on Internet portals, but also full-time employees when they have the opportunity to work efficiently anywhere in the world.
Amazing possibilities of modern technology and handy applications empower the employer to precisely divide and enforce tasks and discuss projects or company plans online. All it takes is a working computer, high-speed Internet, and the ability to communicate via electronic means to make the remote model achievable and profitable.
Nowadays, working remotely provides incredible convenience. It allows fulfilling both professional and home duties at the same time, saving money and time associated with commuting to the company. Its synonyms like online or mobile work for many are associated with psychological comfort and more efficient operations.
Remote working for agencies, is it possible?
The coronavirus pandemic has disrupted the operations of many businesses. For some, the only solution to survival has been to go for the remote. Despite lifting the pandemic restrictions in many places, things haven't returned to the good old ways. In fact, both employers and workers prefer working remotely.
For marketing agencies, mobile work is similarly available and even more fruitful. With apps like Trello or Asana you can implement, schedule, analyze, delegate, brainstorm,, etc. tasks, all online. Thanks to Firmbee.com you can collaborate with your team, share important project information and leave structured feedback under relevant tasks. In most cases, software in form of Canva, Notion, or Figma (graphic design) becomes key tools for the majority of tasks.
Strong and constant relations with the client – telephone conversations or exchange of e-mails are the backbone of operations of a marketing agency. Projects are breeding ground for greatly committed people and, in the case of the agency, the key tasks like every order can be carried out remotely, and business and team meetings – online.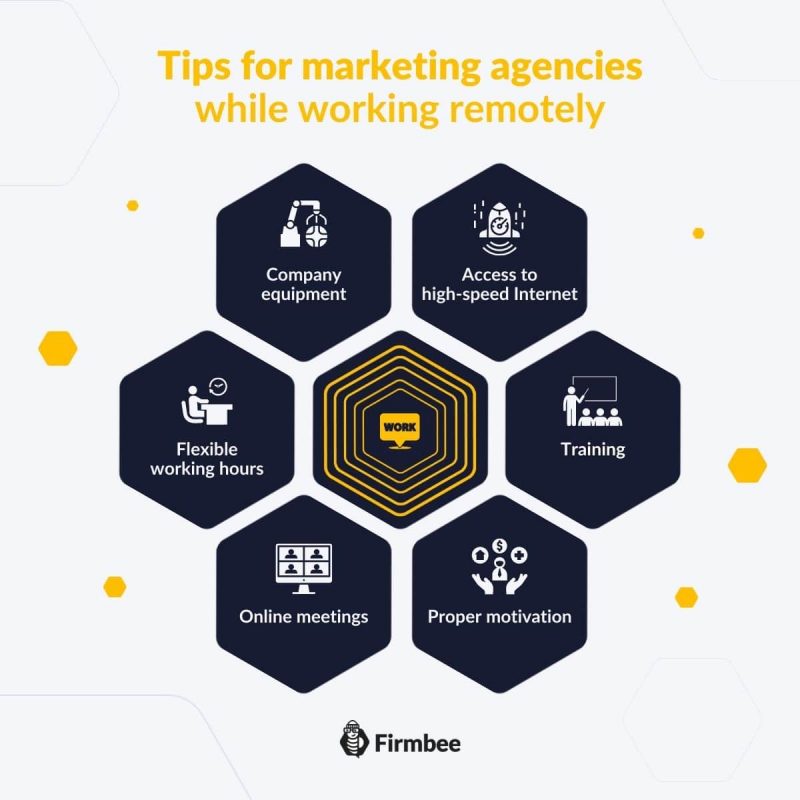 Remote work management tips for marketing agencies
The productivity of a marketing agency team depends on many factors. We have prepared hints and advice for the marketers to achieve efficient and satisfactory results from online work:
Company equipment – if the employer cares about the quality of his employees' work, he must provide the team with the necessary professional equipment. Such seems to be a cell phone, computer, camera, and if the situation requires it – even a desk and chair. It is the responsibility of the boss to help organize a comfortable place to perform tasks for the company.
Access to high-speed Internet – more and more people have access to fixed Internet, but still not all. This problem mainly affects the smallest towns. In order for the agency's work to be distinguished by efficiency, the working person must have professional access to the Internet.
Flexible working hours – performing professional duties in an apartment with children running around or a neighbor's renovation work in progress is quite a challenge. Therefore, employees often count on forbearance. The possibility of performing work outside rigid hours is a bonus of remote work.
Training – remote work in a marketing agency is possible if the employees have the necessary know-how. Here, special applications are an aid to the project and proper organization. The employer is obliged to train the employed person in the use of modules needed for professional tasks.
Online meetings – constant contact of the whole team is extremely important for the work to go as planned by the employer. Proper communication guarantees fewer mistakes and saves time. In addition, numerous scheduled meetings allow you to control the course of the task and the activities of all people in the agency. Still, It is worth meeting face to face from time to time. Sometimes it is the only way to get to know each other better.
Proper motivation – regardless of work location, whether it's home or stationary, all professionals always look for a source of motivation. Many employers forget that engagement of workers also depends on benefits they get. Integration meetings, multisport cards, or e.g., vacation allowance are other factors that increase job satisfaction and effectiveness of the whole team.
Check out other articles about working remotely:
If you like our content, join our busy bees community on Facebook and Twitter.