The growing popularity of e-commerce means more competition among online stores, so proper marketing efforts become crucial. With the right words, your e-commerce brand can build strong relationships with customers that translate into loyalty and repeat purchases. That's why you should invest in tools that help you create compelling marketing texts. Learn about the top five AI tools for e-commerce copywriting.
Marketing texts for e-commerce – table of contents:
What Marketing Texts Are Most Important for E-commerce?
Now that we have an overview of the tools, it's time to ask ourselves what kind of e-commerce texts are worth creating with their help. To effectively promote an online store, you need the following types of content in the first place:
Product Category Descriptions – short but succinct information about the products in the category, their features and benefits. They are intended to encourage the customer to enter the category. A good category description includes some characteristic features of the products, and explains their purpose and benefits. It should not be too long, 3-4 sentences maximum.
Product Descriptions – detailed information about the features and benefits of a particular product. They serve to convince the customer to buy, as well as position the store in search engines. A good product description accentuates its unique features and the satisfaction that the purchase will bring and avoids excessive technical details. An e-commerce text containing a product description should be about 200-300 words.
Blog Articles – longer texts covering topics related to the store's offerings. They increase coverage and build the image of an expert. They allow you to show your knowledge of products, industry trends and contain information useful to customers. Their style should be expert, but approachable, and their length depends on the topic they cover.
Social Media Posts – shorter posts promoting selected products or special actions in the store. They serve to generate traffic to the site. Their task is to make people curious and provoke them to click on the link to the store. They should be short, encouraging and consistent with the image of the store.
Still, how to create e-commerce texts in cooperation with AI that not only meet basic requirements but also attract customers?
The 5 Best Copywriting Tools for E-commerce
Generating physical product descriptions with artificial intelligence has always been challenging. All you have to do is upload a product image to the chat and type in a prompt, a clue such as:
"Generate a description of the product shown in the photo ready to be placed on the store's website. Make the description fun and light, aimed at young women. The length is 200 words."
Thanks to the image recognition feature available for some time in Google Bard and, more recently, in BingChat and ChatGPT Plus, we will get a response that, with minor adjustments, is suitable for posting.
But which tools are best suited for e-commerce copywriting? Of the many tools available on the market, we have selected five whose unique value proposition appealed to us the most. The first is the groundbreaking ChatGPT.
ChatGPT Plus – E-commerce Texts for the Demanding
ChatGPT Plus is the paid version of a revolutionary tool. For $20 a month, it creates the most interesting texts by using the latest model from OpenAI, the GPT-4. It can generate product descriptions, category descriptions, e-commerce blog posts, and social media content that is consistent with a defined brand image.
Here's Bard's created description of a green dress based on a photo: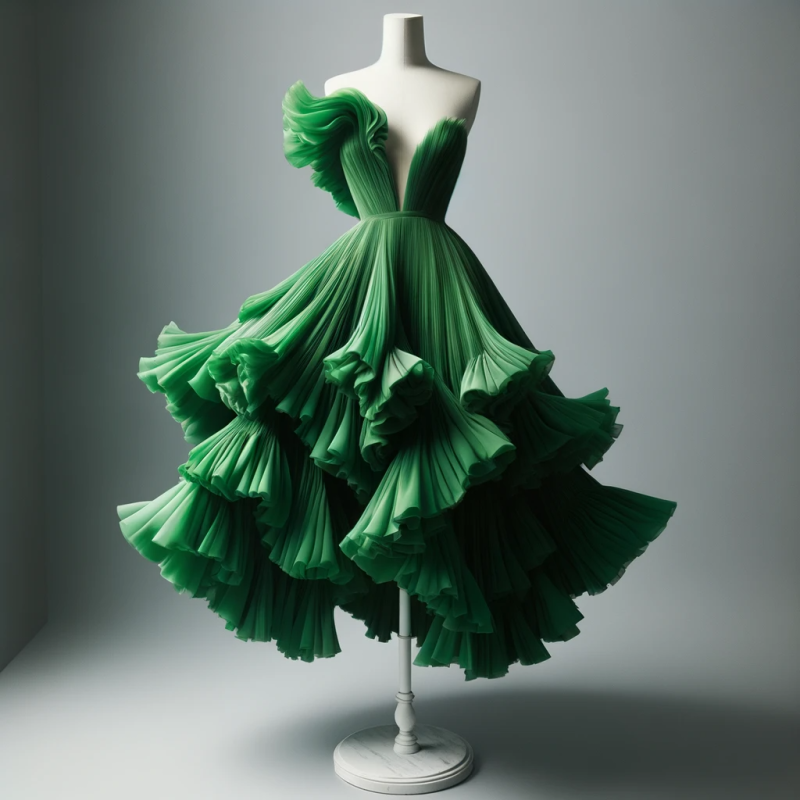 Source: ChatGPT Plus (https://chat.openai.com/), prompt: Marta M. Kania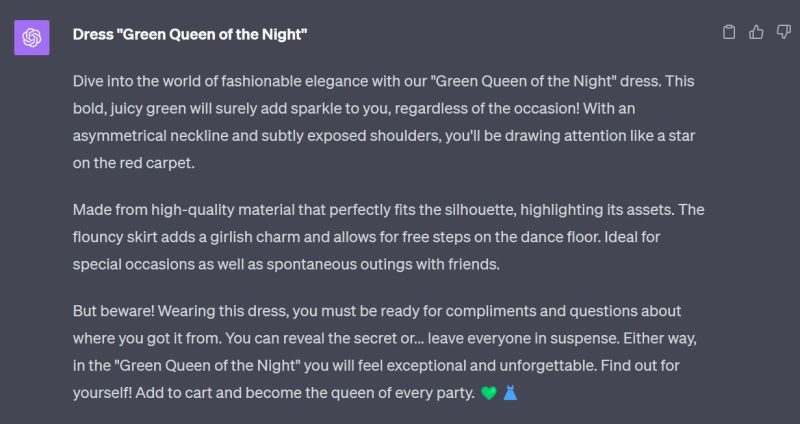 Source: ChatGPT Plus,
Better yet, ChatGPT can not only create single texts for e-commerce. When we describe what the company does, opening a thread is enough to refine the question, for example, by adding the following phrases:
Suggest a list of Facebook themes for my store.
What products are worth adding to my company's offerings?
Write 3 versions of a banner for Black Friday.
What additional services can I provide using my existing business profile to increase ROI?
Remember that within a single thread, the bot remembers its answers. That's why asking follow-up questions about the most interesting suggestions is a good idea.
Google Bard, or Easy Sharing
The greatest advantage of Bard concerns generating e-commerce texts and providing three versions of the answer right away. You can quickly compare and choose the most satisfying version of a category or product description. Here is a description of a green dress created by Bard based on a photo: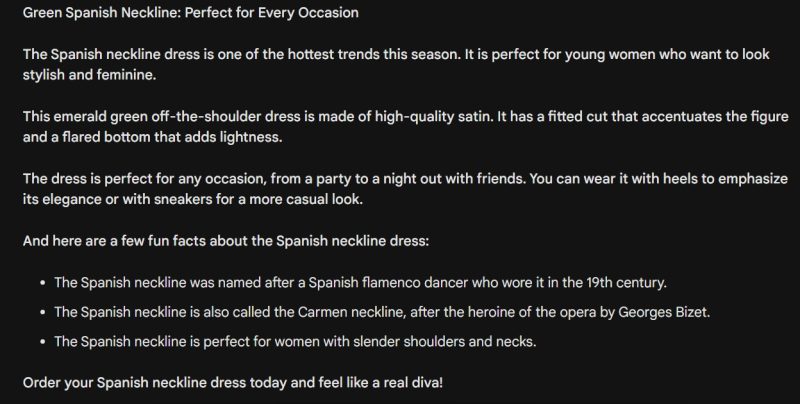 Source: Google Bard
Chatbot from Google will also work well for teamwork – as it is very easy to share a generated product description or an entire thread in which you are working. All you have to do is click the icon under the answer and select one of the sharing options.
BingChat – GPT-4 for Free
BingChat is the tool most often substituted for a search engine. However, it is also great for creating e-commerce texts.
The most pleasant way to do it is via the Bing side panel. It is only available in the Microsoft Edge browser. The panel makes it very easy to BingChat, including image search and asking questions about the page currently open in the browser. Above all, however, it offers a free Compose function, which allows you to conveniently generate e-commerce texts of the length and tone you choose, in which you can describe yourself or use ready-made tags.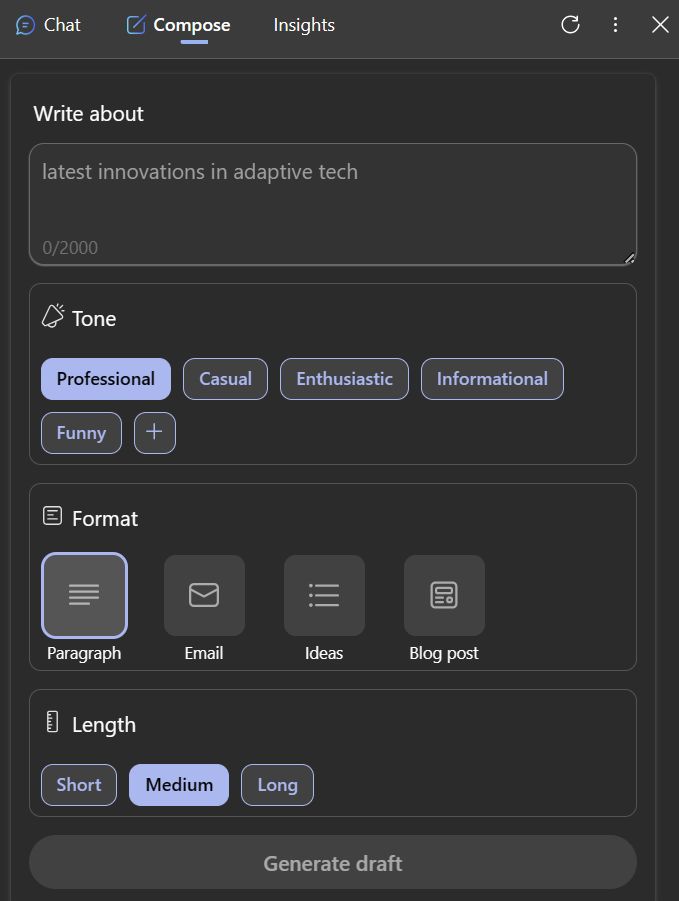 Source: Bing
Most interestingly, BingChat allows you to run GPT-4 and OpenAI's latest image creation tool, DALL-E 3, for free. Its main drawback is that it limits you to 30 question-answer pairs per session and 300 per day. However, if you don't intend to create descriptions of all products and other e-commerce texts in one day, this limit shouldn't be a problem.
Copy AI – A Powerful Tool for E-commerce Texts
Copy AI is one of the most powerful tools for creating e-commerce texts, among other things. For example, when creating a blog for a store, we can use the ability to generate an introduction or an entire paragraph of text. In the pro version, Copy AI also allows you to create an outline of an entire entry based on text guidelines.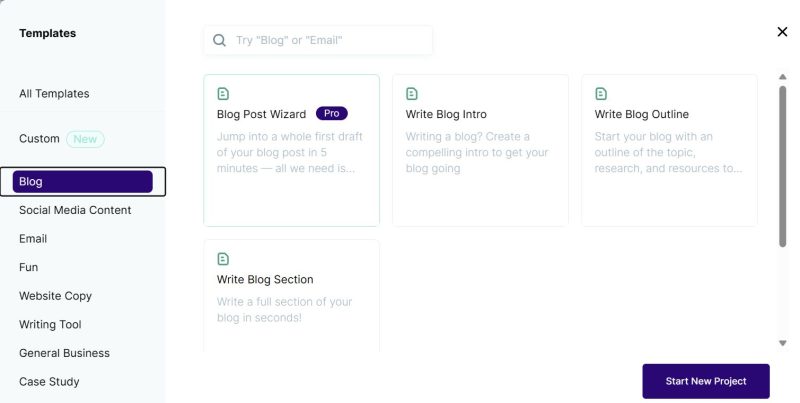 Source: Copy AI
The application is also equipped with a grammar checker, so we can edit text directly in the browser window without worrying about making a mistake.
Also, a plus is a clear interface that allows you to divide the generated texts into folders and projects. This is a very handy feature, especially if you generate a large number of product descriptions, or you localize your store and create different language versions.
Rytr – An Option for Small Online Stores
Rytr is an e-commerce text creation tool with AI support, where you will find templates that allow you to create, among other things, product reviews or product descriptions in the form of continuous text or a bulleted list.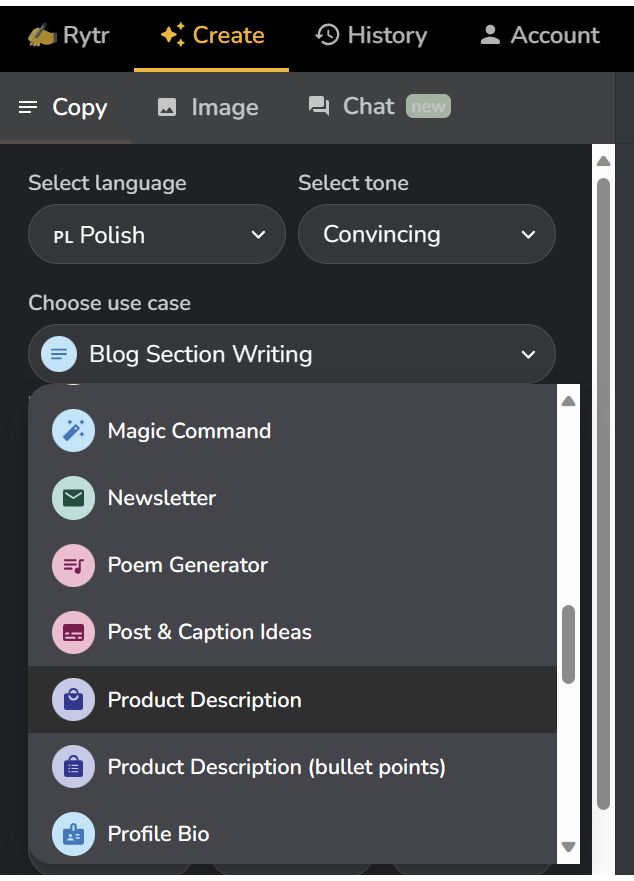 Source: rytr (https://rytr.me/)
An additional advantage of Rytr is the ability to choose the tone of the generated speech, such as enthusiastic, formal, or delighted. Rytr's interface stands out for its simplicity. It is reminiscent of a word processor, thus encouraging you to do your AI-assisted writing rather than entrusting it to create all the text.
This is a great choice for small online stores because Rytr gives you a free account for an unlimited amount of time but with a limited number of characters generated.
What Does It Mean to Have Good Marketing Text for E-commerce?
To create a good marketing text for e-commerce with the help of artificial intelligence, it is good to know what it should be characterized by and, if necessary, be reminded of and take into account the relevant tips in the prompt. An effective marketing text for an online store must be:
Persuasive and Clear – for example, instead of advertising generalities such as "the application is intuitive," it should include specifics: "The menu includes large and easy-to-read icons, the layout of which you can customize according to your needs."
Focused on the Benefit the Merchandise Provides to the Customer – a good e-commerce text explains how the product solves a problem or makes the customer's life easier, not just describes the product's features. Let's add a benefit description to our example: "The most necessary functions are always at your fingertips, and the icons you don't use are simply hidden."
Persuasive – the text not only emphasizes the value the product provides but also encourages the customer to take the expected action, such as entering the store or making a purchase, such as "Check it out now" or "Buy today."
Tailored to the Target Audience – e-commerce text uses vocabulary and arguments that reach a specific audience. For example, we write differently for mothers of young children than for managers of large companies.
Consistent with the Brand – the style of the text is consistent with the store's profile and values. The vocabulary and tone are consistent throughout the communication, so even if it's just a short social media post, the e-commerce text must fit into the overall communication.
Correct – although it may seem obvious, it is not difficult to find stores that do not care about the correctness of the descriptions on their site. It is worth remembering that errors reduce the credibility of the store, so the e-commerce text must be flawless in terms of syntax, spelling, punctuation.
Optimized for SEO – well-prepared text takes keywords into account, but avoids overuse of them. This makes it easier for search engines to reach your store.
How to Work with AI When Writing Texts for E-commerce?
Artificial intelligence makes it possible to significantly speed up the process of creating texts for online stores, and even automate it. The main advantages of using AI tools are:
Speed – ready-made e-commerce texts are created in a fraction of the time it would take a copywriter who does not use such tools.
Consistency – AI allows you to maintain a uniform style of texts for the entire store, even if multiple people are working on them, they can use the same prompts defining the tone of voice of the brand and other parameters of e-commerce text.
Personalization – in high-tech tools, it is possible to generate versions of e-commerce text tailored to a customer segment and even to a specific user.
To get good results from AI tools, it's crucial to change your approach to copywriting and spend a lot of time selecting and learning new tools. However, this investment will certainly pay off. This is because understanding the principles of working with AI will allow you to properly prepare prompts or guidelines for the tool. They should clearly define the type of content, its length, target audience and style. In addition, examples of existing e-commerce texts that meet our expectations can be helpful.
It is always worth remembering that after generating content, it should always be checked for accuracy and logic. After all, all artificial intelligence models are very persuasive liars – if they lack information, they create a text containing probable but false information.
Although generative AI is profoundly changing the way content is created and significantly accelerating the creation of e-commerce texts, the final control of

If you like our content, join our busy bees community on Facebook, Twitter, LinkedIn, Instagram, YouTube, Pinterest, TikTok.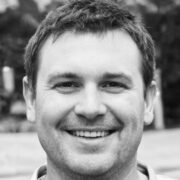 AI in e-commerce: