Do you create podcasts? Discover where to publish podcasts to expand your audience and make yourself known to the world.
Recording a valuable podcast isn't enough. You still need to get it out into the world. How do you do this to effectively maximize the reach of your audience? What online sites are the best places to present your thoughts, stories or training? Where to publish podcasts? There are quite a few possibilities. Here's a look at some of the most interesting places to publish your podcasts.
where publicize your podcasts – table of contents: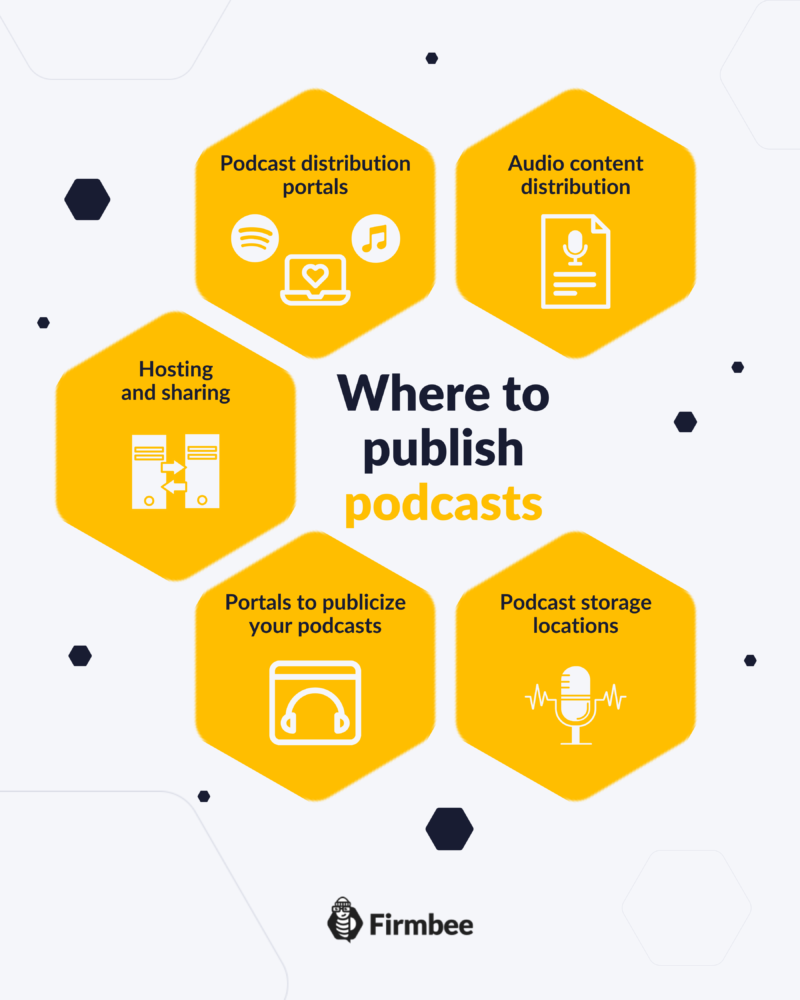 Where to publish podcasts? Hosting and sharing
The first necessity an aspiring creator will face is finding a suitable site to host audio files. It's a good idea to have one dedicated specifically to podcasting. It will serve as a sort of home base and central location for file management.
Free hosting sites, despite their reduced level of functionality, are a good choice for novices. At a later stage of creation, it is possible to buy additional premium options or move to fully paid hosting sites.
Podcast storage locations
Authored webcasts need to find a place for their storage on the web. Hosting is a useful feature that allows us to upload our own content, tagging it with tags, descriptions or summaries. In the case of free hosting sites, very often we can meet with great limitations. This is the case with SoundCloud, where a free user can upload three hours of podcasts per month. Where else can we post audio content?
Portals to publicize your podcasts
YouTube – the world leader in the presentation of multimedia content. The portal allows free and fast sharing of video content. The problem may be the barrier of entry: due to the huge competition and the multitude of content podcasters are much more likely to choose other platforms, dedicated primarily to people looking for specific content. A huge advantage is that YouTube combines the features of a hosting and distribution portal. Videos uploaded by the user can be shared on external portals, embedded on pages, recommended by the platform's algorithms, among other things.
Acast – a website hosting audio files, which also offers several useful features for creators. A big advantage of the site is the lack of restrictions on the limit of uploaded data. This means that the beginning podcaster has a lot of room to maneuver. Another noteworthy feature is the ability to have your own RRS channel, an extensive statistics section and a clear interface.
Audio content distribution
Distribution is a process of great importance in the context of audio content distribution. It depends on the effectiveness of the distribution how many people will be able to "touch" the content published by us.
Many hosting services provide tools to automate the audio content distribution process. In some cases, however, we will have to connect the file-hosting site with the distribution portal ourselves. This involves, among other things, finding a link to the RRS, copying it, and implementing it into the desired sharing site to automatically update in the streaming service.
Podcast distribution portals
Where to publish podcasts? Some of the most popular podcast distributors include:
Spotify – one of the most popular streaming services in the world. The portal offers creators many opportunities for two-way collaboration. One way to distribute content is to register on the site and add a feed URL leading directly to the podcast hosting site. Once approved by the staff, our content will appear directly in the Spotify database.
iTunes – to add a podcast to the Apple family of services, we need an address leading to the audio in RRS format. The file itself must have all the necessary components, i.e. description, logo, title, series name, episode name. After uploading the episode to the hosting service, we go through the RRS address validation test and then upload the audio to iTunes using to submit a panel. It remains to wait for Apple support to verify our file and confirm its compatibility.
Your online site – You can host your podcast directly from your website, for example using the WordPress architecture. However, this requires crafty optimization for uploading audio content as a slow and haywire website will scare away potential listeners.
You may also like: How to get more podcast listeners
If you like our content, join our busy bees community on Facebook and Twitter.